"Mainstream" blockbuster hits box office
(Xinhua)
Updated: 2004-09-08 20:26
Zhang Side, a bodyguard of late Chinese leader Mao Zedong, was revived today as hero in a contemporary film bearing his name.
Despite being a "revolutionary" mainstream feature, the film, screened Wednesday nationwide in China, is expected to be a box office hit after millions of yuan were spent on its promotion.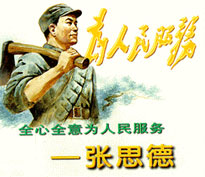 A poster fearuring Zhang Side and Chairman Mao's renowned epigraph "Serve the People". [newsphoto/file]

In memory of Zhang Side, who died in an accident 60 years ago, Mao delivered his famous "Serve the People" speech. The slogan became a credo for Chinese communists for generations.

Movies on such revolutionary topics used to be subsidized by state funds, but this feature, produced and funded by the China Film Group Corp (CFGC), is expected to be a market success.

"We want to create a miracle by transforming those moral education films into commercial hits," said Han Sanping, Deputy General Manager of China Film Group Corporation, the film's producer.

"We invested 12 million yuan (US$1.45 million) and one fourth of it was spent on promotion activities," Han Sanping said. "This is much higher than most commercial films."

The movie targets a box office revenue of "some 100 million yuan (US$12 million)," which would exceed the much discussed commercial film "House of Flying Daggers" made by domestic director Zhang Yimou, said Zhao Wu, Vice General Manager of Beijing Forbidden City Film Co. Ltd., distributor of the movie.

Experience indicates that films boosting patriotism and devotion have to get government support to cover costs. "In most cases, people were recommended to watch them by their supervisors, rather than their own will," said Zhao Wu.

These films, known as mainstream films, leave people the impression of preachifying the glorious deeds of China's revolutionary or political figures.

"They can no longer secure revenue since the Chinese government stopped granting subsidies to them since 2003," said Zhao.

Last Sunday, the premiere of "Zhang Side" was launched at the People's Hall, China's grandest place for holding conferences or ceremonies. The film's director, Yin Li, said, "Chinese films cannot rely on government support, they should attract viewers by means of promotion, artistic quality and distribution."

A viewer of the premiere praised the film, saying that though the death of the hero only lasts several seconds, "it moves people even stronger than a spectacular design."

"I wanted to invoke the spirit of "Serve the People" in audiences through touching stories like Zhang Side's," Yin Li said.

"Zhang Side" isn't alone in undermining some audience's long- held prejudice against mainstream films. The makers of "Deng Xiaoping in 1928," a film screened a few weeks ago to mark 100th birth anniversary of the late Chinese leader, took commercial measures such as inviting a rising Hong Kong star to make a cameo and adding some thrilling scenes.

The Mainstream film box office record was set by "Final Decision" in 2000, with a profit of 130 million yuan (15.7 million US dollars).




Today's Top News
Top China News

Wu Yi: China to go further than WTO promises




Southwest flood death toll reaches 164




Elders' problems centrestage at forum




Further opening in banking sector pledged




Russia vows to attack 'terror' worldwide




Presidents promote growth with Gabon