Russia offers $10m to hunt down rebels
(Agencies)
Updated: 2004-09-08 16:32
Russia's Federal Security Service has promised up to 300 million rubles ($10.3 million) for accurate information that could help "neutralize" Chechen rebel leaders Shamil Basayev and Aslan Maskhadov, Russian news agencies reported Wednesday.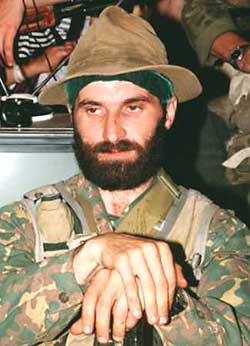 Chechen rebel leader Shamil Basayev in the town of Budennovsk in Stavropol region taken January 15, 1995. [Reuters file]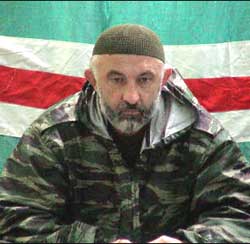 Chechen rebel leader Aslan Maskhadov at a field camp in Chechnya. [AFP file]

News of the reward broke as state television was broadcasting footage of Prosecutor-General Vladimir Ustinov briefing President Vladimir Putin on the investigation into the taking of more than 1,200 hostages in a school in southern Russia last week. It was the first official admission that the number of hostages had been so high; initially the government said about 350 people had been seized, and over the weekend a regional official said the number had been 1,181.

The Federal Security Service, the main successor to the Soviet KGB, said the two rebel leaders had been responsible for "inhuman terrorist acts on the territory of the Russian Federation," the Interfax and ITAR-Tass news agencies reported. Russian officials have accused Basayev and Maskhadov of masterminding last week's attack in Beslan.

Ustinov said 326 hostages had been killed and 727 wounded in the attack, which ended Friday in a wave of explosions and gunfire as hostages tried to flee, and special forces and armed civilians tried to aid them. He said 210 bodies had been identified, and forensic workers were also trying to identify 32 body fragments. The death toll could rise, Ustinov said.

Rally against terrorism

Tens of thousands of Russians massed outside the Kremlin on Tuesday to rally against terrorism. Demonstrators at the rally, which authorities said drew about 130,000 people, bore banners with slogans such as "We won't give Russia to terrorists" and "The enemy will be crushed; victory will be ours."

"I have been crying for so many days and I came here to feel that we are actually together," said Vera Danilina, 57.

The demonstration, organized by a pro-government trade union, was heavily advertised on state-controlled television for two days, with prominent actors appealing to citizens to turn out. Banners bore the white, blue and red of Russia's flag, and speakers echoed Putin's statements that terrorists must be destroyed.

On Tuesday night, Russians got a horrific glimpse of conditions inside the school when a television station broadcast chilling images of the heavily armed, hooded assailants amid the crowd of women, children and men.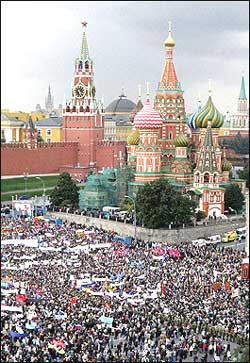 Tens of thousands of Russians filled the area next to St. Basil's Cathedral on Red Square on Tuesday. [AFP]

The NTV station said the pictures -- which showed hundreds of people crowded into the gym beneath a string of explosives dangling from a basketball hoop -- were recorded by the assailants.

In Washington, Defense Secretary Donald Rumsfeld said the attack underscored how the war on terrorism was a global struggle.

"We saw vividly the extremes to which terrorists are willing to go to achieve their ends," Rumsfeld said at a news conference.

He said that the civilized world must stay on the offensive against terrorists. "There really are no free passes in this struggle, this war," Rumsfeld said. "No free passes for countries, no free passes for individuals."

Seeking extradition

The Foreign Ministry said Russia would take new steps seeking the extradition of people it says are linked with terrorism, including Chechen rebel representatives Akhmed Zakayev and Ilyas Akhmadov.

Zakayev, an envoy for separatist leader and former Chechen President Aslan Maskhadov, has been granted refugee status in Britain. Akhmadov is in the United States.

The hostage-taking and other recent attacks "will help many in the West, where Zakayev and Akhmadov have found political asylum, to see the true face of terror and understand the measure of their delusion," the ministry said.

At the muddy cemetery in Beslan, where gravediggers have opened up two new tracts in the past three days, relatives opened the tiny coffin of 8-year-old Vasily Reshetnyak, touched his forehead and kissed him goodbye. A favorite toy -- a red car -- was placed alongside his body.

North Ossetians and liberal Russian politicians and newspapers have criticized authorities' handling of the crisis, which some say further exposed the ineffectiveness of the Kremlin's hard-line policies in Chechnya.

Support for Putin

Some mourners in Beslan criticized Putin, saying he flew into the grief-stricken town before dawn Saturday because he didn't want to face its people.

But for the most part, the popular president has avoided the brunt of the anger over the terror attacks.

"Of course I support him, and it's necessary to be even more harsh with terrorists," said Galina Kiselyova, 66, a history teacher who was at the Moscow rally. "We cannot let go of Chechnya -- the Caucasus is ours."

"Putin, we're with you," read a banner at the rally.

Militants seized the Beslan school on Sept. 1, a day after a suicide bombing in Moscow killed 10 people and just over a week after two Russian passenger planes crashed following explosions and killed all 90 people aboard -- two attacks authorities suspect were linked to the war in Chechnya.

In the footage shown Tuesday on NTV television, hundreds of hostages were shown seated in the school's cramped gym. Many of them had their hands behind their heads. A thick streak of blood stained the wood floor.

Football-sized bundles of explosives were attached to wires and strings hanging from a basketball hoop. One attacker in camouflage and a black hood stood amid the hostages with a boot on what NTV said was a book rigged with a detonator.




Today's Top News
Top World News

Wu Yi: China to go further than WTO promises




SW China floods have killed at least 172




Elders' problems centrestage at forum




Further opening in banking sector pledged




Russia vows to attack 'terror' worldwide




Presidents promote growth with Gabon