Israelis mount new Gaza raid after strike on Hamas
(Agencies)
Updated: 2004-09-08 11:35
Israeli tanks and helicopters swept into the northern Gaza Strip early on Wednesday, a day after soldiers killed 14 Hamas militants in the biggest ever raid of its kind.
At least 20 tanks and armored personnel carriers rolled toward Beit Lahiya and Jebalya refugee camp in what an Israeli military source called an operation to stop militants from firing home-made rockets at neighboring Israeli towns.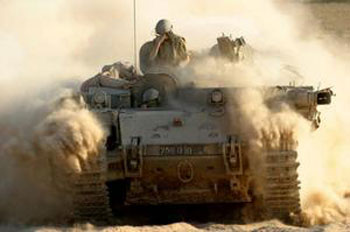 Israeli soldiers drive their tank on the outskirts of the Gaza Strip near Kibbutz Mefalsim September 7, 2004. Israeli tanks and helicopters swept into the northern Gaza Strip early on Wednesday, a day after soldiers killed 14 Hamas militants in the biggest ever raid of its kind. [Reuters]


There were no reported injuries in Wednesday's incursion, part of a growing spiral of tension that could complicate Israel's plan to evacuate troops and settlers from Gaza by the end of 2005.


Palestinian militants are determined to claim any Israeli pullout as a victory, but Israel has vowed to smash them first.


On Tuesday Israeli warplanes, tanks and helicopters pounded a Hamas camp on the outskirts of Gaza City, killing 14 militants as they were being trained on a soccer field.


The strike came a week after the Islamist group carried out two bus bombings in the southern Israeli city of Beersheba that killed 16 Israelis. It was Israel's deadliest single blow against Hamas, which is sworn to destroy the Jewish state.


The Israeli military said all those killed on Tuesday were Hamas members who had been learning to make suicide belts, plant explosives, launch rockets, infiltrate Jewish settlements and kidnap soldiers and civilians.


ISRAEL TO DO BATTLE "UNTIL TERROR ENDS"


Israeli Prime Minister Ariel Sharon told his rightist Likud party that Tuesday's raid "was not an operation in revenge for the horrific murders in Beersheba but part of a struggle that we will not stop until terror ends."


Palestinian Prime Minister Ahmed Qurie, a moderate, gave an unusually strong response to the killings of the Hamas militants. "I'm sure there will be responses and such responses will be justified," he said.


Asked about Tuesday's Israeli strike and Palestinian threats to retaliate, Secretary of State Colin Powell told reporters: "I don't think they are helpful... The situation is very tragic. Retaliation is not a solution to the problems we face in the region."


Israeli leaders had pledged harsh reprisals, including the resumption of a campaign of assassination of Hamas leaders, in response to the Beersheba bus bombings, the first suicide attacks in the Jewish state in nearly six months.


Hamas has led a campaign of bombings of Israelis during a nearly four-year-old uprising. Unlike the mainstream Palestinian Authority, which wants an independent state alongside Israel, Hamas wants to destroy Israel and replace it with an Islamic state.


Hamas said last week's bombings were in revenge for Israel's killing of two of its leaders in Gaza earlier this year.


Tens of thousands of Palestinians attended the funerals of the 14 Hamas militants on Tuesday, calling for revenge and firing guns into the air. "We will sacrifice our souls and blood for the martyrs," they chanted.


Later some militants launched crude rockets and mortar shells into Israel and Jewish settlements in the coastal strip. One man was hurt by a rocket which landed in Israel.




Today's Top News
Top World News

Wu Yi: China to go further than WTO promises




SW China floods have killed at least 172




Elders' problems centrestage at forum




Further opening in banking sector pledged




Russia vows to attack 'terror' worldwide




Presidents promote growth with Gabon