US military deaths in Iraq pass 1,000
(Agencies)
Updated: 2004-09-08 07:46
U.S. military deaths in the Iraq campaign passed the 1,000 milestone Tuesday, with more than 800 of them during the stubborn insurgency that flared after the Americans brought down Saddam Hussein and President Bush declared major combat over.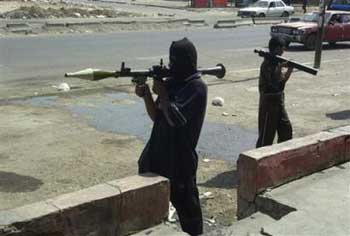 Supporters of radical Shiite cleric Muqtada al-Sadr carry a RPG launcher and a mortar tube in Sadr City, Baghdad, Iraq, Tuesday Sept. 7, 2004. U.S. forces battled al-Sadr's supporters in the Baghdad slum on Tuesday, killing at least 34 people, including one American soldier, and injuring 193. [AP]

A spike in fighting with Sunni and Shiite insurgents killed seven Americans in the Baghdad area on Tuesday, pushing the count to 1,002. That number includes 999 U.S. troops and three civilians, two working for the U.S. Army and one for the Air Force. The tally was compiled by The Associated Press based on Pentagon records and AP reporting from Iraq.

Defense Secretary Donald H. Rumsfeld cited progress on multiple fronts in the Bush administration's global war on terrorism and said U.S. enemies should not underestimate the willingness of the American people and its coalition allies to suffer casualties in Iraq and elsewhere.

"The progress has prompted a backlash, in effect, from those who hope that at some point we might conclude that the pain and the cost of this fight isn't worth it," Rumsfeld told a Pentagon news conference. "Well, our enemies have underestimated our country, our coalition. They have failed to understand the character of our people. And they certainly misread our commander in chief."

The Bush administration has long linked the Iraq conflict to the war on terrorism. The Sept. 11 Commission, however, concluded that Iraq and al-Qaida did not have a "collaborative relationship" before the 2001 attacks on New York and Washington, and some have questioned to what extent foreign terror groups are involved in the anti-U.S. insurgency in Iraq.

Democratic presidential candidate Sen. John Kerry issued a statement saying the United States joined the friends and families of those who died in mourning their loss.

"Today marks a tragic milestone in the war in Iraq. More than one thousand of Americas sons and daughters have made the ultimate sacrifice. Our nation honors their service and joins with their families and loved ones in mourning their loss," Kerry said.

"We must never forget the price they have paid. And we must meet our sacred obligation to all our troops to do all we can to make the right decisions in Iraq so that we can bring them home as soon as possible."

The 1,002 figure includes deaths from hostile and non-hostile causes since the United States launched the Iraq campaign in March 2003 to topple Saddam's regime. The vast majority of U.S. deaths — all but 138 — came after Bush's May 1, 2003 declaration of an end to major combat operations. "Mission Accomplished," read a banner on an aircraft carrier where Bush made the announcement.

The U.S. military has not reported overall Iraqi deaths. The Iraqi Health Ministry started counting the dead only in April when heavy fighting broke out in Fallujah and Najaf. However, conservative estimates by private groups place the Iraqi toll at at least 10,000 — or 10 times the number of U.S. military deaths.

"It is difficult to establish the right number of casualties," said Amnesty International's Middle East spokeswoman, Nicole Choueiry. She added that "it was the job of the occupation power to keep track of the numbers but the Americans failed to do so."

The grim milestone of 1,000 American military deaths was surpassed after a surge in fighting, which has killed 16 U.S. service members in the past two days. Two soldiers died in clashes Tuesday with militiamen loyal to rebel Shiite cleric Muqtada al-Sadr. Five other Americans died Tuesday in separate attacks, mostly in the Baghdad area. Seven Marines were killed Monday in a suicide car bombing north of Fallujah. Two soldiers were killed in a mortar attack Sunday.

West of the capital, U.S. warplanes swooped low over Fallujah on Tuesday in airstrikes after seven Marines and three Iraqi soldiers were killed the day before in a car-bombing near the Sunni insurgent-controlled city.

A group linked to Jordanian-born militant Abu Musab al-Zarqawi — Tawhid and Jihad — posted a statement on a militant Web site claiming responsibility for the attack, describing it as "a martyr operation ... that targeted American soldiers and their mercenary apostate collaborators from the Iraqi army."

Fighting between U.S. soldiers and al-Sadr's militiamen erupted Tuesday when U.S. officials said the cleric's gunmen fired on Americans carrying out patrols in the Sadr City district of Baghdad. Two Americans died in the fighting, U.S. officials said.

A senior Iraqi Health Ministry official, Saad al-Amili, said 35 Iraqis were killed and 203 wounded in the Sadr City clashes. An al-Sadr spokesman, Sheik Raed al-Kadhimi, blamed "intrusive" American patrolling for provoking the fighting.

"Our fighters have no choice but to return fire and to face the U.S. forces and helicopters pounding our houses," al-Kadhimi said in a statement.

Late Tuesday, the militia announced a unilateral cease-fire but said it would fight back in self defense. It was unclear whether the statement had any meaning since the militia routinely defends its actions as legitimate self defense.

U.S. Army Capt. Brian O'Malley said he was unaware of the cease-fire offer but that the area was quiet in the early evening. "We only fire when we are fired at, but we will not stop our patrols or withdraw from our positions," he said.

At the Pentagon, Gen. Richard Myers, chairman of the Joint Chiefs of Staff, blamed the spike in U.S. combat deaths on an insurgency that "is becoming more sophisticated in its efforts to destabilize the country."

"We are aggressively seeking and capturing those insurgents who are not willing to do so themselves, but are encouraging people to commit suicide attacks," Myers told reporters Tuesday. "Make no mistake, we will continue to pursue those who seek to disrupt progress in Iraq."

During the Sadr City fighting, U.S. warplanes flew over the sprawling neighborhood — home to some 2 million people. American tanks, their turrets spinning, deployed in key intersections. Ambulances with sirens wailing rushed the wounded to hospitals as plumes of heavy, black smoke rose over the mainly Shiite neighborhood.

U.S. forces appeared to be carrying out most — if not all — of the fighting. No Iraqi security forces were seen during the clashes, though U.S. spokesmen talked of "multinational forces" involved in the operations, a term that sometimes includes Iraqi troops.

Small groups of al-Sadr's al-Mahdi Army fighters pounded on the asphalt with hammers to plant mines and explosives in the streets. Fighters in their teens and early 20s trotted toward the clashes — rocket-propelled grenades in hand — as children scampered behind them.

Other militiamen, rifles in hand, gathered on street corners. Fighters using rocks and tires blocked roads leading to the area. By afternoon, most stores in the neighborhood were shuttered.

Elsewhere, a bomb exploded Tuesday near the convoy of the governor of the Baghdad region, killing two people. Gov. Ali al-Haidri escaped injury, Interior Ministry spokesman Col. Adnan Abdel Rahman said.

In another part of the capital, armed men in olive green uniforms stormed the office of an Italian aid group and seized two Italian women and two Iraqis. It was only the second known kidnapping of foreign women since a wave of hostage-takings began this year. A female Japanese aid worker was captured in Fallujah in April but was released a week later.




Today's Top News
Top World News

Funding to ensure pension payments




CPC plenum to focus on ruling capacity




Flood-hit southwest counts the cost




`Super rice' set to increase output




Top official to visit Pyongyang




US military deaths in Iraq pass 1,000