`Super rice' set to increase output
By Zhao Huanxin (China Daily)
Updated: 2004-09-08 01:41
High-yielding "super rice," which promises to substantially increase China's rice output, will be planted on 4 million hectares of farmland next year, the Ministry of Agriculture said Tuesday.
That figure represents a 25 per cent increase compared to the land planted with super rice this year.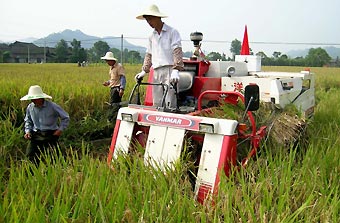 Farmer Yang Jinlin and his colleagues harvest rice in the town of Linkou in the Tongdao Dong Ethnic Autonomous County of Central China's Hunan Province on Monday. They are expecting a better yield this autumn. [newsphoto]


"Growing the strain on larger acreages is a natural option for China to raise production and ensure its food supplies and security," said Zhang Fengtong, director of the ministry's Department of Science and Technology.

Last year, 10 per cent of the country's rice fields, or 2.66 million hectares, were sown with super rice, the latest ministry statistics show.

With research and cultivation of new strains now under way, the ministry envisions having at least one-third of the country's total rice paddies planted with super rice in five years, according to ministry sources.

In launching the International Year of Rice 2004 late last year, Jacques Diouf, director-general of the United Nations Food and Agriculture Organization, said rice "is the staple food for over half of the world's population" but warned "its production is facing serious constraints."

China, the world's top rice grower, produced 160.65 million tons in 2003, its lowest point since 1994, data from the National Bureau of Statistics indicate.

In turn, China's grain production, including rice, wheat, corn, and other food grain, dipped from a record high of 512 million tons in 1998 to 435 million tons in 2003.

To avert deterioration of the already strained grain supply-demand relationship, China has rushed to reserve more area for grain production, while seeking to improve per-unit yields, experts said.

Super rice, piloted in China since mid-1990s, has demonstrated excellent characteristics of added production and better quality.

"On pilot farms, super rice yields 10.5 tons per hectare and is well on the way of producing 13.5 tons per hectare by 2010," said Shao Jiancheng, a staff member with the Ministry of Agriculture. This compares with the average of 6.5 tons per hectare for conventional strains.

However, experts said actual planting in large swathes could hardly meet the theoretically ideal turnout.

This is because the strains of super rice developed so far cannot survive and thrive in all paddy rice fields throughout the country, where irrigation and soil conditions vary, they said.

But Zhang said his ministry is determined to expand the use of super rice strains.

He said the pace of commercializing super rice will step up, by establishing a batch of pilot bases and ensuring supply of top-grade seeds.

A new move is to expand super rice to 4 million hectares next year, with each hectare producing 9 tons of rice, Zhang said.

Zhu Defeng, a researcher with the National Rice Research Institute in East China's Zhejiang Province, said the majority of China's super rice currently in use is hybrid rice, planted mostly in southern China.

Between 1998 and 2003, a dozen strains of the super crop had been planted in accumulated 7.46 million hectares of land, increasing rice output by 6.5 million tons, the ministry statistics indicate.

In the next five years, 30 additional strains of super rice are expected to evolve from the test fields to be planted in paddies with undesirable conditions and for different planting seasons, according to Shao.

Wang Ren, vice-director of the International Rice Research Institute in Manila, Tuesday said China has set a good example in exploring ways to increase grain yields by developing super rice.

While lauding the tremendous progress China has achieved, Wang said the country has yet to invest enough to close the gap between production potential and actual output of super rice.




Today's Top News
Top China News

`Super rice' set to increase output




Workshop highlights IPR legal responsibilities




Funding to ensure pension payments




Top official to visit Pyongyang




Fierce clashes in Iraq kill 34 people




Official: China still faces population problems