Is diet coke drugged?
(Beijing Today)
Updated: 2004-09-07 10:08
The Coca-Cola Company in Tianjin got in hot water last week, as a former doctor has said its Diet Coke product contains an illegal drug and filed a related lawsuit against the company with the court of the Tianjin Economic And Technology Development Zone on August 25.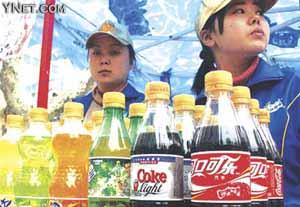 Diet Coke contains caffeine and sodium benzoate ĘC but in the correct proportions to qualify as a drug? [photocome]

The court has yet to start hearing the case, but the domestic media has been widely covering the story.

The plaintiff, a 35-year-old man surnamed Li, said Diet Coke contains both caffeine and sodium benzoate, two substances that combined in certain doses can form a potentially addictive drug considered harmful and illegal in China.

Drugs composed of the two compounds are used to treat respiratory conditions.

In his lawsuit, Li is demanding Coca-Cola recall its Diet Coke products from the domestic market, refund the 1.8 yuan he once payed for a can of Diet Coke and offer a symbolic 1 yuan compensation.

A spokesman for Coca-Cola told the Tianjin-based City Express newspaper on August 26 that all its products were produced legally and the company held certificates of safety from the General Administration of Quality Supervision, Inspection and Quarantine and the Tianjin Board of Health.

The source said all Coke products went through rigorous annual sample testing at the Tianjin Center For Disease Control And Prevention every year as well as the company's own regular quality and safety checks.

Li started on his anti-Coke crusade in July after he purchased a can of Diet Coke from a supermarket and noted the ingredients included water, caffeine and sodium benzoate, he told Beijing Today.

Though he now works in the flower field, Li had been a doctor for 15 years, and he quickly put together that the drink contained all the basic materials to make the potentially dangerous drug.

Wang Lei, a PR executive for Coca-Cola in Beijing, said Monday that the charges were incorrect, because only mixtures of caffeine and sodium benzoate in equal parts could qualify as the drug, adding that Diet Coke was made in keeping with national food and drink safety regulations.

Company standards hold that Diet Coke should not include more than 150 milligrams of caffeine and 200 milligrams of sodium benzoate per liter, a composition that puts it within domestic health supervision authorities' requirements.

Li, however, argues that people who drank two or three cans of Diet Coke a day could still be in danger. He also said he had certified test results that showed the Diet Coke he had purchased contained 120 milligrams of caffeine and 100 milligrams of sodium benzoate, a proportion nearly equal to that of the illegal drug, but he failed to produce a hard copy.

A professor Wang from the food department of China Agricultural University was quoted by the Beijing Morning Post on August 27 as saying the miniscule amounts of caffeine and sodium benzoate in Diet Coke could not affect consumers.

In the same article, another expert acknowledged that other commercial soft drinks included both caffeine and sodium benzoate.

A similar diagnosis was given by Chen Junshi of the State Food Additive Committee. He told Beijing Today on Wednesday and that Diet Coke was toproduced according national health requirements and that the low concentration of the suspect compounds in the drink did not qualify as forming the illegal drug.









| | |
| --- | --- |
| | |
| Johnny Depp says he enjoys aging | |

| | |
| --- | --- |
| | |
| Dog show in Honolulu | |

| | |
| --- | --- |
| | |
| Clinton bypass likely next week | |
Today's Top News
Top Life News

China's new traffic law drives into hot dispute




90 dead, 77 missing in southwest storms




Hong Kong celebrates with Olympic stars




Clinton has successful quadruple bypass




Civil servants' study allowance sparks debate




China invites bidding on nuclear power plants