90 dead, 77 missing in southwest storms
(Agencies)
Updated: 2004-09-07 09:20
At least 90 people were killed and 77 were missing after some of the worst rainstorms in recent years triggered landslides and flash floods in southwest China, disaster relief officials said.
At least 66 were killed and 50 were missing in Sichuan province while 24 people died and 27 were missing in Chongqing municipality.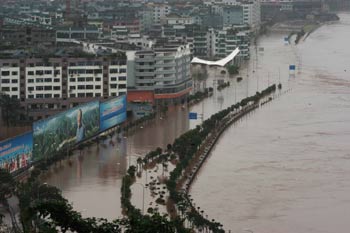 The picture shows the flooded street in Sichuan, September 5, 2004. [newsphoto]
More than 450,000 people have been evacuated from the deadly storms, with 127,000 homes destroyed or damaged, 400 bridges collapsed and at least 720 kilometres (446 miles) of roads and thousands of hectares of farmland washed away.
Many of the dead and missing in Sichuan were from Dazhou city.
"It is the heaviest rain in years and there are 41 dead and 30 missing in Dazhou alone," a Sichuan disaster relief bureau official surnamed Liu told reporters on Monday.
The deaths had mainly been caused by landslides and mountain torrents, mud and rock flows, added deputy bureau director He Rongjun.
The cities of Nanchong and Bazhong have also been badly affected, although Dazhou, in the northeast of the province, was worst hit with 360 millimetres (14.4 inches) of rain since Thursday.
Xinhua news agency said downtown areas were "isolated" as the rains caused cave-ins on urban roads and destroyed highways out of the city.
Dazhou deputy mayor Zhang Zhike said the situation was better Monday. However, some 3,000 people remained trapped by floods, he said.
"We have no fresh water for several hundred thousand people. All mineral water in the shops has been bought and all instant noodles are gone," said Zhang.
Supplies were due to arrive by firetrucks later Monday from Chengdu.
"The priority is to resume water supplies and electricity," he added.
State television showed footage of flood water gushing down rivers in Sichuan while the Sichuan Online website said military helicopters had tried to reach people trapped by flood waters but poor weather forced them to turn back.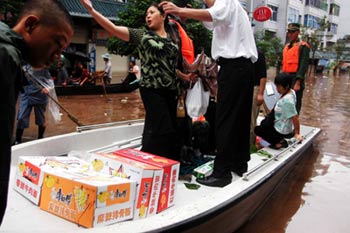 Relief workers and soldiers use a boat to transfer food to flood victims in Dazhou, Sichuan Province, where dozens of people have died as the result of floods since September 2. [newsphoto]
In one incident, eight people were killed in Dayin town when a landslide buried five houses at midnight on Saturday.
Tang Wanli, an official from the Chongqing civil affairs bureau, said 24 people were dead and 27 were missing in his municipality, which neighbours Sichuan.
Tang said the rain was the heaviest recorded in certain districts in decades and that 1.2 million people were affected in some way.
According to meteorologists the worst hit area in the municipality, Kaixian county, has been drenched by 327.3 millimetres (13 inches) of rain which has been pounding the area since Saturday.
Kaixian was completely flooded. Power and telecommunications were cut and the bridge linking it with neighbouring Wanzhou district was destroyed.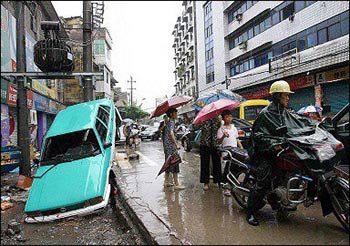 Residents inspect the damages after a flash flood hit the township of Kaixian in China's southwest municipality of Chongqing. [AFP]
Xinhua quoted county officials as saying they were in dire need of rescue vehicles.
Rescue operations were underway throughout the region although workers were finding it difficult to get to more isolated areas, said Xinhua.
Relief from the incessant rains, however, appeared to be in sight.
"According to the meteorological bureau, the rain will stop this afternoon. For the coming days there will be no more rain," said He.
"We don't think the death toll will increase a lot."
Today's Top News
Top China News

China's new traffic law drives into hot dispute




90 dead, 77 missing in southwest storms




Hong Kong celebrates with Olympic stars




Clinton has successful quadruple bypass




Campaign targets violators of IPR




Media urged to promote China-Japan ties