Israel hits Hamas training camp in Gaza, killing 14
(Agencies)
Updated: 2004-09-07 09:01
Israeli tanks, helicopters and warplanes pounded a Hamas training camp on Tuesday, killing 14 militants in the deadliest attack in Gaza for nearly four months, as Israel struck back after a double suicide bombing.
A barrage of tank shells and missiles hit the outskirts of the town of Shijaia, a stronghold of Hamas, the Palestinian faction behind nearly simultaneous blasts that killed 16 people on two Israeli buses in Beersheba last Tuesday.
Gaza's main hospital was overwhelmed by the flood of casualties. More than 20 people, including militants and bystanders, were injured, medical officials said.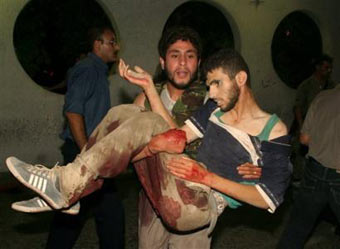 A wounded Palestinian man is carried into Shifa Hospital in Gaza City of the Gaza Strip, early Tuesday, Sept. 7, 2004. [AP]


"This ugly Israeli crime... will not pass unpunished," Hamas spokesman Mushir al-Masri told Reuters. "It is an open war between the Zionists and us." The group said all of the 14 dead were Hamas militants.

The growing spiral of violence could further complicate Israeli Prime Minister Ariel Sharon's plan to withdraw troops and settlers from the occupied Gaza Strip by the end of 2005.

Militants are determined to claim any Israeli pullout as a victory, but the army has vowed to smash armed factions first.

Israeli leaders had pledged harsh reprisals, including the resumption of a campaign to assassinate Hamas leaders, in response to the Beersheba bombings, the first suicide attacks in the Jewish state in nearly six months.

Just after midnight (5 p.m. EDT), tanks stationed at the Nahal Oz border crossing between Israel and Gaza opened fire on Shijaia, a suburb of Gaza City, and warplanes and helicopters launched missiles as they roared overhead, witnesses said.

The Israeli military said in a statement that it had "targeted a training field during training of Hamas terrorists."

It said Hamas members had been learning to make suicide belts, plant explosives, launch rockets, infiltrate Jewish settlements and kidnap soldiers and civilians.

HIGHEST DEATH TOLL IN GAZA IN MONTHS

The Israeli strike inflicted the highest single-day death toll in the coastal enclave since May 12, when troops killed 15 Palestinians in raids in Gaza City and the southern Gaza Strip.

Crowding the bloodied halls of Gaza's Shifa Hospital, hundreds of Hamas men carried their dead comrades aloft crying "Allahu Akhbar" (God is greatest) and vowing revenge.

"The enemy will pay for its crimes with a heavy price of blood and bodies of Zionists in the streets of al-Quds (Jerusalem), Bet Lid, Dizengoff and Hadera," Islamic Jihad said in a statement, referring to the targets of past suicide bombings.

Palestinian Foreign Minister Nabil Shaath issued a statement branding the Israeli attack in Gaza as a "terrorist attack by Israeli occupation forces" and accusing Israel of trying to thwart efforts to restore calm.

Hamas, sworn to Israel's destruction, is the main Islamic militant group spearheading a campaign of suicide bombings against Israelis during a nearly four-year-old uprising.

On Monday, Israeli Defense Minister Shaul Mofaz said Hamas leaders had apparently quit Damascus following Israeli threats to target them for assassination in retaliation for the Beersheba bombings.

But Mofaz warned: "We will chase them down everywhere."

A Hamas spokesman in Gaza dismissed Mofaz's remarks as "Israeli propaganda" but declined to comment on the whereabouts of the group's Damascus-based leadership.

Hamas said it carried out last week's bombings to exact revenge for Israel's killing of two of its leaders in Gaza earlier this year.




Today's Top News
Top World News

China's new traffic law drives into hot dispute




90 dead, 77 missing in southwest storms




Clinton has successful quadruple bypass




Civil servants' study allowance sparks debate




Hong Kong celebrates with Olympic stars




China invites bidding on nuclear power plants