Soul princess Alicia key to 'Wall of Hope' success
(China Daily)
Updated: 2004-09-07 08:56
From the Forbidden City to the Great Wall, from Yanni, Turandot, the Three Tenors to today's hottest R&B singer Alicia Keys, Beijing will again make history when it presents what many are declaring the main event of a decade later this month.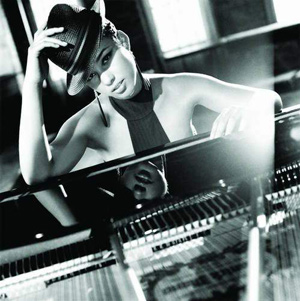 R&B singer Alicia Keys will appear in the "Wall of Hope" concert along with an incredible cast at the Juyongguan section of the Great Wall on September 25. [file photo]

Steinberg Lee and Lou Entertainment (SLL) and the Beijing Daily Group have confirmed the "Wall of Hope" concert involving an incredible cast and crew will be held at the Juyongguan section of the Great Wall on September 25.

Some 5,500 including 1,000 VIPs are expected to pack the event with benefits being donated to the China Youth Development Foundation.

Young R&B singer Alicia Keys will headline the concert with ticket price ranging from 100 yuan to 380 yuan (US$12.1 to US$45.9) and VIP boxes costing 10,000 yuan (US$1,208) per person.

Organizers emphasize this will showcase a social party with guests coming from across the community.

Every ticket buyer will receive directions and advice on how best to travel to the concerts - and how best to protect the area.

The event will also commemorate the 20th anniversary of China's Great Wall restoration project.

The concert is the first in a series of benefit events planned for China's key metros, Beijing, Shanghai and Guangzhou - a programme that will run up to the 2008 Olympics.

Eugene J Lou, president of Great China, Steinberg Lee and Lou Enterprises, which is one of the concert's sponsors, said: " We do not only present concerts, but also provide a communication between China and the world. It's a way to make the world know China better as well as a stage to expose Chinese youth to the world super stars."

He added: "We could imagine how great would be the contrast between the magnificent building of the ancient Eastern country and today's Western pop music."

Produced as a cross-generation, cross-cultural event, the show will be taped for international television broadcast. The MTV Network will broadcast the television special in the Asia Pacific region.

Veteran producer Hal Uplinger who produced Live Aid and Farm Aid will spearhead the broadcasts.

"We look forward to bringing a wonderful show to Beijing as well as a memorable TV production for the world's audience," said Uplinger.

In addition, the stellar production team assembled by Steinberg includes director Phil Chilvers, who worked on the Nelson Mandela Concert at Wembley, and producer Mike Appleton, who was involved in the Live Aid and Sir Elton John's Christmas Concert.

The veteran youth marketing executive Robert Ajakwe of BTB (Beyond the Box Communications) and partner Charmaine Chapman will work as the show's co-creators and co-executive producers.

The Los Angeles-based company BTB is a full-service integrated marketing and television production company, specializing in youth oriented ventures that have a philanthropic purpose.

Award-winning director Louis J Horvitz, who worked on the Live Aid, Academy Awards and Emmys events, will act as executive creative consultant.

Veteran production designer Cary Floyd of Joyce & Associates has been touted to lead the staging effort.

Floyd's impressive list of credits includes staging an expansive list of shows for top artists ranging from the Counting Crows to Steely Dan.

Veteran television personality Cynthia Garrett will act as MC.

MBK Entertainment/J-Records artist Alicia Keys is the first to confirm her participation at the international pop gig. Cyndi Lauper, Boyz ll Men, Al Jarreau, JC Chasez and Raz B of the R&B group B2K will join Alicia Keys.

In addition, Raz B will act as the event's official Youth Ambassador. The teen artist has established the Raz Beatz Foundation, which he will launch via a worldwide youth outreach campaign beginning in China in association with the Wall of Hope concert.

Diva's road to success

By breaking onto the R&B and soul music scene in the summer of 2001 at age 19, Alicia Keys has already made quite a name for herself with her natural musical talents and smash hit singles.

Her soulful sound can be attributed to a variety of natural talents. She is a skilled songwriter, boasting several years of expertise as a classically trained pianist, and possesses a powerful voice.

Her debut album, "Songs in A Minor," a fusion of different music genres including blues, jazz, R&B, and hip-hop, was released in June 2001 in the United States, and July 2001 in the UK.

Her second album, "The Diary Of Alicia Keys" was released in December 2003 and immediately took the number one spot on the US Billboard chart.

Her road to success was not an easy one.

In 1981, she was born to an Italian-Irish paralegal mother, Terri Augello, and Craig Cook, an African-American flight attendant father. Her parents split when she was just 2, and she was raised by her mum in the tough Hell's Kitchen neighbourhood of New York.

She credits much of her success to her ultra-supportive mother who initiated her to piano-playing at the age of 7 and told her "You can quit anything else but you can never give up on your piano lessons."

Aged 12, Alicia enrolled in the Professional Performance Arts School of Manhattan and chose to major in choir.

An all-around outstanding student, her musical talents grew to an even higher level under the guidance of Conrad Robinson, who helped train her voice and enabled Alicia to further grow as a multi-talented musician.

At 16, Alicia's outstanding academic grades allowed her to finish high school early. Columbia University accepted Keys and though she gave it a whirl, the desire to focus on music was her driving force.

In 1998, major record labels began discovering her, which resulted in old-fashioned bidding wars in her honour. She eventually signed with Arista Records and continued the process of writing, producing and recording the debut that she had been working on since age 14.

Though Alicia is the same age as Britney Spears, she is more often compared with classic R&B singers than her teen pop counterparts.

The six-time Grammy nominee, whose cool elegance and soul sister honesty make her a favourite with young women, says she's anything but a diva.

"I hate the word," she says. "All of a sudden every singer who's successful is a diva. I'm probably the most low-maintenance, easy-going person ever... I like to have good energy and I like to call people my friends. I like to keep it like that."




| | |
| --- | --- |
| | |
| Johnny Depp says he enjoys aging | |

| | |
| --- | --- |
| | |
| Dog show in Honolulu | |

| | |
| --- | --- |
| | |
| Clinton bypass likely next week | |
Today's Top News
Top Life News

China's new traffic law drives into hot dispute




90 dead, 77 missing in southwest storms




Hong Kong celebrates with Olympic stars




Clinton has successful quadruple bypass




Civil servants' study allowance sparks debate




China invites bidding on nuclear power plants