China's new traffic law drives into hot dispute
By Zhu Yuzi (China Daily)
Updated: 2004-09-07 08:41
Liu was driving when he was involved in a fatal traffic accident in May. He is still waiting for a verdict on the case, which is the first such case to have been taken through the courts in Beijing since the Road Traffic Safety Law took effect on May 1.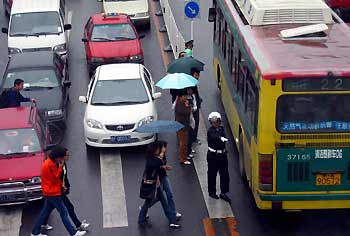 Pedestrians struggle to cross among moving vehicles in a rush hour traffic jam in Beijing. [newsphoto/file]
Just over a week after the law became live, Liu knocked down and killed pedestrian Cao in the main artery of Beijing's Second Ring Road. Cao was crossing the road at a point where pedestrians are strictly forbidden to walk.
Liu is now faced with an order to pay 230,000 yuan (US$28,000) in compensation to Cao's family - even though it was Cao who violated the road rules.
"If it had happened before the law took effect, Liu would not have had to pay much compensation to the woman," Xiao Jia, a 22-year-old taxi driver in Beijing, told China Daily.
Here, in the Chinese capital, local traffic regulations previously cleared drivers of responsibility if they were not at fault in an accident.
But the draft regulation for the implementation of the Road Traffic Safety Law re-defines the driver's liability.
The second item of the regulation's Article 69 reads that the motor vehicle driver will always be held responsible for a road accident with pedestrians or non-motorized vehicle drivers, as long as the accident is not reported to the police or the site of the accident is altered to make the collection of evidence impossible.
Article 76 of the law says the extent of the driver's liability can only be reduced when proof is available that it was the pedestrian or the non-motorized vehicle driver who broke the law and the driver took necessary measures in an attempt to avoid the accident.
Responsibility is still not eliminated entirely, however.
"It is 100 per cent certain now that Liu can hardly escape from paying at least some compensation," Xiao said.
A long time brewing
"This is a landmark law that aims for China to reduce the number of traffic accidents and change people's attitudes towards traffic safety," said Duan Liren, one of the law drafters, about the new law.
In 1993, the Ministry of Public Security started drafting the law.
Ten years later, it was passed at the fifth session of the 10th NPC Standing Committee in October 2003, after four rounds of deliberations.
It comes at a time when the number of motor vehicles in the country stands at an all-time high and road accidents have become the top killer in China.
The Beijing Municipal Communications Commission said that in August 2003, the number of motor vehicles in Beijing hit a record 2 million, double that of 1997.
Just eight months later, in April 2004, the number grew by 10 per cent to 2.2 million, with more than 800 more vehicles congesting the streets each day.
Statistics from the Ministry of Transport say more than 100,000 people a year have been killed on China's roads in the past three years.
"China claims 2 per cent of the world's motor vehicles but 15 per cent of the victims who die in traffic accidents," said Zhang Jianfei, an official at the Ministry of Communications.
Between 1986 and 2002, the toll has increased each year by an average 6.3 per cent.
"If no efficient measures are adopted, traffic accidents would boom dramatically," Zhang said.
Duan Liren says many people like him began to question the fairness of previous regulations widely adopted in many big cities, including Shenyang, Shanghai, Shenzhen and Chongqing.
"Is it fair that a person loses their life for just one breach of the rules and his family don't get a penny in compensation?" Duan asked.
He said the new law placed priority on the pedestrian's right to life over the driver's right of way.
Regulation in dispute
But when local regulations for implementing the law came under the spotlight in Beijing, law drafters had no idea of the controversy it would cause.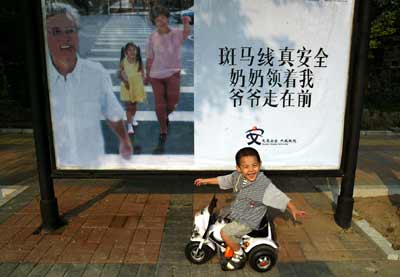 A boy rides his tricycle besides a billboard promoting traffic safety regulation in Beijing. [newsphoto/file]
"Drivers are also human beings - how can the law overlook our interests?" taxi driver Xiao Jia asked.
Xiao feared that pedestrians would relentlessly break traffic laws knowing they would be compensated even if they were at fault.
"I would never be able to afford the sort of money that is demanded in compensation," he said.
Many people showed sympathy with drivers like Xiao.
When Beijing sought public opinion about the draft regulation between August 9 and 15, nearly 9,000 people expressed their views via the Internet, phone or letters.
In a survey by www.sina.com, 90 per cent of 6,000 voters thought the regulation would have no effect on easing traffic pressure in the city.
"If we pedestrians do not have a proper awareness of the regulations, even compensation will not guarantee our safety," Beijinger Chen Jianming said.
Some people are trying to look a little deeper into the dispute.
"The principal of the law and the regulation is to alleviate the suffering of the victim," said Yu Lingyun, a professor at the Chinese People's Public Security University.
"And a mistake by the driver usually causes greater damage than any by the pedestrian."
Insurance at the core
Peking University sociologist Mao Shoulong believes the real focus is beyond the law itself.
"It is a dilemma between caring for people and the efficiency of our traffic system," Mao said.
"It is an important goal of the traffic system to run at a higher efficiency, but high speed poses great dangers to people," Mao said.
"Since the country is putting more emphasis on caring for people, the emphasis of legislation has been diverted from pursuing efficiency to putting people first."
But it takes more than laws and regulations to care about people.
Mao says other steps could be taken to help the new law run more smoothly - there could be better city planning, and a better system of insurance.
"In New York City and many cities in Germany, adequate subways and zebra crossings have been put in for pedestrians to more easily and conveniently cross the city roads, or even the highways," said Xie Fang, a communications academic .
"In Beijing, footbridges or subways are at distances of 200 or 300 metres apart, sometimes even 500," said Beijinger Cao Xuejun.
"It is inconvenient for a pedestrian to spend 10 minutes crossing a road that may be just 20 or 30 metres wide," Cao said.
And it might be easier to build subways than a more sound insurance system
The law requires all the drivers to buy third-party insurance. And if they hold valid insurance, any compensation should be partly paid out by the insurance company, says Article 76.
In this way a fairer compensation mechanism can be built up and road users are safeguarded against huge pay-outs.
"There are two key points in handling traffic accident disputes," said Yu. "One is the limit of compensation drivers have to pay, the other is a better insurance system."
In many developed countries, insurance companies play an important part in handling traffic accident disputes.
The two sides involved immediately report the incident to their respective insurance companies, who then send someone to examine the scene of the accident with the police and represent their client in negotiating settlement.
"But in China, the current insurance system does not match the Road Traffic Safety Law," said Ying Songnian, a leading law scholar.
The Supreme People's Court reckons compensation payments usually run to more than 200,000 yuan (US$24,000) a throw.
But nearly 80 per cent of Beijing drivers only have third party insurance that pays up to half of that, Beijing News reported recently.
"Now third party insurance offered by companies is for commercial use, so they are often reluctant to recommend drivers increase the insured amount," said Sun Yong, a lawyer in Beijing.
Worse, according to the Insurance Law, the insurance company will only pay as much as the liability of their client is set at.
Xiao told one story about a driver. "He hit a man who had ignored the traffic lights. My friend was blameless and still told to pay, but when he asked the insurance company to help, well, he was turned down."
"I don't think we can pay if the driver had no fault in the accident," a source from China's Pacific Insurance Corp told China Daily.
"We now offer an additional insurance that will help drivers pay if they are not at fault. But even then, the liability limit is within 50,000 yuan (US$6,000)."
"The mandatory third party insurance required by the law is different from the third party insurance drivers buy now," Sun said.
"It is compulsory, and no insurance company can refuse to provide it," said Sun.
China Insurance Regulatory Commission official Liu Jingsheng said the regulation of the mandatory third party insurance was drafted and has already been sent to the legislative department.
"Once the insurance system is perfected, the Road Traffic Safety Law will function well," Ying Songnian said.
Today's Top News
Top China News

China's new traffic law drives into hot dispute




90 dead, 77 missing in southwest storms




Hong Kong celebrates with Olympic stars




Clinton has successful quadruple bypass




Civil servants' study allowance sparks debate




China invites bidding on nuclear power plants