US tanks pound rebel-held Iraqi town - witnesses
(Agencies)
Updated: 2004-09-07 08:34
U.S. tanks pounded targets in the rebel-held Sunni Muslim town of Falluja west of Baghdad on Tuesday and U.S. warplanes could be seen flying overhead, witnesses said.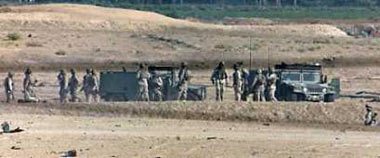 U.S. soldiers collect the bodies of their colleagues, following Iraqi guerrillas attack near the town of Falluja, September 6, 2004. Attackers targeted a U.S. convoy with a blast near the Iraqi city of Falluja, the U.S. military said, and witnesses said several troops were killed or wounded. [Reuters]


Hours earlier, a car bomb attack on a U.S. patrol outside Falluja, west of Baghdad, killed seven American marines and three Iraqi National Guardsmen, in the deadliest single attack on U.S. forces in five months.

The U.S. military had no immediate comments on U.S. operations in Falluja. There were no immediate reports of casualties. Witnesses said tanks opened fire on buildings in the southeast district of Falluja and that militants returned fire.




Today's Top News
Top World News

China's new traffic law drives into hot dispute




Hong Kong celebrates with Olympic stars




Campaign targets violators of IPR




Nation's global investment up




China to invite bidding on nuclear powerplants




76 die in floods in SW China, 52 missing