Powerful typhoon hits southern Japan
(Agencies)
Updated: 2004-09-07 00:33
A powerful typhoon in southern Japan caused landslides and floods, left tens of thousands without power, and injured at least 23 people Monday. In the western part of the country, strong aftershocks rattled a region hours after two earthquakes injured 43.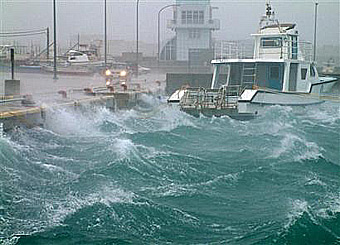 Waves beat a Naha port in Okinawa as powerful typhoon Songda hits the southern Japanese island with heavy rains and high winds, injuring 15 people Sunday, Sept. 5, 2004. The Meteorological Agency warned of high tides and said that seas around southwestern Japan would get increasingly rough. [AP]


Typhoon Songda, packing winds of up to 90 mph, headed northeast toward Japan's southernmost main island of Kyushu, the Meteorological Agency said. Late Monday, it was about 140 miles southwest of Nagasaki, or 715 miles southwest of Tokyo.

The typhoon had pelted outlying islands in southern Okinawa and Kagoshima prefectures with as much as eight inches of rain in the past 24 hours, the agency said. As much as 24 inches of rain were expected by Tuesday in parts of Kyushu.

Police said 23 people had been injured, including two women with broken bones.

About 40,000 homes in Kagoshima and 22,700 homes in Okinawa were without electricity late Monday, according to Kyushu Electric Power Co. and local officials.

More than 780 primary and junior high schools in the region were temporarily closed and about 1,029 were expected to shut down Tuesday.

More than 200 airline flights were canceled, and ferry and train services were suspended in southern Japan, the Kyodo news agency said. More cancellations were expected Tuesday.

Songda was one of the strongest typhoons to lash Okinawa since the Meteorological Agency started keeping records for the prefecture in 1972, when the United States returned it to Japanese control after occupying it after World War II.

Last week, Typhoon Chaba struck Japan, killing at least nine, injuring 204, and flooding more than 19,000 homes.

Sunday's two offshore quakes ¡ª the first with a magnitude of 6.9 followed by a 7.3-magnitude temblor five hours later ¡ª were felt most strongly in sparsely populated areas in southwestern Wakayama state, about 280 miles west of Tokyo. The quakes were centered 70 and 80 miles off shore, respectively, also reducing the damage and casualties.

Still, they shook the major cities of Osaka, Kyoto and Nagoya, and caused buildings to sway in Tokyo.

Aftershocks continued to rattle the region early Monday, including a magnitude-5.7 tremor, according to the Meteorological Agency. No damage or injuries were immediately reported.

"A series of magnitude-5 aftershocks could continue up to the next 10 days. They could cause tsunami waves, and I urge people to evacuate to higher ground," public broadcaster NHK quoted Yoshinobu Tsuji, assistant professor at the University of Tokyo's Earthquake Research Institute, as saying Monday.

Tsunami ¡ª waves triggered by seismic activity ¡ª as high as three feet were recorded along the Pacific Coast Sunday, although the Meteorological Agency lifted its tsunami warnings early Monday.

The National Police Agency said 43 people were hurt Sunday, including four people with broken bones. Most were injured in the second, more powerful quake. Kyodo also reported that 600 homes were without electricity, while high-speed train services were temporarily suspended.

Japan, which rests atop several tectonic plates, is among the world's most earthquake-prone countries.

A magnitude 7 quake is capable of causing widespread, heavy damage.




Today's Top News
Top World News

Hong Kong celebrates with Olympic stars




Campaign targets violators of IPR




Nation's global investment up




China to invite bidding on nuclear powerplants




76 die in floods in SW China, 52 missing




Media urged to promote China-Japan ties