Hong Kong celebrates with Olympic stars
By Tonny Chan, Eddie Luk & Alfons Chan (China Daily)
Updated: 2004-09-07 00:05
Some 50 mainland Olympic gold medallists arrived in Hong Kong Monday to applause from cheering crowds, beginning a three-day visit to provide adoring fans a chance to see the athletes up close.
Leading a 68-strong delegation, State General Administration of Sports Director Yuan Weimin said the group came to Hong Kong to share the "pride and honour" the country's top athletes had achieved in Athens with the Hong Kong people.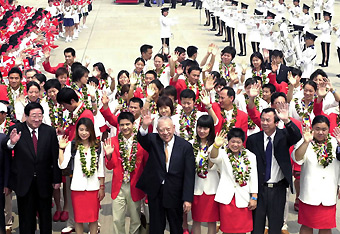 Olympic medallists from the Chinese mainland pose with officials as they arrived at Hong Kong airport. The delegation, led by Yuan Weimin, minister of the State General Administration of Sports (2nd right, front row), consists of all of the Chinese mainland's gold medallists a the Athens games and some of their coaches. [newsphoto]


The visit was also an expression of thanks to local citizens for their long-standing support to China's sports sector, Yuan said.

The medallists touched down at the airport shortly before noon. They were greeted there by Chief Executive Tung Chee-hwa, Director of the Liaison Office of the Central People's Government Gao Siren, Commissioner of the Ministry of Foreign Affairs in Hong Kong Yang Wenchang and other officials.

About 130 children waved national and Hong Kong flags as a police band played the national anthem and other rousing music.

Tung called the athletes "the pride of Hong Kong and the pride of the nation," and said the community was very happy to receive them after their triumphs.

The ceremony was followed by a reception attended by about 500 people at the Government House and a banquet hosted by the Hong Kong Olympic Committee last night.

At the reception, Tung said the Chinese athletes' performance brought world attention and put China and the 2008 Beijing Olympic Games in the international spotlight.

"During the 16-day Games, you and our own athletes from Hong Kong have brought us touching moments, one after another," he noted, recalling the national and Hong Kong flags raised and national anthem played in Greece during medal presentation ceremonies.

"They made our hearts feel closer than ever to the motherland," Tung said.

"The heroic words, 'Asia has me. China has me' (of 110 metres hurdles winner Liu Xiang), echo deeply in our hearts."

Tung also praised the athletes for completing arduous training, uncommon perseverance and showing relentless fighting spirit.

"I take this valuable opportunity to thank the Chinese athletes who are here to share with us the glory and joy of victory immediately after these exciting competitions," he said.

Speaking on the same occasion, Yuan labelled the grand reception organized by Hong Kong government "impressive."

"We have come to share with you our pride and joy. We look forward to increasing exchanges and co-operation between Hong Kong and the mainland, and wish Hong Kong a future of more prosperity and development," Yuan said.

Hong Kong Olympic Committee President Timothy Fok spoke highly of the athlete's sportsmanship that "every Chinese takes pride in."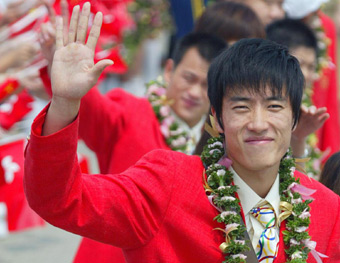 Chinese hurdler Liu Xiang waves to the welcoming crowd at Hong Kong airport Monday. The medalist group, led by Yuan Weimin, minister of the State General Administration of Sport, includes all of the Chinese mainland's gold medallists a the Athens Games and some coaches. [newsphoto]


At a news conference attended by Yuan, other officials and athletes in the afternoon, Yuan noted Hong Kong's desire to become a venue for some Olympic events in 2008.

He said it was a good idea and understandable.

"But it can not be decided by the Beijing Olympic Committee alone," he said.

He said they would have to co-ordinate the suggestion with international sports bodies to receive permission, and called the matter a complicated process.

The athletes will attend a series of public events today and tomorrow to allow citizens to catch a glimpse of them.

Liu Xiang and diver Guo Jingjing may have been among the top favourites. But the crowd of Hong Kong fans all had their own heroes -- Olympic gold medallist whom they ranked as best.

And they had all made a special effort to wait patiently at the airport yesterday to greet the arrival of the triumphant athletes who have come to Hong Kong for a three-day visit.

Student Ken Ma, who went to Chek Lap Kok four hours before the Olympic athletes' scheduled arrival time at 11 am, said he was ecstatic at the prospect of meeting them in person.

Ma's companion, who identified himself as Mr Lo, told China Daily he endured a sleepless night in anticipation of meeting the Olympic stars.

"I hardly slept at all last night, I was too excited," he said.




Today's Top News
Top China News

China tackles swollen auto production capacity




SW China floods have killed at least 177




Wu Yi: China to go further than WTO promises




Elders' problems centrestage at forum




Further opening in banking sector pledged




Russia vows to attack 'terror' worldwide