7 US Marines killed in blast near Fallujah
(Agencies)
Updated: 2004-09-07 09:26
A massive car bomb exploded Monday on the outskirts of Fallujah, killing seven U.S. Marines and wounding several others, a U.S. military official said, in the deadliest attack on Americans since May.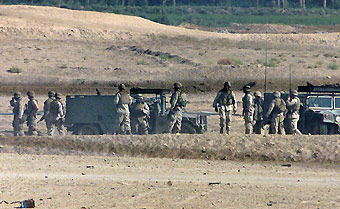 U.S. soldiers collect the bodies of their colleagues, following Iraqi guerrillas attack near the town of Falluja, September 6, 2004. Attackers targeted a U.S. convoy with a blast near the Iraqi city of Falluja on Monday, the U.S. military said, and witnesses said several troops were killed. [Reuters]


The attack nine miles north of Fallujah — a stronghold for Sunni insurgents — destroyed two Humvees, witnesses said. Medical teams in helicopters swept into the dusty, barren site to ferry away the injured, and troops sealed off the surrounding area.

In Baghdad, meanwhile, an Interior Ministry spokesman said that medical tests on a man being held in custody showed he is not former president Saddam Hussein's deputy, Izzat Ibrahim al-Douri, ending conflicting claims about his purported arrest.

The man is a relative of al-Douri, said Interior Ministry spokesman Sabah Kadhim, and was wanted by authorities, but not an important member of Saddam's ousted regime.

The force of the car bomb outside Fallujah sent the vehicle's engine "a good distance" from the site, a military official said on condition of anonymity. Four Iraqis were wounded by fire from U.S. troops near the site of the bombing, said Ahmed Bassem of the Fallujah General Hospital. The U.S. military was unable to immediately confirm the report.

With Monday's deaths and those of two U.S. soldiers in a mortar barrage outside Baghdad a day earlier, 985 U.S. service members have died since the beginning of military operations in Iraq in March 2003, according to the Defense Department.

U.S. forces have not patrolled inside Fallujah since April, when U.S. Marines ended a three-week siege. The city has since fallen into the hands of insurgents who have used it as a base to manufacture car bombs and launch attacks on U.S. and Iraqi government forces.

The U.S. military has retaliated by launching several airstrikes on insurgent safehouses in the city.

Monday's deaths were the largest number of Americans killed in combat in a single day since May 2, when nine U.S. troops died in separate mortar attacks and roadside bombings in Baghdad, Ramadi and Kirkuk.

Seven troops were killed on two days last month, but in each case, there were six Americans and one foreign coalition member who died. On Aug. 21, six U.S. service members and one Polish soldier died in combat, and six were killed on Aug. 15, along with a Ukrainian soldier.

On Sunday, Iraqi officials said they had nabbed al-Douri — the most-wanted member of Saddam's regime — during a shootout north of Baghdad, but later in the day the Iraqi defense minister said word of his arrest was "baseless."

"The required tests to identify him showed that he is not Izzat al-Douri," Kadhim told The Associated Press.

There have been incorrect reports of al-Douri's arrest in the past.

American officials believe that al-Douri — Saddam's former right-hand man — is playing an organizing role in the 16-month insurgency that has plagued U.S. forces here.

Al-Douri was once the vice chairman of the Baath Party's Revolutionary Command Council and U.S. military officials believe he played an organizing role in the 16-month-old insurgency.

He is No. 6 on the U.S. military's list of 55 most-wanted figures from Saddam's regime — the king of clubs in the deck of cards — and U.S. forces have offered a $10 million bounty for his arrest. Forty-four of the people on the list already have been killed or captured.

Saddam was arrested on Dec. 13, hiding in a tiny underground bunker near Adwar.

Also Monday, a Turkish driver taken hostage in Iraq was released by his captors, Turkey's Foreign Ministry said. The release came a day after the driver's company announced it would withdraw from Iraq in line with his captors' demands.

Elsewhere, U.S. and Iraqi national guardsmen clashed with insurgents in the northern city of Mosul, the U.S. military said. Hospital officials said three civilians were killed and nine others wounded in the fighting late Sunday.

Iraqi police in the northern city of Kirkuk on Monday seized a car packed with explosives that authorities believed was going to be used by a suicide bomber, said police Col. Sarhad Qadir. He said 38 people were detained during the operation.

The seizure came two days after a suicide car bombing outside a Kirkuk police academy killed 20 and injured 50 in an attack aimed at disrupting efforts to build an Iraqi security force.

The two U.S. soldiers killed Sunday in the mortar barrage were members of the 13th Corps Support, as were 16 others injured in the attack, said Maj. Richard Spiegel. One of the injured was critically hurt, he said.

The corps oversees distribution of fuel, food and water to U.S. forces.

Iraqi Minister of State Qassim Dawoud said the trial of Saddam and other indicted officials from his regime would start "within a few weeks ... before the end of this year and before (Iraqi) elections," which are planned for January.

Saddam so far has had seven preliminary charges filed against him, including gassing thousands of Kurds in 1988, the 1990 invasion of Kuwait, the suppression of 1991 revolts by Kurds and Shiites, the murders of religious and political leaders and the mass displacement of Kurds in the 1980s.

Eleven others have also been charged, including former Deputy Prime Minister Tariq Aziz; Ali Hasan al-Majid, known as "Chemical Ali;" and former Vice President Taha Yassin Ramadan.




Today's Top News
Top World News

China's new traffic law drives into hot dispute




90 dead, 77 missing in southwest storms




Hong Kong celebrates with Olympic stars




Clinton has successful quadruple bypass




Civil servants' study allowance sparks debate




China invites bidding on nuclear power plants