76 die in floods in SW China, 52 missing
By Wang Ying (China Daily)
Updated: 2004-09-06 22:50
Floods and landslides have killed 76 people in Southwest China and washed away homes and roads over the past few days, local civil affairs officials said.
At least 55 people were killed in Sichuan Province, with 52 missing, and at least 21 people were killed in Chongqing Municipality, situation in the east of Sichuan, according to the latest statistics.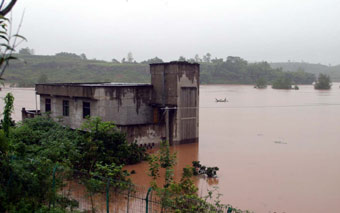 Floods in Dazhou city, southeast China's Sichuan Province, have killed at least 34 people with 38 others still missing. [newsphoto]


Heavy rain has sparked flash floods and mud and rock flows in Sichuan and Chongqing since last week, destroying crops and severing transport links, disaster relief officials said.

Most of the dead were killed when mudslides buried their homes, according to the Tianfu Morning Post in Chengdu, the capital of Sichuan Province.

Heavy rainstorms, which were the most destructive in the province so far this year, have battered the cities of Dazhou, Nanchong and Bazhong since Thursday.

In the city of Dazhou in Sichuan, rising waters inundated roads and cut off power, gas and water supplies on Sunday, reported China West Metropolis News Monday.

Heavy rains, thought to be the worst in 200 years, hit Dazhou the hardest, leaving its more than 250,000 people stranded and sparking panic buying in markets.

Flood waters rose to the third floor in downtown areas of Dazhou and nearly all local shops have sold out of food and water, Huang Yong'an, a local resident told China Daily by telephone Monday.

"Most of enterprises and factories were closed due to the floods, including the Dazhou Iron and Steel Factory," Huang said.

"Flood water also cut off railway lines and roads on Sunday,'' Huang said. "We feel the city has become isolated from the rest of the world."

At least 30 people have been killed and another 30 have gone missing in Dazhou.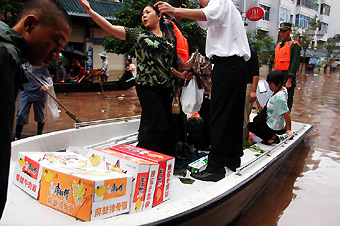 Relief workers and soldiers use a boat to transfer food to flood victims in Dazhou, Sichuan Province, where dozens of people have died as the result of floods since September 2. [newsphoto]


Yunyang County in Sichuan has suffered 23 landslides, which buried more than 350 homes and killed seven people, local media said.

Sichuan provincial disaster relief officials said a rescue group of more than 150 is on its way to Dazhou to provide help.

A group of experts was sent to Dazhou on Sunday by the Ministry of Civil Affairs to help guide disaster relief work.

No immediate respite was in sight with rain expected through today, according to meteorologists.

Local governments were appealing for help from the nation's air force to help reach people cut off by the rising waters, Xinhua said.

The provincial government has also sent three work teams to the flood-hit areas to monitor the rescue work.

In Chongqing, rainfall has reached 327.3 millimetres, the highest in 200 years, local media reported. About 56,000 houses have been damaged and 82,000 people forced to flee their homes.

In East China, anti-flood and disaster relief departments are prepared to fight an approaching typhoon, the 19th this year, which is expected to hit Shanghai and Zhejiang Province today.

Rainstorms and heavy winds are expected over the next few days in coastal regions of eastern China.




Today's Top News
Top China News

Campaign targets violators of IPR




HK celebrates with Olympic stars




Nation's global investment up




China to invite bidding on nuclear powerplants




76 die in floods in SW China, 52 missing




Media urged to promote China-Japan ties