Clinton bypass likely next week
(Agencies)
Updated: 2004-09-06 15:55
Bill Clinton was hospitalized with chest pains and shortness of breath Friday and will undergo heart bypass surgery in an operation that could sideline the former president at the height of the campaign for the White House.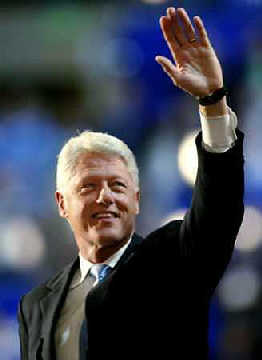 Formal U.S. president Bill Clinton is to undergo a heart bypass surgery next week. [file photo]

An angiogram showed that Clinton, who turned 58 two weeks ago, had significant blockage in his heart arteries but did not suffer a heart attack, a doctor who performed the test told The Associated Press.

Clinton's wife, Sen. Hillary Rodham Clinton, said Friday evening that the former president would have surgery early next week and that no further information about his condition would be released until the operation is finished.

"I wanted to report to you that my husband is doing very well," she said outside New York Presbyterian Hospital/Columbia, where the former president is being treated. "He's in great humor. He's beating all of us at cards and the rest of the games we're playing."

In bypass surgery, a new piece of blood vessel, usually taken from the patient's leg, is sewn into place to create a detour around a blockage. Patients typically spend three to five days in the hospital and are encouraged to be fairly active right away.

Clinton had agreed to campaign for Democrat John Kerry in the two months to go before the election, and had appeared at some Democratic Party events.

He awaited the operation at the hospital in upper Manhattan, not far from his Harlem office.

During his two terms as president, Clinton was an avid jogger also known for his love of fast food. But in January of this year, Clinton said he had cut out junk food after going on "The South Beach Diet" and starting a workout regimen. He has long struggled with a weight problem, but had recently appeared much leaner.

The 6-foot-2 president has remained an active political presence since he left the White House in 2001, whether quietly stopping by his Harlem office or drawing a standing ovation for a rousing speech to Democrats at their July convention in Boston. Most recently, he was on the road plugging his memoirs, "My Life."

Before he suffered chest pains, Clinton had been scheduled to accompany his wife on a two-day tour of upstate New York. Instead, the senator and the couple's daughter, Chelsea, joined Clinton in New York City.

Sen. Clinton said her husband would "be back in fighting form before really very long after the surgery and the period of necessary recovery passes."

She praised the hospital's medical staff. She said: "We're delighted we have good health insurance. That makes a big difference. And I hope someday everybody will be able to say the same thing."

Clinton had a cancerous growth removed from his back shortly after leaving office. In 1996, he had a precancerous lesion removed from his nose and a year before that had a benign cyst taken off his chest.