Floods kill 76 in China, no let-up in sight
(Agencies)
Updated: 2004-09-06 15:40
Floods and landslides have killed 76 people in southwest China in the past four days and washed away homes and roads, knocked down power lines and cut off at least one city, Xinhua News Agency said on Monday.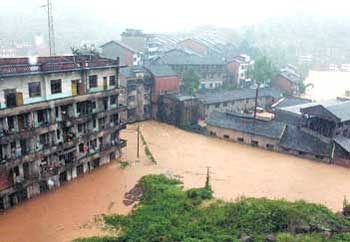 Binlang township in Daxian County, southwest China's Sichuan Province, is flooded after days of rainstorms September 5, 2004. Flooding, landslides triggered by heavy rains have killed 55 people and left 52 missing in the province. [Xinhua]
"We've never seen such heavy flooding," a government official said.
Heavy rain sparked flash floods and mud and rock flows in the southwest province of Sichuan, destroying crops and severing transport links, Xinhua said, citing provincial disaster relief officials.
At least 55 people were killed in Sichuan, with 52 missing, and at least 21 people were killed in the city of Chongqing, to the east of Sichuan and 1,500 km (900 miles) south of Beijing.
Most of the dead were killed when mudslides buried their homes, the Tianfu Morning Post said. The county of Yunyang alone suffered 23 landslides, which buried more than 350 homes and killed seven people, it said.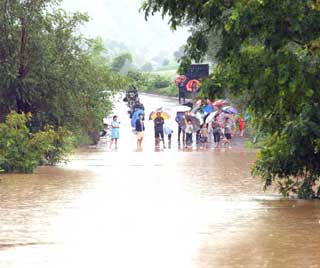 Local residents are stranded in the floods in Kaixian County, Sichuan Province September 5, 2004. Local authorities said heavy rains have stranded more than 87,000 people in the county. In the province, 55 people have been killed and 52 are missing in floods and landslides. [xinhua]
No immediate respite was in sight with rain expected through Tuesday, provincial officials said.
Local governments were appealing for help from the nation's air force in reaching people isolated by the rising waters, Xinhua said.
In Dazhou city, rising water inundated roads and cut off the supply of power, natural gas and running water, effectively leaving its more than 250,000 people stranded and sparking panic buying in markets, said the government official, from Dazhou.
"Nearly all the food and water in local shops has sold out," he said, adding the provincial government was rushing in basic emergency supplies from other areas.
"Downtown areas of Dazhou, which suffered the most serious damage in the rainstorm, have been isolated as the flood caused cave-ins on urban roads and destroyed highways linking the city with the outside world," Xinhua reported.
Elsewhere, ``the village of Ji'an has vanished overnight,'' the report said. All 1,200 village residents were evacuated.

In Chongqing, rainfall has reached 327.3 millimeters (13 inches), the highest in 200 years, Monday's reports said. About 56,000 houses had been damaged and 82,000 people forced to flee their homes.

Today's Top News
Top China News

IPR disputes fuelled by auto makers




Floods kill 76 in China, no let-up in sight




Asian political parties pledge co-operation




ASEAN recognizes China as market economy




Russians burying attack victims, 350 dead




Toyota, partner to invest US$461m in China