Britain still waiting for Chinese tourists
(Agencies)
Updated: 2004-09-05 13:22
At Jun Li's travel agency in central London, plans are already afoot to recruit extra staff and train new tour guides in preparation for an expected influx of visitors from China.
But with Britain so far excluded from an agreement between Beijing and the EU on trips by private tour groups, so far he can only watch as the first wave of wealthy tourists heads to neighbouring countries such as France.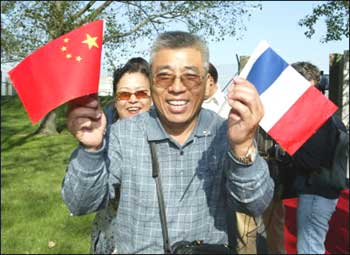 One of the first group of Chinese nationals to visit France as part of an official tour last week. British tour operators are being forced to sit by and watch the expected flood of Chinese tourists to Europe as Britain is excluded from an EU agreement to take private Chinese tour groups. [AFP]

Under a series of accords signed by Beijing, organised tour groups can now travel throughout the 25-member European Union -- except for Britain, Denmark and Ireland.

As countries such as France and Italy rolled out the red carpet last week to the new arrivals, tourism bosses here bemoaned Britain's tardiness.

"We were always thinking Britain is kind of slow," said Li, a director at China Holidays, a small independent travel agent in central London which already caters for some 2,000 Chinese visitors to Britain a year.

"We understand their concerns about immigration. But if France and Germany don't worry about this, why does Britain?"

Industry chiefs are however optimistic that London and Beijing will soon reach an agreement that will put Britain on the "authorised destination status" (ADS) list, which now counts 53 countries around the world.

"It was a great disappointment that we were left out of that," said Stephen Dowd, chief executive of the British Incoming Tour Operators Association, which represents companies serving visitors to Britain.

"We've been very concerned about this and lobbying very, very hard to make sure that Britain is included and we do get this ADS status as soon as possible," he said.

Dowd said he understood that a deal had been done and was waiting to be signed. If so it would have a "profound impact over a long period of time," he predicted.

But he added: "Certainly it will not happen overnight," requiring an act of parliament before the first wave of new visitors could touch down.

"Even with the best will in the world that's not going to happen really before the end of next spring. It may even be longer."

Some 68,000 visas were granted for Chinese to visit Britain last year, all ostensibly for business or educational purposes.

The figure was dwarfed by the estimated 300,000 to 400,000 who travelled to France.

By 2010 Li and his colleagues at China Holidays hope the number of Chinese visiting Britain will rise to one million.

"That's the most optimistic prospect. Anyhow it's very obvious that the number will double or triple from next year so every travel company is very busy preparing for that," he said.

At London's Sheraton Park Tower Chinese television stations have just been added to the hotel's 280 rooms.

"As we get more and more Chinese guests we would look very much to introduce new services specifically for them," said spokeswoman Amelie Dence.

Most Chinese visitors to Britain combine the trip with one other destination in Europe, staying a few days in London and going on day trips to nearby tourist hotspots such as Stratford-Upon-Avon, the birthplace of William Shakespeare, or the university cities of Oxford and Cambridge, said Li.

If they stay longer they might also take in Scotland and the Lake District.

Tourism chiefs here blame the tardy pace of negotiations between Britain and China on London's worries about illegal immigration, something which the government acknowledges.

"For the United Kingdom, by the very fact that it's an island, it was more difficult, so they didn't sign the ADS agreement immediately," said Jonathan Simpson, a spokesman for Visit Britain, a government agency.

"However, it will be signed in the next six months," he added.

"Certainly we very much hope that the China market will be an extremely strong one for tourists. The number of potential tourists from China is extremely high."

According to Chinese state media, 20.2 million Chinese tourists travelled abroad in 2003, up 21 percent from the previous year.

"The World Tourism Organisation has calculated that China will have 100 million outbound tourists a year by 2020," said Dowd, "so all we need is a very small percentage of that to change the whole nature of our inbound industry."




Today's Top News
Top China News

Funerals planned for 340 dead in Russia school siege




Asian parties laud CPC's governing capability




Beijing slams Chen's splittism remark




High oil prices not to drag down economy




China to have 140 million cars by 2020




US near seizing Osama Bin Laden -- official