Disadvantaged volunteers in job dilemma
By Li Jian (Shanghai Star)
Updated: 2004-09-04 16:41
What does one year's work as a graduate student volunteer in western China really mean?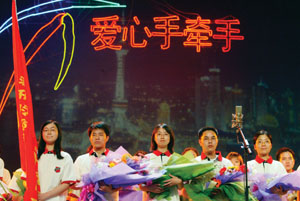 Many volunteers find they are at a disadvantage when it comes to finding a job after one year's work in western China. [newsphoto/file]

The volunteer may have seen some of the wilder and under-developed parts of China and brought back an album full of pictures of exotic scenery but for some the experience has one great drawback - they find they are at a disadvantage when it comes to finding a job.
It is true that the maturity gained from preforming volunteer work has made the graduate more self-reliant but that may not make up for the feeling that the opportunity to make a start in a career has been lost.
Gu Zhijun, a volunteer graduate student from Tongji University, has been busy hunting for a job since his return several weeks ago from Southwest China's Yunnan Province.
After sending out six resumes, no company has shown any interest in employing him.
"I missed the time for company recruitment while I was in Yunnan. Most of the companies have no vacancies now," Gu said.
He wasn't asking for much in wages. He was expecting only
1,500 yuan (US$181) a month. But still no company wanted to give him a start.
The 24-year-old architecture major was a little disappointed but won't be giving up. During his one-year service in Yunnan, he devoted himself to farmwork and won a bronze medal, one of the top awards for outstanding graduate volunteers.
Gu was not the only returning graduate who was having trouble finding work.
Bewildered latecomers
Out of 70 volunteer graduates who came back home to Shanghai two months ago when their 12-month work period ended, 40 have not been able to find jobs.
Last year, 151 newly graduated students volunteered to work in West China for a one or two-year period.
Altogether, about 1,900 volunteer graduates had been scheduled to finish their service in July, sources with the Central Committee of the Communist Youth League of China (CYLC) said.
And last Sunday, 6,000 young volunteers selected from among nearly 43,000 college graduates set out to go to western China to help develop backward regions.
The volunteers, the first group of China's Go-West Volunteer Programme, have been assigned to 183 counties in 12 provinces in Northwest, Southwest and Central China as well as the autonomous regions.
The volunteers will work in the fields of education, medical care, agriculture and cultural development. At the end of their volunteer work, graduates will be free to decide whether to remain in the west or to seek their fortune in other regions of the country.
The biggest problem facing them on their return home will be the uphill battle in job hunting. Statistics from the Ministry of Education show that 2.12 million college students will graduate this year, 620,000 more than last year.
Ying Chaojun, a volunteer from Shanghai University, never imagined the trouble he would have looking for work and even getting an interview..
Pan Hongyuan from Shanghai Normal University said: "We could not get job information in the remote places where we served. And we could not get back to Shanghai for any job interviews so we were latecomers."
Pan was a volunteer graduate in a remote area of Yunnan Province. "Telephones were regarded as luxury items, let alone computers," she said.
One year's service in China's under-developed areas may have given the students some precious experience but at a cost.
"I have had to pick up books again because I made little progress in my major in the past year," said Gu Zhijun, a local student volunteer. "One of my classmates has become a chief engineer but I will have to start from the very beginning."
Some of the volunteers said they had also encountered difficulties with local government officials in the regions where they were sent to work. "My routine job was nothing more than proposing a toast to government officials," said one volunteer who refused to give his name.
He said he spent most of his time in Yunnan Province visiting villages with governmental officials who spent most of their time at the dining table or in entertainment centres.
"My only usefulness was to give them something to boast about," the student said. "They would introduce me to people and say: 'Look! This is our colleague from a top university.' And then they would make me propose a toast."
Jin Mingxin, a volunteer from East China Normal University said that the hardships faced by volunteers in remote regions were beyond imagining.
"I remember when I went to a village called Qihei in Yunnan, I thought I had been in a time machine and had returned to a primitive era," she said.
"It was dangerous when it was dark. The only place where I could take a walk when I felt lonely during night was the guard house."
Precious experience
To help the returning graduates to find proper jobs, Shanghai has arranged two special job markets for them. China Netcom also donated one 100-yuan phone card to each volunteer to help them in their job hunting.
"The challenges and the trouble of job hunting do make a 'negative' impression on potential volunteers," said Zhang Yi, director of the School Department of the Communist Youth League Shanghai Committee.
The committee has purchased insurance for the volunteers and co-operated with universities to ensure the returning volunteers enjoy favourable conditions.
To help the volunteers find jobs, the Youth League Committee has held several job markets for the returning students. Some 36 companies took part in the first job market and most looked favourably on the graduates because of their one-year experience of working in the west and their volunteer spirit.
Four companies made offers to Jin Mingxin for her proven capability and creativity in helping improve the education conditions in the region where she served.
Jin said: "What we gained is more than what we suffered." The year's experience has left her with a stronger will, made her more self-reliant and she now has a more optimistic attitude towards life.
She has started a fund-raising operation for the impoverished children in the place she served to help them with their education. The fund so far has managed to raise 6,000 yuan (US$725).
"Although I met some difficulties I cheered up when I saw I could help the local children in the west and change their fate," Jin said.
This year in Shanghai, more than 200 newly graduated students will join the western volunteer movement and go to remote areas of Xinjiang, Xizhang, Yunnan and Chongqing.
"We are well prepared. Whatever awaits us ahead, we will fight for our honour and ourselves," said one volunteer from Fudan University.

Today's Top News
Top China News

Russia school standoff ends with 250 dead




Beijing slams Chen's splittism remark




China to have 140 million cars by 2020




China eager to promote prosperity in Asia




Hearing held on disputed traffic regulation




Nation ups efforts in fight against TB