Building plans change for a better Olympics
By Zhi Ming (China Daily)
Updated: 2004-09-04 00:47
Plans for Beijing's Olympic venues have been changed so that unnecessary costs will be cut.
Seats will be reduced by 2,000 in the wrestling spectator area where originally 10,000 had been planned.
Executive vice-president of the Beijing Organizing Committee for the 2008 Games Liu Jingmin confirmed Beijing was trying to minimize building costs while at the same time ensuring quality. More temporary, interim venues would be set up instead of permanent ones. He said the construction would be put off and the estimated deadline of 2006 extended to save maintenance costs.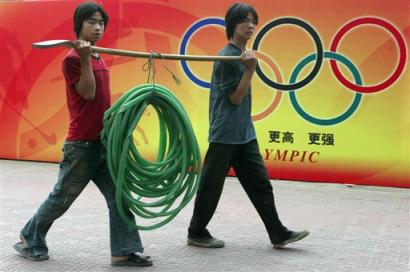 Chinese construction workers carrying water hose walk past the Olympic rings on the streets of Beijing, China, in this June 7, 2004 file photo. Beijing will host the 2008 Olympic Games. [AP]


The plan change is in part a result of policy makers' second thoughts in the wake of rows over building projects.

The one that grabbed most attention was the "birds' nest" National Stadium project, which was suspended last month, partly because of safety concerns. The design's over emphasis on visual effects and expensive, extravagant imagery is another concern.

The original design was billed at about 3.9 billion yuan (US$469.9 million). The re-design should cut this to about 2.3 billion yuan (US$277.1 million).

The use of steel, for example, can be slashed from 13.6 tons to 5.3 tons, saving up to 800 million yuan (US$96.4 million).

There has been room for improved costs in the design of other venues, such as the Wukesong Cultural and Sports Centre, without damaging their safety and functionality.

One popular feeling was that the Olympic Games would provide opportunities for Beijing to really sell itself as a modern city and that money did not matter if the image of China could be promoted.

But this feeling ignores the need to consider a balance between investment and output.

Huge amounts of public money will be used and should not be wasted.

A well-known mantra reads that brevity is the soul of literary construction.

This should also apply to the construction of the Olympic city.

#