China eager to promote prosperity in Asia
By Zhong Lian (China Daily)
Updated: 2004-09-04 01:32
More than 350 delegates of 82 political parties from 34 Asian countriesgathered in Beijing on Friday to raise the curtain on the Third International Conference of Asian Political Parties (ICAPP).
"Promoting co-operation among Asian political parties in the 21st century, conducting exchanges as equals on the basis of mutual respect, building consensus while setting aside differences, pursuing common development by increasing co-operation, and working hard to develop diverse and vigorous Asian civilizations are our common historical responsibilities," said Chinese Vice-President Zeng Qinghong in Friday's opening ceremony.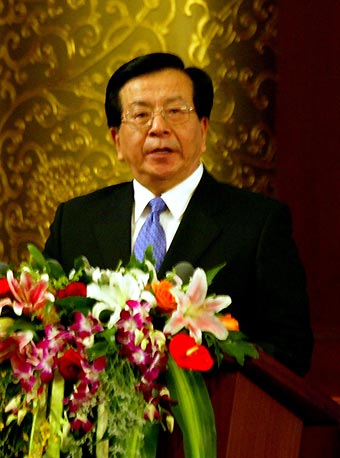 Chinese Vice-President Zeng Qinghong speaks at the opening ceremony of the Third International Conference of Asian Political Parties (ICAPP) Friday in Beijing. [newsphoto]

By hosting the conference, the Communist Party of China (CPC) hopes to demonstrate a desire to promote regional co-operation and seek common development in Asia, as well as provide an opportunity for other Asian political parties to gain an insight into and an understanding of CPC policies and positions, concepts of governance and in particular, China's policy to seek common development with its neighbours.

Zeng, also member of the Standing Committee of the Political Bureau of the CPC Central Committee and honorary director of the ICAPP organizing committee, made a four-point proposal calling on political parties and leaders of Asian countries to further strengthen co-operation.

L First, seize opportunities to continually expandnew channels for regional and multilateral co-operation;

L Second, continue to seek common ground while shelving differences, and constantly open new avenues to find more common ground;

L Third, constantly strengthen mutual trust and work hard to find new models for regional security and co-operation;

L Fourth, focus on working together to become stronger in order to usher in a new stage of reciprocity and common development.

The three-day conference was the first of its kind hosted by China. Zeng stressed that China's peace and development would be good to the peace and development in Asia and the whole world.

"China's vigorous development over the last 20 years has not only brought happiness to the Chinese people, but also brought opportunities to countries in Asia and throughout the world," he said.

With the theme of "Exchange, Co-operation and Development," the conference covers main topics including "regional security and multilateral co-operation, economic growth and social progress, party building andnational development."

The conference is an open forum characterized by the fact that it neither classifies the participants along ideological lines nor does it work for alignment among parties.

Transcending ideological differences and based on mutual respect, the participating parties expressed their willingness to promote mutual understanding and exchanges among Asian political parties, reinforcing the development of state-to-state relationships and improving regional co-operation.

Philippine President Gloria Macapagal Arroyo said that China is a friendly neighbour of Asian countries, noting that political parties would play a bigger role in the development of Asia.

Thai Prime Minister and President of the Thai Rak Thai party Thaksin Shinawatra, Cambodian Prime Minister and Vice-Chairman of the Cambodian People's Party Hun Sen, also called for the sound, stable and sustainable development of Asian regional co-operation.




Today's Top News
Top China News

Russians storm school; 150 may be dead




Russian commandos hunt down kidnappers




Leaders share ideas in separate meetings




Beijing slams Chen's splittism remark




Nation ups efforts in fight against TB




Government pledges to serve people