Russian commandos hunt down kidnappers
(Agencies)
Updated: 2004-09-03 20:07
Russian troops have stormed and secured a school in southern Russia where an armed gang, believed to be Chechen rebels, took hundreds of children, parents and teachers hostage.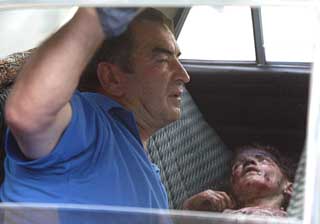 An injured boy lies in a car after he was released from the school seized by heavily armed masked men and women in the town of Beslan in the province of North Ossetia near Chechnya , September 3, 2004. Russian soldiers battled Chechen separatists on Friday to end a two-day-old school siege as naked children ran out screaming amid explosions and machinegun fire. [Reuters]

Regional emergency officials told The Associated Press that 250 hostages had been wounded, including 180 children, during gunfire and explosions at a school.

The Interfax news agency says at least five children have been killed.

Russian special forces troops took action Friday after the hostages takers opened fire as the troops attempted to remove the bodies of those killed when the siege began two days ago.

All of the hostages have been freed from the school gym where they were held at gunpoint, news reports said, and Russian commandos were in hot pursuit of the hostage-takers -- including a report of two women terrorists dressed in white, trying to flee and blend into the population.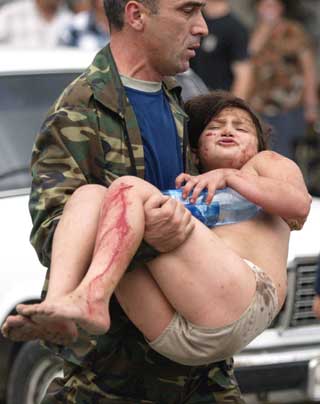 Russian Interior Ministry officer carries an injured girl after she was released from the school seized by heavily armed masked men and women in the town of Beslan in the province of North Ossetia near Chechnya, September 3, 2004. [Reuters]

Another media report said 13 militants had managed to escape.

ITAR-Tass said soldiers blew a hole in the building to help hostages escape.

Some hostage takers were still holed up in the building but that special forces were not able to go in after them because the area was mined, the news agency said.

One report said five of the abductors have been killed in the standoff at the school in North Ossetia, near Chechnya, where rebels have been fighting Russia and demanding independence for that small republic.

There were reports of gunfire in the building and structures ablaze near the school. Huge explosions could be heard and plumes of smoke seen near the school. Small arms fire crackled.

There was another report that troops surrounded a residence where several militants were thought to have taken refuge.

The explosions could have resulted from mines and booby-traps planted near the school by militants, experts say.

Interfax quoted a defense official saying that "the terrorists planted a lot of mines and booby-traps filled with metal bolts in the gym" where hostages were held.

Casualty figures trickled over the news wires, but could not be confirmed. However, there were images of dead, as well as wounded people, and scores of survivors running from the school.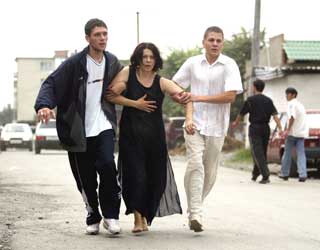 Two men help a woman to reach medical assistance after she was released out of the school seized by heavily armed masked men and women in the town of Beslan in the province of North Ossetia near Chechnya, September 3, 2004. [Reuters]

Another said 10 dead were taken from the school. One local official said "most" of the hostages had survived.

Another report quoted local officials saying saying 250 hostages have been wounded, and 180 of those were children.

The breakthrough in the hostage-taking came after dozens of captives escaped Friday amid sporadic explosions and small-arms fire that lasted for more than an hour. Russian helicopters circled overhead but were never seen to open fire.

Scenes of the chaotic, chilling ending of the hostage-taking unfolded on television.

Half-naked children dashed out of the school in every direction. Some were carried and helped by parents and adults. Many were bleeding. Others screamed. Many received medical treatment and food and water outside.

Paramedics pulled children out in stretchers and put into cars and ambulances. Some were bandaged and badly injured and others were just simply distraught and relieved to be free. Anxious adults milled around an area near the school where Russian soldiers were stationed.

The standoff, which began with the armed attackers raiding the school on the first day of classes Wednesday, has lasted for well over 40 hours. Sporadic small arms fire and explosions have occurred since Thursday, continuing into Friday afternoon.

Russia's Interfax news agency reported portions of the building's roof had collapsed, and another reporter said he saw two soldiers in black fatigues standing on the roof, ostensibly the part still intact.

The hostage-takers had been holding more than 350 children, parents and teachers, although relatives said the number was much higher -- at about 1,000.

During the ordeal, the terrorists did not allow water and food into the building.

The current hostage standoff follows a bloody week in Russia, in which a female suicide bomber Tuesday killed nine people outside a Moscow subway station and two airliners were downed by two suspected Chechen female suicide bombers on August 24, killing all 89 people aboard the planes.

Russian officials have said the new wave of attacks is an attempt at revenge for last weekend's elections in Chechnya in which a Kremlin-backed candidate won the presidency.

Beslan is 19 miles north of Vladikavkaz in North Ossetia.

The crisis is reminiscent of the October 2002 siege of a Moscow theater, when Chechen rebels threatened to kill some 700 hostages and demanded an end to the war in Chechnya.

Many of those attackers were women, with explosives belts strapped to their body, while the men were armed with pistols and rifles. Two massive bombs also had been placed in the theater.

That standoff ended when Russian forces piped poison gas into the theater to knock out everyone inside, but more than 120 hostages and 41 attackers were killed, most of them from the gas.




Today's Top News
Top World News

Hostages freed after forces storm in Russian school




Russian commandos hunt down kidnappers




President greets fruitful Olympic delegation




China supports Russia against terrorism




Zeng Qinghong outlines CPC's major tasks




Hong Kong hopes to be Olympic venue