Exploring the mysteries of Xi'an's imperial tombs
By David Fullbrook (That's Beijing)
Updated: 2004-09-03 13:49
Dynasties and empires rose and fell along the Wei He River valley, where Xi'an lies. While the emperors are gone, their legacy awaits the spades and brushes of archaeologists exploring this crucible of Chinese history and culture.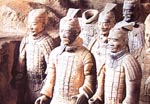 Terra-Cotta Warriors in the surburb of Xi'an [file photo]
The terracotta warriors, one of archaeology's greatest accidental finds, hint at what else could lie under the barely scratched fields where emperors and aristocrats lie interred beneath 500 burial mounds.
These tombs rise out of a fertile plain where orchards, renowned throughout Shaanxi for their crispy apples along with maize and other vegetables, form a pleasing agricultural mosaic. Come winter, the region takes on a starker beauty, eerie when dense fogs descend, shrouding the tombs.
Burial mounds, tombs, pyramids, call them what you will - they squat in other corners of Asia as well as the Middle East, Europe and Latin America.
While some of the Wei He valley tombs bear comparison with the long barrows found around England's Salisbury Plain and elsewhere in northern Europe, a few investigators draw more astonishing connections.
Hartwig Hausdorf, a German writer who researches unexplained phenomena, suspects the involvement of aliens. Black Africans played a crucial role in their construction, suggests historian Legrand Clegg, who points to evidence of a negroid people in China.
There is also a theory that the Xi'an mounds map the Gemini constellation as it would have appeared on the horizon at spring equinox, 10500 BC. Coincidentally (or perhaps not?) Egypt's Great Pyramid complex was built to map Orion's position in the skies in 10500 BC, or so says British expert on unexplained phenomena Graham Hancock.
While these theories hint that Xi'an's mysterious mounds might be more than just memorials, local archaeologists remain sceptical. "There are some similarities to pyramids in Egypt and Central America, but there are also differences such as the time period and construction. They are quite obvious," says a local archaeologist who wished to remain anonymous. "We cannot say if there is a connection with Egypt or other places. We are doing research, but there is not much knowledge of foreign historical places in China."
Small burial mounds first appeared during the Warring States Period (around 475-221 BC). Some were laboriously piled up by legions of coolies, others dug into hills. Archaeologists believe the tombs symbolised status while also being a deterrent - a poor one as it turned out - to robbers. Most of the large tombs date from the Han (206 BC-AD 220) and Tang dynasties (618-907). Little is known about how they were built.
A car, with translator if necessary, is the best way to reach these and other tombs, especially the lesser known ones. You can also take in the tiny museums dotting the area while enjoying the valley's rural delights. Drivers are often very knowledgeable. Many worked in state-owned companies and underwent retraining during China's economic reforms. Fortunate visitors can find themselves with an oracle dabbling as a driver, who tells age-old tales as the journey unfurls.
Of the hundreds of tombs, the chief focus of archaeologists and visitors alike are the largest ones that mark the passing of Emperors Qin Shi Huangdi and Tang Gaozong, and his wife Empress Tang Wu Zetian. Shi Huangdi, a central figure in the film Hero, ruled from 246-210 BC, subjugating the six other states to become the first ruler of a united China. His tomb is the only one of note that was never plundered, say archaeologists.
Legend says that 700,000 labourers took 38 years to build the tomb, digging through three springs to build the subterranean burial chamber, which they waterproofed with a bronze lining. The stories also tell us that his body lies on a gold bed, wrapped in silver, in a dragon-shaped copper coffin. The coffin in turn sits in a bejewelled model of the known world with rivers and seas of mercury beneath a ceiling dripping with gemstones. Until archaeologists open the tomb, which sits on the slopes of Black Horse Mountain in Lintong 18 miles (30km) east of Xi'an, the contents of Shi Huangdi's resting place will remain the stuff of legend.
Mercury-laced soil and warnings of traps are some of the hazards awaiting explorers. "Research shows historical records of the Qin Ling tomb are probably not accurate. There are a lot of records of traps, including arrows, but so far we have not come across any. However there is so much to be excavated, so it cannot be ruled out," says the archaeologist. If Shi does rest beneath three springs, flooding is a more pressing problem. Lack of money and the wealth of other artefacts clogging archaeologists' in-trays ensure the tomb will remain undisturbed for perhaps another few decades.
Crown Prince Tang Yi De's (AD 682-701) burial chamber can be visited 50 miles (80 kilometres) west of Xi'an near Liangshan Hill, where stand the Qianling tombs of his parents Emperor Tang Gaozong (628-683) and Empress Tang Wu Zetian (624-705) - the Margaret Thatcher of her time and China's only female ruler.
Yi De was the only prince buried as an emperor when he died at 19, perhaps indicating his parents' deep loss. Then again perhaps they just wanted to impress their relations and enemies. Excavated during 1970 and 1971, archaeologists found 1,600 figurine fragments, as well as murals and carved paintings, some of which are on display at the museum in the tomb compound. Robbers had plundered the tomb's treasure a few centuries earlier.
Yi De's obscurity contrasts sharply with his mother's fame, our all-knowing, all-seeing taxi driver reckoned. Wu Zetian rose from courtesan, loved three emperors along the way and was noted for her wise rule. To find the most auspicious place for her tomb, she separately ordered two ministers to scour China. Three years passed before they returned. "I have marked this special place with a gold coin that has a hole in the middle," said the first minister. "I used a gold hair pin to mark the spot I have found," said the other. Arriving at the spot marked by the hair pin, she could see it was indeed the place for burial because the hair pin stood in the gold coin's centre.
Dusty lanes lead to burial mounds, large and small, lying north and south of the road heading west to the Qianling tombs. Their tranquil summits offer panoramic vistas and the chance to ponder the past, undisturbed by visitors and hawkers thronging the main tombs. Maoling tomb, where Emperor Wu Di (140-87 BC) of the Western Han dynasty lies, is taller than most and consequently a good point from which to survey the tomb-studded plain.
Yew trees are now once again growing on Maoling and others, restoring their original appearance - and, perhaps more importantly, slowing erosion. Yew is traditionally valued as a symbol of longevity - a European pagan belief too - and also for its smell, believed to keep demons at bay. Unfortunately it did not have the same effect on tomb raiders.
Maoling took 53 years to build, just one year shorter than Wu Di's reign. He reigned the longest of all China's emperors, and tightened the imperial grip on power by persecuting the aristocracy, fostering a civil service based on academic prowess and merit, and promoting Confucianism. He also spurred trade, helping to establish the Silk Road, and patronised the arts, especially poetry.
Smaller tombs of officials and merchants lie around Maoling. During Wu Di's rule, a thriving town rose near the tomb site. Artefacts from the area are on display at the nearby Maoling museum. After descending from the flat pinnacle of Maoling, which lies about 5? miles (9km) southeast of Xingping County and 28 miles (45 km) west of Xi'an, our driver told us about a geomancer's tomb nearby. He decided the place was too good for his emperor, so he recommended another site, cunningly claiming it was more auspicious.
After the geomancer's burial, the story goes, the mound started to grow. And it kept on growing, worrying farmers living nearby so much they placed a very large stone on the top to impede it. The stone is still there and known locally as Mr Feng Shui.
Perhaps more interesting than the tombs is what may lie beneath the leafy villages, many of which have existed for centuries, possibly millennia. Villagers cycle along straight, occasionally tree-lined lanes bisecting vegetable fields and orchards and linking villages clogged with hay, crops and animals. Such scenes bear comparison with the agricultural landscapes of an industrialising Europe that artists etched, sketched and painted over a hundred years ago. This impression deepens with the villagers' attire, as the men typically wear a rough-cut suit made from thick wool no matter how messy their work.
Gone are the emperors and their megalomania that cost hundreds of thousands of lives but bequeathed so many archaeological treasures. Yet traditions survive. As you criss-cross the plain, buying sweet oranges and steamed pau buns from roadside markets, you notice small daubs of colour punctuating the sandy coloured fields and houses. Up close, the reds, purples, oranges, yellows and greens sharpen into wreaths of plastic flowers crowning small burial mounds of the recently deceased.
| | |
| --- | --- |
| | |
| HK Queen of film to portray Olympic champion | |

| | |
| --- | --- |
| | |
| Speed matches for 1 yuan mobile phone card | |

| | |
| --- | --- |
| | |
| The 5th annual Latin Grammys | |
Today's Top News
Top Life News

President greets fruitful Olympic delegation




Russian militants free 26 hostages




China supports Russia against terrorism




Zeng Qinghong outlines CPC's major tasks




Hong Kong hopes to be Olympic venue




Editor: Hostages in Iraq given to group