Freed Russian hostages: 1,500 held captive
(Agencies)
Updated: 2004-09-03 13:49
Camouflage-clad commandos carried crying babies away from a school where gunmen holding hundreds of hostages freed at least 26 women and children Thursday during a second day of high drama that kept crowds of distraught relatives on edge.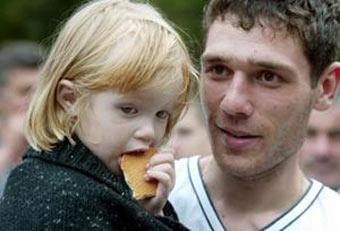 A father holds his released daughter, two-and-a-half year old Amina Dzantieva, after a visit to a hospital for an inspection in the town of Beslan in the province of North Ossetia near Chechnya, September 2, 2004. [Reuters]


Two new accounts emerged, meanwhile, that the militants were holding at least 1,000 children, teachers and parents inside the school, far more than previously thought.

Russian officials had said that about 350 people were being held by raiders who seized the school in the North Ossetian city of Beslan on Wednesday. But a teacher who was among at least 26 women and children released on Thursday disputed that, according to a report published Friday.

"On television they say that there are 350 of us. That's not right. There's not less than 1,500 in the school," the respected newspaper Izvestia quoted the woman as saying on condition of anonymity.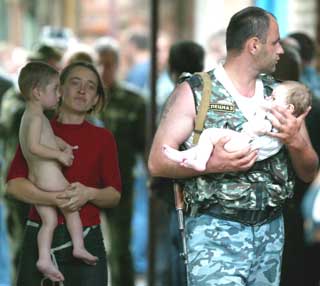 A Russian police officer carries a released baby from the school seized by heavily armed masked men and women in the town of Beslan in the province of North Ossetia near Chechnya, September 2, 2004. An armed gang, holding hundreds of people hostage in a Russian school, on Thursday freed 26 children and women, Itar-Tass news agency was quoted as saying. [Reuters]

The eyewitnesses, among 26 women and infants released on Thursday, also said the group of up to 40 captors was refusing to give hostages food and water.

"You know, there aren't 350 people in there, but 1,500 in all. People are lying one on top of another," Zalipa Dzandarova, a 27-year-old woman, told the Kommersant daily.

In addition, local legislator Azamat Kadykov told a meeting packed with worried relatives and friends Friday that the number of hostages was "more or less 1,000."

The reports could not immediately be confirmed, but the woman who spoke with Izvestia said that some 1,000 children were enrolled at the school, and the militants had captured teachers and many parents as well when they invaded the building Tuesday during a ceremony to celebrate the start of the new school year.

As the names of the freed hostages were read over a loudspeaker Thursday, men and women wept with disappointment or hugged each other with relief. Some of the toddlers released were naked, apparently because of the stifling heat in the school, where the hostage-takers refused to allow authorities to deliver water, food and medicine for the captives.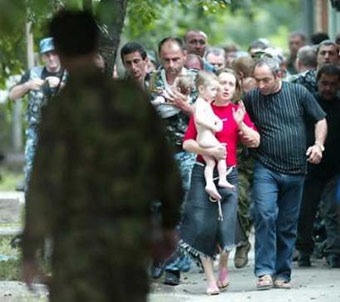 A released hostage (C) holding her baby walks away from the school seized by heavily armed masked men and women in the town of Beslan in the province of North Ossetia near Chechnya on September 2, 2004. [Reuters]


Tensions had risen earlier when the militants fired grenades at two cars near the compound ringed by security forces, and later two grenade blasts interrupted a nervous calm during the night.

Another explosion roared on Friday morning, as Kadykov and Leonid Rosahal, a pediatrician who has been involved in the negotiations, spoke to the crowd of worried residents.

Roshal told parents that all the children inside were alive. As he spoke, parents frantically scribbled names of their children on paper and tried to pass them to the doctor. Others began calling out names, begging for information about their loved ones.

"They want hysteria from us," Roshal said, trying to calm the increasingly desperate crowd. "Our strength is in (our) composure and good sense."

President Vladimir Putin said everything possible would be done to end the "horrible" crisis and save the lives of the children and adults being held at School No. 1 in Beslan, a town in the southern region of North Ossetia.

But it was uncertain how much either side was willing to give to avoid further bloodshed in the siege - the latest incident in a series of violent attacks believed linked to Russia's war in Chechnya. A dozen people were reported killed by the attackers when the school was captured Wednesday, but one official said Thursday that 16 died.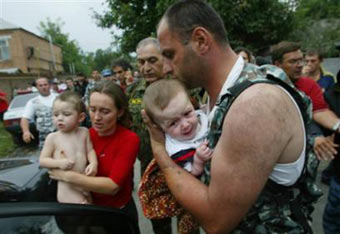 A soldier carries a baby and a woman holds a child after being released by militants in Beslan, North Ossetia, Thursday, Sept. 2, 2004. Heavily-armed militants released at least 31 women and children on Thursday from the provincial Russian school where they are holding more than 350 hostages for the second straight day, officials said. [AP]


Reports after the standoff began Wednesday said the attackers demanded the release of people jailed after attacks on police posts in June that killed more than 90 people in Ingushetia, a region between North Ossetia and Chechnya. But officials said Thursday that the hostage-takers had not clearly formulated their demands.

Late Thursday, Lev Dzugayev, a North Ossetian official, said his previous statement that 354 hostages were seized Wednesday might have been too low, and many in the anxious crowds said they believed the number was much higher. "Putin: at least 800 people are being held hostage," read a sign held up for television cameras.

Valery Andreyev, chief of the regional office of the Federal Security Service, meanwhile said that contacts with the hostage-takers had resumed Friday morning, following an overnight suspension, but stopped again.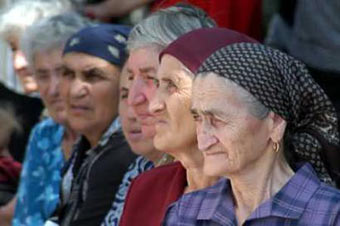 Local women sit near the school seized by gunmen in the town of Beslan, Russia, September 2, 2004. Anxious parents paced out a second night on Friday near a school in southern Russia where militants held hundreds of children and adults at gunpoint after threatening to blow up the building. With the clock ticking for President Vladimir Putin to solve the crisis, few security experts forecast a bloodless end to the siege, the latest violent attack in a fortnight following the bombing of two airliners and a Moscow metro station. [Reuters]


Relatives, friends and neighbors who crowded outside barricades blocking access to the school gasped when the hostage release was announced by Dzugayev, an aide to the president of North Ossetia.

Dzugayev and other officials said 26 women and children of various ages were released, but Russian media reported that one woman went back to be with her still-captive children. An official at the crisis headquarters said another group of five hostages was let go separately.

An Associated Press Television News reporter saw two women and at least three infants being led away by soldiers. Some toddlers among those released were completely naked, apparently because of the heat.

Dzugayev called the releases "the first success" of negotiations and said they came after mediation - including inside the school - by Ruslan Aushev, a former president of the Ingushetia republic who is a respected figure in the northern Caucasus.

The hostage release came after anxieties were sent soaring by two powerful explosions, followed by a plume of black smoke rising from the vicinity of the school. The crisis headquarters said the militants fired grenades at two cars that apparently drove too close to the building. Officials said neither car was hit, but a gutted car was visible not far from the school.

Thursday evening, a series of heavy thuds that sounded like artillery could be heard for several minutes, apparently coming from an area northwest of town. There was no information on what caused the sounds.

Two grenade blasts were heard early Friday, and the Interfax news agency reported a policeman was injured. One projectile exploded on a street several hundred yards from the school and another hit in a yard, witnesses said. Dzugayev said that the hostage-takers told Russian authorities they fired because they saw suspicious movement and that officials told them there was no such movement.

Any hint of violence put people on edge. After seizing the school, the militants reportedly threatened to blow it up if troops tried to rescue the hostages and warned they would kill prisoners if any of their gang was hurt. Authorities estimated 15 to 24 militants held the school.

In his first public comments on the crisis, Putin pledged to do everything possible to rescue the hostages.

"Our main task is, of course, to save the lives and health of those who became hostages," Putin said in televised comments during a meeting at the Kremlin with visiting Jordanian King Abdullah II. "All actions of our forces working on the hostages' release will be devoted and be subject to this task exclusively."

Two major hostage-taking raids by Chechen rebels outside the war-torn region in the past decade prompted forceful Russian rescue operations that led to many deaths. The most recent, the seizure of a Moscow theater in 2002, ended after a knockout gas was pumped into the building, debilitating the captors but causing almost all of the 129 hostage deaths.

Andreyev, the Federal Security Service's chief in North Ossetia, seemed to rule out the use of force against the hostage-takers.

"There is no alternative to dialogue," he told the ITAR-Tass news agency. "One should expect long and tense negotiations."

The militants' identity was also murky.

Dzugayev said the attackers might be from Chechnya or Ingushetia. Law enforcement sources in North Ossetia and Ingushetia, speaking on condition of anonymity, said the attackers were believed to include Chechens, Ingush, Russians and a North Ossetian suspected of participating in the Ingushetia violence.

Russia was on edge following the nearly simultaneous bombings on two jetliners last week, a suicide bombing in Moscow on Tuesday and the school siege.

The upsurge in violence has been a blow to Putin, who pledged five years ago to crush Chechnya's rebels but instead has seen the insurgents increasingly strike civilian targets beyond the republic's borders.




Today's Top News
Top World News

President greets fruitful Olympic delegation




Freed Russian hostages: 1,500 held captive




China supports Russia against terrorism




Zeng Qinghong outlines CPC's major tasks




Hong Kong hopes to be Olympic venue




Editor: Hostages in Iraq given to group