Zeng Qinghong outlines CPC's major tasks
(Xinhua)
Updated: 2004-09-03 09:54
Chinese Vice-President Zeng Qinghong said in Beijing on Friday that the Communist Party of China (CPC) is faced with three major tasks in the new century -- modernization, reunification, and peace and development.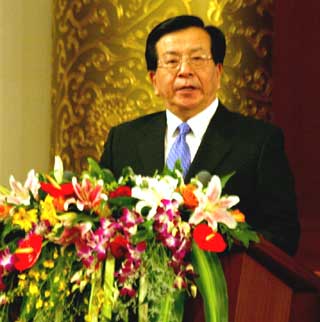 Chinese Vice-president Zeng Qinghong speaks at the opening ceremony of the third international conference of Asian political parties in Beijing September 3, 2004. [newsphoto]

"The CPC summarizes its main tasks in the 21st century as constituting three tasks: to carry the modernization drive forward,to complete the reunification of the motherland, and to safeguarding world peace and promote common development," Zeng said at the opening ceremony of the third International Conference of Asian Political Parties (ICAPP).

Also a member of the Standing Committee of the Political Bureau of the CPC Central Committee, Zeng said the CPC aims to build China into a relatively prosperous society in an all-round way in the first two decades of the 21st century.

"As a socialist country, China is resolved to take a road to develop itself while safeguarding world peace when peace and development are the themes of the times, and also to use its own development to promote world peace," Zeng said.

Zeng stressed that China's peace and development would be good to the peace and development in Asia and the whole world.

"China's vigorous development over the last 20 years has not only brought happiness to the Chinese people, but also brought opportunities to countries in Asia and throughout the world," he said.

China's development has played a constructive role in promoting the sound development of the regional economy, he added.

The third ICAPP, hosted by the CPC for the first time, gathered more than 350 delegates of over 80 political parties and organizations from 34 countries. The theme of the three-day event was "Exchange, Cooperation and Development," and major topics included regional security and multilateral cooperation, economic growth and social progress, party-building and national development.

Zeng told the delegates that promoting peace, stability, development and prosperity of Asia and the world is a fixed objective of the Chinese government and the CPC.

"We will always hold high the banner of peace, development and cooperation, adhere to an independent foreign policy of peace and take the road of peaceful development," he said. "China will neverseek hegemony or expansion."




Today's Top News
Top China News

President greets fruitful Olympic delegation




Russian militants free 26 hostages




China supports Russia against terrorism




Zeng Qinghong outlines CPC's major tasks




Hong Kong hopes to be Olympic venue




Editor: Hostages in Iraq given to group