French hostage transfer sparks release hopes
(Agencies)
Updated: 2004-09-03 08:57
Hopes of a swift end to the French hostage crisis rose early Friday, after the Le Figaro newspaper that employs one of the two captives said the men were now being held by Iraqi guerrillas willing to negotiate their release.
Senior editors at the Paris-based daily Le Figaro said French officials had told them the Islamic Army in Iraq had turned over Georges Malbrunot and Christian Chesnot to fighters opposed to the U.S.-backed government in Iraq.
The kidnappers seized the Frenchmen on Aug. 20 and demanded Paris rescind a law banning Muslim headscarves in state schools. The ban came into force on Thursday and, with the hostage crisis still unresolved, was challenged by around only 70 schoolgirls.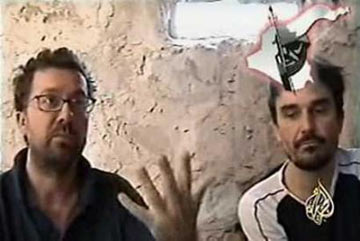 French hostages Christian Chesnot (L) and Georges Malbrunot speak in a videotape aired on Arabic television station Al Jazeera, August 30, 2004. France pressed on with efforts to save the journalists held hostage in Iraq on Thursday after a deadline to rescind a law banning Muslim headscarves in state schools passed without word from the kidnappers. [Reuters]


French Foreign Minister Michel Barnier said he understood Malbrunot and Chesnot were "alive and getting good treatment," a report echoed by French Muslim leaders who flew to the region to help secure the journalists' release.

Le Figaro editor Jean de Belot said on France Info radio: "The latest information is that Christian Chesnot and Georges Malbrunot have been handed over by the Islamic Army in Iraq to an Iraqi Sunni guerrilla group... an opposition that we know for a few days now has been in favor of the release of the hostages."

Belot's deputy Charles Lambroschini said the hostage-takers appeared to have been split between radical foreign fighters who wanted to keep the journalists captive, and Iraqi elements opposed to the Baghdad authorities who supported their release.

"So we are optimistic, but prudent, because hopes were raised a week ago when we were told they could be released within 48 hours," Lambroschini told LCI television.

WIND OF OPTIMISM

In Paris, French Interior Minister Dominique de Villepin caught the mood of cautious optimism, saying on France 2 television: "Tomorrow is the day of prayer. Friday is a great moment of coming together, and meditation, I would like to believe that we could hope for a happy outcome."

A delegation from the French Council of the Muslim Faith (CFCM) extended its stay in the region until at least Friday due to the developments.

Mohamed Bechari, its vice president, told reporters in the Jordanian capital Amman that the French Muslim delegation was "optimistic and confident (the hostages) will be released soon."

The new mood of optimism was however tempered by the announcement by Iraqi militants that they had killed three Turkish captives.

Hostage-taking has become part of a struggle in Iraq in which insurgents use everything from suicide bombers to kidnappings to undermine the interim government of Prime Minister Iyad Allawi and the U.S.-led occupation.

Scores of hostages from dozens of countries have been seized in the past five months, and more than 20 have been killed by their captors.

The seizure of Frenchmen has stunned France, which opposed the U.S.-led war in Iraq and has no troops there.

Barnier's Mideast diplomatic shuttle secure France an unprecedented outpouring of support from Arab and Islamic religious leaders, who called for the hostages' safe release.




Today's Top News
Top World News

Hong Kong hopes to be Olympic venue




Senior official imprisoned for corruption




Beijing-HK set up closer ties




China supports Russia against terrorism




Wen: More aid to developing countries




President greets fruitful Olympic delegation