Russian hostage-takers free 26, but still hold hundreds
(Agencies)
Updated: 2004-09-03 08:44
Heavily-armed militants freed 26 women and children but kept hundreds captive in a school for a second day as officials pledged to avoid force to end a harrowing standoff that bore the hallmarks of a strike by Chechen rebels.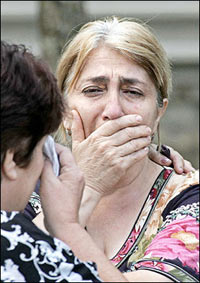 Ossetian women, relatives of hostages cry as they wait outside the school, where a group of gunmen, wearing belts laden with explosives, are holding hostage some 330 people in the northern Ossetian town of Beslan. [AFP]

Special forces personnel wearing camouflage and carrying automatic weapons carried crying toddlers and accompanied the women beyond the security perimeter around the building where they were greeted by distraught family members.

President Vladimir Putin said the safety of the hostages -- children, their parents and teachers -- was his top priority, and described the wave of terror strikes that has rocked Russia recently as an attack on the entire country.

Families and friends of the hostages kept up an agonising round-the-clock vigil outside the school as security forces prevented anyone from crossing the security cordon around the building in this city near war-torn Chechnya.

Officials said contact with the hostage-takers "intensified" during the day on a number of issues, among them an agreement to allow food and water to be delivered to the hostages, believed to number around 330 after the releases.

One official quoted by RIA Novosti news agency said the militants had not communicated their demands and added that Ruslan Aushev, a former president of the Caucasus republic of Ingushetia, had spoken with them in the school.

"Unfortunately, there is not yet a list of demands formulated by the terrorists," said Alan Doyev, spokesman for the North Ossetia interior ministry said.

Doyev said the 26 freed hostages were in stable condition but were suffering from psychological stress.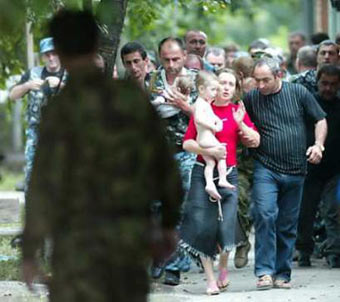 A released hostage (C) holding her baby walks away from the school seized by heavily armed masked men and women in the town of Beslan in the province of North Ossetia near Chechnya on September 2, 2004. An armed gang, holding hundreds of people hostage in a Russian school, on Thursday freed 26 children and women, Itar-Tass news agency quoted officials as saying. [Reuters]


At one point, two loud explosions were heard in the vicinity of the school. The cause of the blasts was not clear.

An empty passenger bus was driven inside the security perimeter and parked outside the school, but there was also no explanation for its presence.

The hostage-takers, reported to number at least 17 and to include at least two women wearing suicide belts packed with explosives, threatened Wednesday to blow up the school if their demands were not met.

One official who spoke to Russian television overnight said the militants had been offered safe passage to Chechnya and a proposal to exchange the children held hostage for adults. That information was not later substantiated.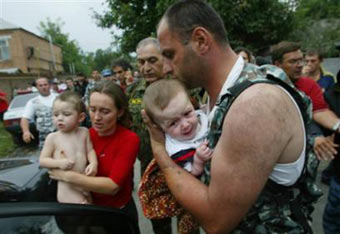 A soldier carries a baby and a woman holds a child after being released by militants in Beslan, North Ossetia, Thursday, Sept. 2, 2004. Heavily-armed militants released at least 31 women and children on Thursday from the provincial Russian school where they are holding more than 350 hostages for the second straight day, officials said. [AP]


Lev Dzugayev, a spokesman for the president of the North Ossetia republic, said the release of the women and children was a positive signal.


"This is the first positive result that came about as a result of negotiations led by Ruslan Aushev," Dzugayev told reporters.


Prior to the release of the 26 women and children, the total number of hostages inside the school was put by authorities at 354. Around 130 of them were believed to be children between the ages of six and 17.

No official has yet apportioned responsibility for the hostage-taking. But it drew comparisons to previous hostage seizures in the Caucasus and Moscow carried out by Chechen rebels.

The most spectacular of those was the capture of some 800 people at a Moscow theater in October 2002. That standoff ended three days after it began and resulted in the deaths of more than 40 militants and 129 hostages.

Russian news agencies said 11 people were killed, including one of the militants, when the school here was seized early Wednesday, the first day of school throughout Russia.

Putin, sitting down to talks at the Kremlin with Jordan's King Abdullah II, said the hostage crisis was part of "a whole series" of attacks directed at the Russian state that could fan religious and ethnic tensions in the Caucasus.

But he also stressed that securing the safe release of the hostages was his number-one priority.

"All these actions are aimed not only against specific Russian citizens but against Russia as a whole," Putin said, adding that Russia would do all in its power to prevent further destabilization in the Caucasus region.

But, he added: "The most important thing is to safeguard and protect the lives of those held hostage."

Separately, an official of Russia's FSB security and intelligence service said authorities were not planning to use force to end the standoff for the time being.

"There is no alternative to dialogue," said the official, Valery Andreyev, quoted by ITAR-TASS news agency.

"We have to expect a long and tense negotiation process," he added.

The Kremlin announced that Putin had decided to postpone an official two-day visit to Turkey in order to remain in Moscow and supervise the crisis.

Russians were reeling from a week of attacks that began on August 25 with a bombing at a bus station followed hours later by an apparent suicide bomb attack that brought down two passenger airliners.

On Tuesday, a female suicide bomber killed nine people including herself when she set off her explosives outside a crowded Moscow subway station.

The attacks have killed a total of 111 people and left more than 50 wounded.




Today's Top News
Top World News

Hong Kong hopes to be Olympic venue




Russian hostage-takers free 26 hostages




Senior official imprisoned for corruption




Beijing-HK set up closer ties




China supports Russia against terrorism




Wen: More aid to developing countries