Bangladesh hangs two ex-policemen for rape, murder
(Agencies)
Updated: 2004-09-02 16:55
Two former policemen convicted of the rape and killing of a teenager were executed by hanging in a north Bangladesh jail early on Thursday.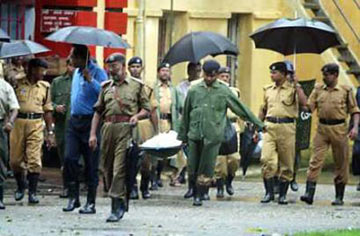 Prison police carry the bodies of two policemen after they were executed by hanging at Rangpur central jail September 2, 2004. Police officer Moinul Hoque and constable Abdus Sattar were convicted of raping and strangling to death a woman while she was travelling with them in a police van on the night of August 24, 1995. [Reuters]


Senior prison official Mohammad Azizul Haque said it was the first time that policemen in Bangladesh went to the gallows for such a serious crime.

"The two, Moinul Hoq and Abdus Sattar, were hanged one minute past (Wednesday) midnight," he said at the Rangpur jail, 219 miles north of Dhaka, where the sentence was carried out.

The incident in the northern town of Dinajpur in 1995 sparked angry protests across the country by women and human rights groups, driving the authorities to arrest the offenders and put them on trial.

Accompanied by another policeman, the men kidnapped Yasmin, an 18-year-old housemaid who worked in the capital, late one night when she asked for a lift home in their police van after missing the last bus.

They took her to a lonely spot, where they raped and strangled her, leaving her body beside a road to be found the next morning and returned to her mother, police and town officials said.

A third policeman convicted in the incident, Amrita Lal, also faces the death penalty in Rangpur after President Iajuddin Ahmed rejected a mercy appeal from the policemen's family, prison officials said.

A Rangpur judge, Abdul Matin, sentenced the three men to death by hanging on August 31, 1997. But their executions were delayed because they appealed to the High Court against the verdict, and petitioned the president for mercy, officials said.

Since independence in 1971, Bangladesh has hanged 379 people on criminal charges that include rape and murder, the officials said.

Prison officials said about 550 more convicts await execution in different jails, more than 450 of them convicted after the government set up "speedy trial courts" one-and-a-half years ago to tackle a backlog of criminal cases.




Today's Top News
Top World News

Slipping stock market causes stir among investors




Hu, Arroyo agree to deepen ties




Shadow falls on celebs in dubious ads




Environmental damage to be counted in GDP




Nuclear power to push national growth




Arsonist kills himself after setting bus on fire