Shadow falls on celebs in dubious ads
By Xing Zhigang (China Daily)
Updated: 2004-09-02 00:54
Fame is proof that people are gullible, once wrote the poet Ralph Waldo Emerson.
His words have a certain resonance in China today following the appearance of certain celebrities in dubious commercials.
Good luck, we say, to those who attain such riches and fame through hard work and honesty.
But we have to draw the line under those among the rich and famous who abuse their celebrity to help advertisers make fools of us, the customers.
The recent spate of misleading adverts which show celebrities endorsing bogus goods has rightly drawn harsh criticism from the Chinese public and media.
The latest case under spotlight involved the Beijing Xinxing Hospital, which specializes in treating infertility.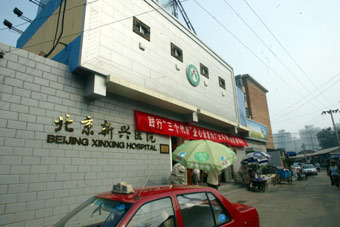 Beijing Xinxing Hospital (above) is under fire as media claims that its ads mislead patients throughout the country. [newsphoto]


This private hospital hired well-known film star Tang Guoqiang and pop singer Xie Xiaodong to act as its ambassadors and put their seal of approval on the clinic's services.

Over the past two years, the hospital has been bombarding TV viewers watching more than 20 satellite TV channels around the country with commercials featuring the two stars .

During the adverts, the two stars liken the hospital and its staff to Bodhisattva Guangyin, the goddess of mercy who can cure all infertile patients.

Hundreds of thousands of patients throughout the nation were attracted by the commercials and contacted the hospital.

Thankfully the media, so often the guarding angel watching out for the public, exposed last month the extensive fraudulent claims, revealing the hospital's management as incompetent, greedy and crooked, and levying arbitrarily charges against is trusting patients.

The hospital is also accused of exaggerating words to embellish its doctors' medical background and experiences on its website.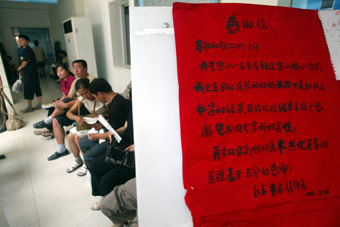 A `Thank-you' letter hangs at the entrance of the hospital but observers suspect it might be an advert in disguise. [newsphoto]


Worse still is its cure rate for infertility which is much lower than the false figures boasted on the broadcasts.

The profit-minded hospital has been ordered by the Beijing Administration for Industry and Commerce to halt its misleading TV ads, starting from August 23.

Worryingly, this case is not a one off. Almost all Chinese TV channels are flush with so-called celebrity ads promoting products ranging from cosmetics, mobile phones, cars and tonics to drugs.

In China, as elsewhere in the world, such ads work well and have a huger influence on consumers.

Companies love the star endorsement. After all, if it's good enough for beautiful, rich and talented pop singers and actors, then it has to be good for mere mortals like us -- surely.

Star studded

A recent survey in Beijing shows about 80 per cent of consumers are willing to buy a given medical product if it is advertised by a celebrity.

Data from medical advertisers show the proportion of their expense on celebrity ads and generated sales averages one to three and sometimes may stand as high as one to 10.

The country's huge advertisement market, with revenues totalling up to 100 billion yuan (US$12.09 billion) in 2003, has provided pyramid opportunities for stars both in the entertainment and sports circles.

And a lion's share of celebrity ads are medical ads advertising drugs, medical institutions, equipment and services.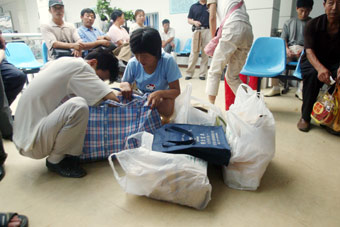 Patients sort out bags of medicine bought from the Beijing Xinxing Hospital. The hospital is reported to levy arbitrarily charges against its patients. [newsphoto]


Unfortunately, quite a large part of these medical ads featuring celebrities have been found to be deceptive or suspected of deception.

Statistics from the State Administration for Industry and Commerce suggests deceptive medical ads account for half of the total deceptive ads aired at the country's satellite TV channels in 2003.

In the first three months of this year, the ratio rose to almost two thirds.

The alarming figures have promoted the public and media to question the role of celebrities in adverts

Media commentator Chen Yangbo says the role of celebrities in TV commercials is totally different from that in fictitious movies or TV series.

Advertisers are taking advantage of the credibility and star appeal of celebrities to reach out to consumers and therefore celebrities have the responsibility to ensure the authenticity of the ads, he says.

"The public do not oppose celebrities profiting from ads but that does not mean they should be allowed to help advertisers deceive consumers," Chen notes.

Credit crisis

Some celebrities, however, care little for the quality and effect of the advertised products.

A Chinese actress once starred in a TV commercial advertising a calcium tablet, and in it she claimed her son has benefited from the product.

But the media later found that the actress and her husband have no children at all, triggering public anger and damaging, rightly, the star's credibility.

Another interesting episode frequently cited by the media is the emergence of "an army of calcium-deficiency stars" in TV commercials.

At one time, six celebrities -- man or women, young or old -- claimed in TV ads they all benefited from some kind of calcium-building tonic.

"Is is believable that all these stars, who look stronger and healthier than any of us, are suffering from calcium-deficiency?" a commentary in Beijing Youth Daily asked.

Credibility zero

Chinese celebrities seem to be facing a credit crisis due to their increasing involvement in these deceptive commercials.

The Beijing Consumers' Association recently issued an open letter to celebrities and pop stars on August 19, urging them to exercise more self-discipline.

Celebrities and stars should actively participate in more community events and refuse lucrative deals to appear in deceptive ads, the letter urges

It notes that celebrity ads have long been plagued with problems of exaggeration and false promotion.

Celebrities have often heaped praise on the medical products to convince consumers of their benefits even though they themselves have never used such products.

"Celebrities themselves may earn big money but the harm they incur will eventually go to consumers," the open letter warns.

Under mounting pressure from society, some public-spirited celebrities have begun to isolate themselves from TV commercials.

For instance, actor Pu Cunxin, who used to star in a TV commercial advertising a calcium fluid, has pledged non-participation in any profitable advertisements.

He has since established a foundation under his own name to promote voluntary blood-donation and is spearheading the fight against drugs and HIV/AIDS.

Cross-talker Jiang Kun says it should be a basic principle of celebrities to behave honestly and exercise self-discipline when starring in TV commercials.

"Only by refusing roles in these deceptive ads can they protect their image and reputation," he says.

Justification

But more celebrities have tried to justify their moves, arguing that it is not themselves who should be held accountable for deceptive or misleading ads.

Actress Zhuang Li, wife of Tang Guoqiang, points out that poor supervision from the administrators as well as the media's preoccupation with profits should be blamed for the blanket airing of such ads.

"It is unfair to pass the buck to celebrities," she says.

Xie Xiaodong goes further to say celebrities have neither the capability nor the duty to distinguish the credibility of the product they are advertising.

So it is understandable for celebrities to star in ads as long as the advertises can come up with legal licence of their products, he adds.

Weakness

Professor Mao Shoulong of Renmin University of China, says the justification of these celebrities has fully indicated the weakness of indoctrination among them.

"It is pointless to rely solely on moral discipline of celebrities to prevent them from falling foul of the temptation to star in such programmes," he says.

Common sense is all that is needed to judge the authenticity of ads, claims Mao.

He adds that failure to use common sense may be because some celebrities put money above their social responsibility and conscience.

The professor stresses that better supervision and stronger laws and regulations should play a key role in eliminating deceptive adverts.

Media commentator Ren Da says legal loopholes have contributed to poor supervision.

Although China's Advertisement Law prohibits any ads from containing false contents to deceive or mislead consumers, it fails to exactly define the legal liability of celebrities.

"Celebrities constitute fraud if they knowingly use false ad contents to deceive or mislead consumers," Ren says.

"Thus they should be legally punished for violating other people's civil rights."

Gao Fusheng, another media commentator, calls for joint efforts from both the administrators, media and consumers to crack down upon the bogus commercials.

First, the administrators should step in to strengthen supervision and law-enforcement so as to prevent the emergence of false commercials from the outset.

As part of the effort to crack down on false advertisers, the State Administration of Radio, Film and Television has already ordered a ban on any television advertising medical treatments in the form of short feature films to curb exaggeration and fraud.

The administration has set up an inspection system to keep a round-the-clock watch on TV advertising on more than 40 channels in the country.

Second, the media, including TV, newspapers and magazines, should not forget their public responsibility during their quest for profits.

Media organizations should cherish their credibility and refuse to broadcast and publish adverts with deceptive and misleading contents.

Last but not the least, is that consumers should become more aware of products so as not to become easy victims just because of their affection for celebrities.

"Consumers should be more cautious when choosing products advertised by celebrities, and first they should not mix their fondness for a certain star with the real quality of the product he or she endorses," Gao says.

As for celebrities who readily appear in such commercials, perhaps they should ponder the words of writer Thomas Wolfe: you have reached the pinnacle of success as soon as you become uninterested in money, compliments or publicity.




Today's Top News
Top China News

Hu, Arroyo agree to deepen ties




Environmental damage to be counted in GDP




Nuclear power to push national growth




Arsonist kills himself after setting bus on fire




China to deepen financial reform: vice premier




Tunnel to funnel water to thirsty Beijing