Hu, Arroyo agree to deepen ties
By Sun Shangwu (China Daily)
Updated: 2004-09-02 00:28
President Hu Jintao said Wednesday in Beijing that China and the Philippines should deepen their co-operation in agricultural technology, machinery, infrastructure and development of resources.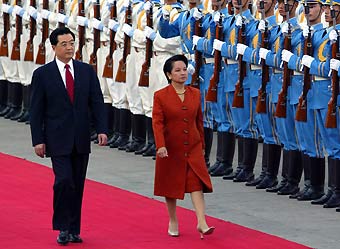 President Hu Jintao and visiting Philippine President Gloria Macapagal Arroyo pass a guard of honor during a welcoming ceremony at the Great Hall of the People Wednesday in Beijing. President Arroyo is on a three-day state visit to China. [newsphoto]

Hu made the remarks when meeting with visiting Philippine President Gloria Macapagal Arroyo, who flew into Beijing Wednesday afternoon for a three-day state visit after a short stopover in South China's city of Guangzhou.

Hu told Arroyo that the two countries should maintain the rapid development momentum of bilateral trade.

Statistics from the Ministry of Commerce of China show bilateral trade volumes in the first seven months of this year reached US$6.87 billion, up 50 per cent over the same period of last year.

The Philippines posted a trade surplus of US$3.2 billion in 2003, according to Philippine figures.

Hu said bilateral exchanges in culture, education and tourism must be enhanced, while security co-operation mechanisms must be improved to fight against transnational crimes.

"China and the Philippines should appropriately deal with specific issues in bilateral ties and try to be good neighbours, good friends and good partners forever,"he was quoted as saying in the meeting by Chinese Foreign Ministry spokesman.

Arroyo, who made the first foreign trip since her re-election in May, said China is very important for the development of the Philippines as a friendly neighbour.

She said ties between the two countries extend for more than a thousand years while bilateral co-operation has reached an unprecedented level.

On the question of Taiwan, she said the Philippines understands the importance of this question and will firmly adhere to the one-China policy.

Hu expressed appreciation for that.

On the establishment of the Free Trade Area (FTA) between China and the Association of Southeast Asian Nations (ASEAN), in which the Philippines is a member, Hu said its establishment is a win-win one for both sides.

He said he hoped that the two sides could speed up negotiations and initiate construction of the FTA to push forward regional co-operation in Asia.

Arroyo said that under the joint efforts of the two sides, negotiations will make progress.

The two countries Wednesday also signed five agreements, including agreements on fisheries and tourism.

Arroyo is expected to meet Jiang Zemin, chairman of the Central Military Commission, and Premier Wen Jiabao today. She will also travel to Xi'an, capital of

Northwest China's Shaanxi Province.

After her state visit, Arroyo will deliver the keynote speech at the Third International Conference of Asian Political Parties.

Arroyo once visited China as Philippine Vice President in 2000. She attended the Asia-Pacific Economic Co-operation (APEC) leaders' informal meeting as Philippine president, and paid a state visit to China in October 2001.




Today's Top News
Top China News

Hu, Arroyo agree to deepen ties




Environmental damage to be counted in GDP




Nuclear power to push national growth




Arsonist kills himself after setting bus on fire




China to deepen financial reform: vice premier




Tunnel to funnel water to thirsty Beijing