Russia opens talks with kidnappers
(Agencies)
Updated: 2004-09-01 16:13
Local authorities have begun talks with armed hostage-takers at a school in southern Russia's North Ossetia republic Wednesday, Itar-Tass news agency reported.
They released a video cassette showing what has been going on inside the school building, said the crisis management center led by North Ossetian President Alexander Dzasokhov said.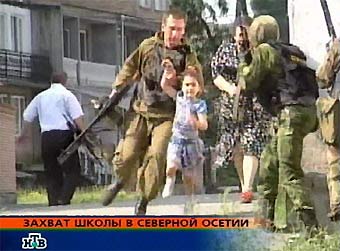 A TV grab taken from the Russian NTV channel shows Russian special police troops evacuating a little girl and her mother from a school in North Ossetian village of Beslan. Gunmen with explosives strapped around their waists took up to 240 people hostage at a school in southern Russia near war-torn Chechnya and threatened to blow up the building if the security forces moved in. [AFP]
Eleven people, mainly parents of the children, were wounded by fire from the school building, Interfax reported.
An Interior Ministry officer said earlier that at least three civilians were killed during the shootout in the event.
The militants has demanded the release of all terrorists arrested in the hit-and-run raids on crucial facilities in Russia's Ingushetia republic on June 21-22.
More than 200 heavily armed guerrillas, believed to be Chechen rebels, staged simultaneous attacks on police and government sitesin Ingushetia, killing over 90 people with some 100 others injured.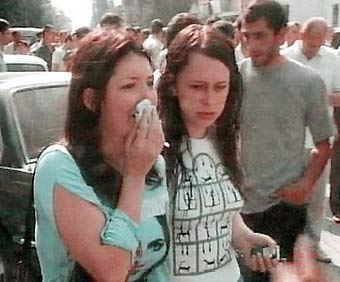 A television grab shows Russian women crying near the school where unidentified gunmen are holding up to 400 hostages in the town of Beslan in the province of North Ossetia near Chechnya, September 1, 2004.[Reuters]
The hostage takers have also demanded the arrival of North Ossetian President Alexander Dzasokhov, Ingush President Murat Zyazikov and Doctor Leonid Roshal, North Ossetian Emergency Situations Minister Boris Dzagoyev said.
Roshal acted as a mediator between hostage takers and Russian authorities in a Moscow theater hostage-taking crisis in October 2002.
Roshal said he will soon leave for the city of Beslan where theseized school is located to hold talks with the militants.
Russian President Vladimir Putin has cut short his holiday and returned to Moscow from the Black Sea resort of Sochi.
Putin is holding an emergency meeting with heads of law enforcement agencies. He had held a phone conversation with Dzasokhov on his way back.
50 kids escape
Up to 50 children managed to escapefrom the school seized by a group of gunmen in the North Ossetian town of Beslan on Wednesday and at least three had been killed, Itar-tass news agency said on Wednesday.
The children had apparently hidden when the attackers stormed the school, according to the report. They started leaving in small groups when shooting died down.
The report also quoted a duty officer at the regional Interior Ministry as saying that at least three people were killed during the attack by the gunmen.
"One body lies near the entrance and two others are on a road near the fence," he was quoted by Itar-Tass news agency as saying,adding that "all the dead are civilians."
"The militants do not let recover the bodies, opening fire as people appear in front of the school," he noted.
Today's Top News
Top World News

Hu, Arroyo agree to deepen ties




Environmental damage to be counted in GDP




Nuclear power to push national growth




Arsonist kills himself after setting bus on fire




China to deepen financial reform: vice premier




Tunnel to funnel water to thirsty Beijing