Protesters stone Nepal mosque after Iraq killings
(Agencies)
Updated: 2004-09-01 16:13
Dozens of people threw stones at a mosque in Kathmandu and tried to set it on fire on Wednesday to protest against the killing of 12 Nepalis in Iraq.
Nepali police lobbed teargas shells as more than 1,000 demonstrators, some carrying Buddhist flags, burned tires at a main intersection 200 yards from the Jame Masjid mosque in the heart of the capital, Kathmandu.
Police cordoned off the mosque, which was obscured from afar by thick clouds of smoke rising from burning tires on roads leading to the building while riot police put up barricades on nearly empty streets.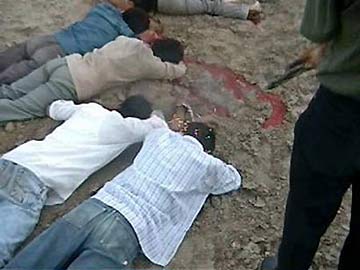 A photo published on an Islamic groups' website August 31, 2004, showing what appears to be men lying shot in a pit. A militant Iraqi group said it had killed 12 Nepali hostages and showed pictures of one being beheaded and others being shot dead, the worst mass killing of captives since a wave of kidnappings erupted in April. [Reuters]


"Demonstrators entered the mosque, threw stones and partially damaged it," police official Binod Singh told Reuters.

"They tried to set the building on fire but police intervened and prevented them. The building has been cleared. No one was injured."

A militant Iraqi group said on Tuesday it had killed the 12 Nepali hostages, who went to Iraq to work as cooks and cleaners for a Jordanian firm, and showed pictures of one being beheaded and the others with bullet wounds to the head and back.

Impoverished Hindu Nepal does not allow its nationals to travel or work in Iraq because of security concerns but many go to the country from other nations in the Middle East.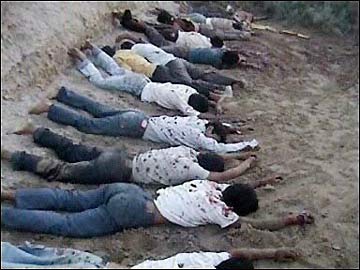 Picture from the Islamist Army of Ansar al-Sunna website shows the bodies of Nepalese men. Fears mounted for two French journalists held hostage by Islamic militants in Iraq as Nepal was plunged into mourning by reports 12 of its citizens were brutally murdered by their kidnappers. [AP]


About 3.5 percent of Nepal's 27 million people are Muslim.

"This inhuman act is against Islam," a Nepali Islamic group said in a statement on the killing of the 12, the largest number of foreign captives killed at one time by militants in Iraq.

Groups of protesters took to the streets of Kathmandu late on Tuesday after news of the killing spread. They targeted manpower recruitment companies that send laborers to Iraq.

In other parts of the city, groups of about 150 protesters burned tires at intersections, disrupting traffic on Wednesday. Relatives accused the government of not doing enough to help the victims.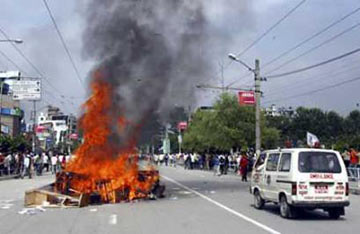 An ambulance passes a bonfire in Kathmandu during a demonstration against the killing of 12 Nepalis in Iraq September 1, 2004. More than 1,000 demonstrators burned tires at a main intersection 0.12 miles from the Jame Masjid Mosque in the heart of the capital. [Reuters]


"The government did not do enough to get their release," said Sudarshan Khadka, the brother of Ramesh Khadka, one of the victims, in his village about 16 miles outside Kathmandu.

About 800,000 Nepalis work as laborers, drivers, guards, cleaners and cooks in different countries -- 200,000 of them in the Middle East.

They send about $800 million home to their families each year, a major source of income in one of the world's 10 poorest countries.

Nepal's embattled government is struggling to contain an insurgency by Maoist rebels seeking to replace the constitutional monarchy with one-party communist rule.

The government's mainstream political opponents have staged months of protests in a campaign for the revival of a parliament dissolved by King Gyanendra two years ago.




Today's Top News
Top World News

Attackers threaten to blow up Russian school




IPOs suspended for new pricing rule




12 Nepalese hostages said slain in Iraq




Taiwan 'most important' to US relations




Construction fees included in airfares




Bush recants terror war words; nominated