Armed attackers seize 400 in southern Russia
(Agencies)
Updated: 2004-09-01 15:10
Armed attackers, who seized a school in southern Russia on Wednesday, are holding up to 400 hostages including 200 schoolchildren, an official spokeswoman said.
"There could be up to 400 children and teachers held hostage," Irina Terkina, a spokeswoman for Russian President Vladimir Putin's envoy in southern Russia, said by telephone. RIA news agency said the gang, who had seized the school in the town of Beslan in North Ossetia near Chechnya, were refusing to negotiate with the authorities.
Interfax news agency quoted local police as saying the gang that attacked the secondary school included women and men strapped with explosives.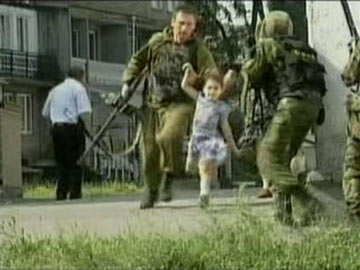 Russian soldiers rescue an unidentified child in North Ossetia Wednesday morning Sept. 1, 2004. More than a dozen attackers carrying guns and wrapped in suicide-bomb belts seized a school in the Russian region of North Ossetia Wednesday morning and were holding hundreds of hostages, including some 200 children, news reports said. [AP]


Interior Ministry troops and police poured into the area around the school and officials reported an exchange of fire with the group, the latest in a wave of violence to have hit Russia in recent days.

"One of the attackers was killed. We have no information about casualties among the civilians," Itar-Tass news agency said, quoting local police.

Television reports said the attack came during a ceremony to mark the start of the new school year.

In a separate report, Tass said, without giving a source, that some teachers may have been killed.

An initial report had said a second school may also have been seized but this turned out not to be correct.

The gang, which news agencies said could number up to 30, staged their attack on the first day of the new school year in Russia when parents traditionally accompany their children to school.

Russian President Vladimir Putin's envoy in the region, Vladimir Yakovlev, said: "At the moment police are being called to the scene. There is a shootout in the area."

North Ossetia lies to the west of the seething Chechnya region where Russian forces have been fighting a war with separatist rebels for a decade.

There was no immediate charge that Chechen rebels were behind the attack, but the well-organized assault and the proximity to Chechnya suggested they may well be involved.

On Tuesday a female suicide bomber blew herself up on a busy Moscow street in an attack that bored all the hallmarks of a Chechen action. At least 10 people were killed and 51 injured.

On August 24 two passenger planes were blown up over Russia and officials believe these attacks also were the work of Chechen rebels.




Today's Top News
Top World News

Attackers threaten to blow up Russian school




IPOs suspended for new pricing rule




12 Nepalese hostages said slain in Iraq




Taiwan 'most important' to US relations




Construction fees included in airfares




Bush recants terror war words; nominated