12 Nepalese hostages said slain in Iraq
(Agencies)
Updated: 2004-09-01 13:45
A gruesome video posted on a Web site purported to show militants beheading a Nepalese worker and shooting 11 others in the first mass slaying of foreign hostages during the Iraqi insurgency.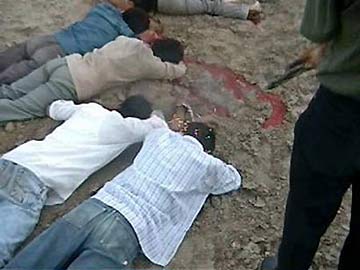 A photo published on an Islamic groups' website August 31, 2004, showing what appears to be men lying shot in a pit. A militant Iraqi group said it had killed 12 Nepali hostages and showed pictures of one being beheaded and others being shot dead, the worst mass killing of captives since a wave of kidnappings erupted in April. [Reuters]
If confirmed, it would raise the number of foreign workers known to have been slain by extremists to at least 22 in a terror campaign aimed at forcing foreign troops and contract workers out of the country..
Interim Iraqi Prime Minister Ayad Allawi promised retribution. "The only solution with this unjust group is to make them face justice," he angrily told the Arab-language Al-Arabiya television station.
In Nepal, relatives grieved after hearing the news. "What sins have I committed to deserve this?" said Jit Bahadur Khadka, the father of one of those reportedly killed, 19-year-old Ramesh Khadka.
In another hostage crisis, French officials held talks in Paris and around the Arab world in hopes of saving the lives of two journalists held by other insurgents in Iraq. The kidnappers set a Wednesday deadline for France rescind its ban on Muslim head scarves in French schools, a demand France has said it won't meet.
But it wasn't immediately clear when the deadline expired. Some officials thought Wednesday morning, but the head of the Arab League, Amr Moussa, said his group had been told the deadline was Wednesday night.
Guerrillas in Iraq have taken more than 100 foreigners hostage in recent months, often demanding that their home countries withdraw troops from the U.S.-led coalition or pull out their citizens doing civilian work. Some have demanded that a hostage's employer promise to halt all business here.
Nepal, which has no troops in Iraq, has long banned its citizens from working in Iraq because of security concerns. However, many people from the poor Asian nation take jobs abroad, and 17,000 Nepalese are believed to have slipped into Iraq, with many working as armed security guards for foreign contractors.
"We strongly condemn the terrorist act and urge the international community to speak against this terrorist act," Nepalese Foreign Minister Prakash Sharan Mahat said after an emergency Cabinet meeting held in Katmandu amid criticism the government did not do enough to save the men.
In Nepal's capital, Katmandu, thousands of protesters ransacked a mosque and clashed with police Wednesday to protest the killing of the Nepalese hostages. Demonstrators rallied across Katmandu, blaming the government for not doing enough to secure the hostages release.
Elsewhere, efforts to broker a truce between militants loyal to rebel Shiite cleric Muqtada al-Sadr and the government appeared to bear fruit Tuesday. Iraqi police fanned out without incident through the Baghdad slum of Sadr City, which had been the scene of fierce clashes between al-Sadr loyalists and U.S. troops in recent weeks.
Allawi told tribal leaders from Sadr City that the government had allocated $115 million to improve public services in the district, including water, electricity and sewage.
"The resumption and the stability of life in your city and in the whole of Iraq is a very important issue," Allawi said.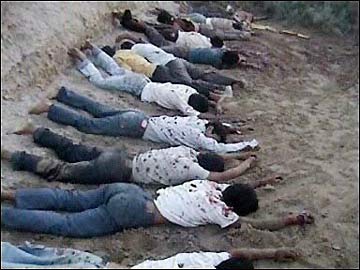 Picture from the Islamist Army of Ansar al-Sunna website shows the bodies of Nepalese men. Fears mounted for two French journalists held hostage by Islamic militants in Iraq as Nepal was plunged into mourning by reports 12 of its citizens were brutally murdered by their kidnappers. [AP Photo]
Meanwhile, the second-ranking U.S. diplomat in Iraq, James Jeffrey, met with Gov. Adnan al-Zurufi in the holy city of Najaf, the center of a three-week uprising by al-Sadr followers that ended Friday. Jeffrey went to assess the "immediate needs of the city" and examine ways to rebuild it.
The 12 Nepalese hostages, who had been sent by a Jordanian firm to do construction work in Iraq, disappeared Aug. 19, soon after crossing into the country from Jordan in two cars.
The next day, a Web statement from the little known Ansar al-Sunna Army claimed to be holding them and demanded Nepal stop sending its workers here.
The video Tuesday showed a masked man in desert camouflage apparently slitting the throat of a blindfolded man lying on the ground. The victim moaned and a shrill wheeze was heard. The masked man then showed the severed head to the camera before throwing it in the dirt and later resting it on the victim's chest.
Other footage showed a militant with an assault rifle killing the other 11 men, who were lying face down on the ground, with a series of shots into their heads and backs. Blood seeped from their bodies onto the sand.
The apparent mass killing of hostages was a first. Previously, insurgents killed hostages in ones, and perhaps twos, as part of their campaign to force foreign troops and contract workers out of the country.
"America today has used all its force, as well as the help of others, to fight Islam under the so-called war on terror, which is nothing but a vicious crusade against Muslims," a statement on the Web site signed Ansar al-Sunna Army said.
The group also threatened anyone else working with U.S. forces in Iraq, saying executions would befall "every agent, traitor and spy."
Mahat, the Nepalese foreign minister, said his government would help the families "and take action against the people who sent them illegally to this dangerous area for work."
Iyad Mansoor, director-general of the Morning Star Co., a Jordan-based services firm that employed the Nepalese, said he hired them through the Nepal-based Moonlight Co. to work in factories in Jordan.
The Muslim Scholars Association, an influential Sunni Muslim group believed to have links to insurgents, condemned the claimed mass killing, saying such acts did not help Iraq.
"We believe most of them were simple-minded and tempted to come to Iraq," Mohammed Bashar al-Faidi, a spokesman for the group, said of the Nepalese. "We wished they could have been released by the kidnappers so that they could have become messengers for their brothers to warn them not to come to Iraq."
Today's Top News
Top World News

Attackers threaten to blow up Russian school




IPOs suspended for new pricing rule




12 Nepalese hostages said slain in Iraq




Taiwan 'most important' to US relations




Construction fees included in airfares




Bush recants terror war words; nominated