Anxious parents seek boy in the photo
(eastday.com)
Updated: 2004-09-01 10:33
The migrant parents of a little boy who disappeared 18 months ago believe he has been stolen and forced to beg on the streets.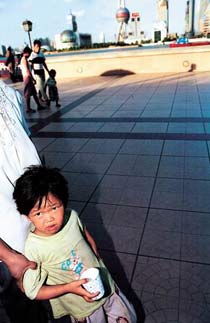 Li Yangyang, 5, who has been missing for 18 months, turned up in this local magazine photo in January. His parents are desperately seeking the boy's return.

They have identified their son, now aged 5, in a picture in a local magazine.

The picture shows a bedraggled, fearful boy holding a paper begging cup while the hand of a woman holds him firmly, the fingers pressed into the top of his arm.

The parents believe he has been physically abused by the people exploiting him.

The father said he noticed burns scars on both his son's arms and this was confirmed after the photographer who took the picture enlarged it for him.

Li Zhaoqiang and Yang Bingqiao, from Anhui Province, still long for the day they can hold their only son, Li Yangyang, in their arms again.

The family moved to Shanghai three years ago and lived by recycling garbage in Baoshan District.

The mother, Yang, said she could never forget the moment she allowed Li Yangyang to play outside their home for a few minutes after 3pm on March 9, 2003.

The couple have never seen him since.

They searched frantically for months in the city's downtown, all suburban towns and villages.

They posted nearly 1,000 notices where they could, but achieved nothing.

They had suspected a neighbor with whom they had a dispute had abducted and sold their boy to get even.

The man disappeared for several days after the boy went missing and appeared nervous every time they met him afterwards.

Police questioned the neighbor, but released him for lack of evidence.

The broken-hearted parents packed all Yangyang's belongings into two suitcases and sealed them to preserve their memories.

On January 12, they received a call from their sister-in-law who had found her nephew in the magazine picture at a local hotel where she worked.

They traced the magazine photographer who said the picture was shot on the Bund in August last year, about five months after the boy went missing.

"I put a coin into his cup and pressed the shutter instinctively," the photographer, Qian Dongsheng, told the parents.

Officers from the police technical department also confirmed Yangyang's identity in the picture and a team of investigators plus police stations near the Bund started a manhunt in the city with the clues.

But since authorities had taken measures over the past year to move beggars from some of the city's central areas, the search proved difficult.

Yang, who is now pregnant with her second child, said she misses her son every moment of every day and remembers every detail of him.

"He is a good boy. He always tried to be self-dependent and take care of himself," she said.

"He has never wet the bed.

"Noodles are Yangyang's favorite. If only I had taken him to have noodles that afternoon, all this could have been prevented and my son would be about to go to a nearby kindergarten in a few days' time."

Anyone who may have seen the boy in the picture is asked to contact the emergency police hot line 110 or dial Shanghai Daily's hot line 5292-1686.




Today's Top News
Top China News

Zhou: Opposing Taiwan independence key to US ties




Athletes greeted by applause back home




IPOs suspended for new pricing rule




Construction fees included in airfares




Bush recants terror war words; nominated




Re-building the ancient Silk Road