Suicide bomber kills 10 at Moscow subway
(Agencies)
Updated: 2004-09-01 09:01
A woman strapped with explosives blew herself up outside a busy Moscow subway station Tuesday night, killing at least 10 people and wounding more than 50 in the second terrorist attack to hit Russia in a week, officials said.
Seven days earlier, almost to the hour, two Russian jetliners crashed within minutes of each other in what officials determined were terrorist bombings. All 90 people aboard were killed, and the investigation has focused on two Chechen women believed to have been passengers.
A militant Muslim web site published a statement late Tuesday claiming responsibility for the subway bombing on behalf of the "Islambouli Brigades," a group that also claimed it caused the jetliner crashes with suicide teams in retribution for Russia's war with Islamic rebels in Chechnya. The veracity of neither claim could be confirmed.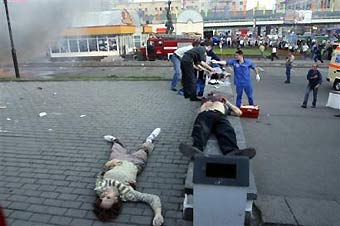 Bodies of victims of an explosion are seen outside the Rizhskaya subway station in Moscow, Tuesday, Aug. 31, 2004. [AP]

The statement said Tuesday's bombing was a blow to Russian President Vladimir Putin "who slaughtered Muslims time and again." Putin has firmly refused to negotiate with the rebels in predominantly Muslim Chechnya, saying they must be wiped out.

Several female suicide bombers allegedly connected with the rebels have caused carnage in Moscow and other Russian cities in a series of attacks in recent years.

Mayor Yuri Luzhkov told reporters near the Rizhskaya subway stop in northern Moscow that the bomber was walking toward the station shortly after 8 p.m. but turned around when she saw two police officers.

She "decided to destroy herself in a crowd of people" in a busy area between the subway station and a nearby department store-supermarket complex, Luzhkov said, adding that the bomb was packed with bolts and pieces of metal.

"There was a desire to cause maximum destruction," he said.

A spokesman for the Federal Security Service, Sergei Ignatchenko, told NTV television that the casualty toll had risen to 10 dead and 51 wounded, of whom 49 were hospitalized. Many of the injured were believed to be seriously wounded, and the death toll was expected to rise. It was not immediately clear if the number of dead included the bomber.

A white car was set afire, and shattered windows and bloodied people lay on the asphalt in front of the subway station.

A woman, apparently distraught with panic, pushed away a man who repeatedly reached out to help her. A man lying on his stomach moved his arm weakly as people crowded around him.

"There was a powerful blast and then a smaller one. I thought my roof would come off," said 30-year-old Sergei Pyslaru, who was driving on a nearby street.

Alexei Borodin, 29, said he was walking with his mother when he heard "a very powerful bang."

"Something flew past my head — I don't know what it was. There were people lying in the square," he said. "There were pieces of bodies. We were walking through pieces of people."

Chechen secessionists have been blamed for a series of attacks in Moscow and other parts of Russia the past several years, killing nearly 370 people with bombs in just the past 21 months. In the most recent bombings, 41 people died in a rush-hour explosion on the Moscow subway in February, and a female suicide bomber blew herself up outside a hotel adjacent to Red Square and killed five other people in December.

Many of the Chechen female suicide bombers are believed to be so-called "black widows," who have lost husbands or male relatives in the fighting that has gripped the southern region Chechnya over most of the past decade.

Chechens on Sunday elected a new Kremlin-backed president in the republic, a move Moscow hopes will bring some stability to the region.

Alu Alkhanov, Chechnya's top police official, won with 74 percent of the vote, election officials said, after a campaign in which the six other candidates rarely were shown on television and a leading opponent was kept off the ballot by pro-Moscow local officials.

Alkhanov will replace Akhmad Kadyrov, who was assassinated May 9 when a bomb ripped through a stadium in the Chechen capital, Grozny, during a Victory Day ceremony. A Chechen warlord claimed responsibility for the attac, which killed as many as 23 other people.




Today's Top News
Top World News

Zhou: Opposing Taiwan independence key to US ties




Athletes greeted by applause back home




IPOs suspended for new pricing rule




Construction fees included in airfares




Bush recants terror war words; nominated




Re-building the ancient Silk Road