Laura Bush: Why I think you should re-elect my husband?
(Agencies)
Updated: 2004-09-01 08:41
U.S. Republican National Convention co-stars Laura Bush and Arnold Schwarzenegger commended President Bush to the country for four more years Tuesday night, hailing him as a man of strength leavened by compassion. "You can count on him, especially in a crisis," said the first lady.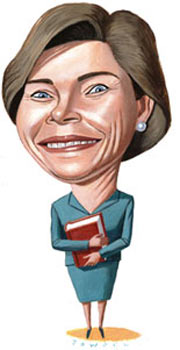 "He's a man of perseverance. He's a man of inner strength. He is a leader who doesn't flinch, doesn't waver, does not back down," added the Austrian-born California governor in a speech that also promised recent immigrants they are welcome in the GOP. (Special Coverage)
"We Republicans admire your ambition. We encourage your dreams. We believe in your future," said the actor-turned-politician in one of several speeches crafted to show the softer side of a party known for its conservatism.
The effort to flesh out an image of the president as something more than a resolute commander in chief resulted in something akin to a prime-time Bush family hour, with twins Jenna and Barbara teasing their father gently in a brief, joint appearance at the podium. "We are so proud to be here tonight to introduce someone who read us bedtime stories, picked up carpool, made our favorite peanut butter-and-jelly sandwiches and cheered for us when we made a goal, even when it was for the wrong team," Jenna said.
Schwarzenegger and the first lady took their turns at the Madison Square Garden podium as 2,508 delegates formally bestowed their nomination on the president for a second term in office. "Four more years," they chanted in unison — then and many times more throughout the night.
Republicans met inside their heavily fortified convention hall as police made nearly 1,000 arrests in the surrounding streets on a day heavy with non-violent protest. By evening, authorities wrapped an entire midtown Manhattan block in orange netting, working to contain demonstrators who had vowed to march on the Garden itself.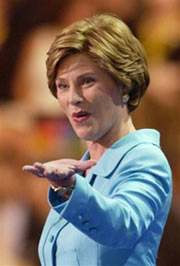 Laura Bush, the first lady of the United States, addresses delegates at Madison Square Garden during the Republican National Convention in New York, Aug. 31, 2004. [AP]

Bush, locked in a tight re-election race, campaigned across three battleground states and worked to extinguish a convention-week controversy of his own making. "In this different kind of war, we may never sit down at a peace table. But make no mistake about it, we are winning, and we will win" the war on terror, he told an American Legion convention in Tennessee, one day after saying he didn't think victory would be possible.

"I probably needed to be more articulate" in earlier comments, he conceded in a radio interview with conservative talk show host Rush Limbaugh.

"Let me tell you something, we can, we must and we will win the war on terror," Democratic challenger Sen. John Kerry insisted as he arrived in Tennessee for his turn Wednesday speaking to the American Legion.

Earlier, Kerry's campaign settled on plans to place $45 million in television advertising in 20 battleground states through Election Day. The commercials will run on broadcast stations and cable, and include appeals to minority voters whom Democrats need to turn out in large numbers on Nov. 2 if they are to deny Bush a second term.

A poll by The Washington Post showed the race to be a dead heat, 48 percent apiece, but found that the president moving ahead of his rival on national security issues and pulling into a virtual tie on handling of the economy.

Bush arrives in New York on Wednesday, a day ahead of a nomination acceptance speech that is expected to sketch out a second-term agenda. Vice President Dick Cheney addresses the gathering Wednesday night.

Republican convention planners scripted an evening that reintroduced the theme of compassionate conservatism that helped Bush win the White House four years ago.

A parade of speakers strode to the podium with a backdrop that read — "People of Compassion." They praised the president's efforts to battle AIDS, combat breast cancer, promote adoption and enact far-reaching educational reforms. "I am proof that the blessings of liberty are within reach of every American," said Maryland Lt. Gov. Michael Steele, an African-American.

Both the first lady and Schwarzenegger hailed Bush's leadership in terms that bordered on extravagant in speeches that did double political duty. For the first lady, that meant a glimpse at the personal side of her husband; for the governor, an appeal to new and unregistered voters from overseas who are not part of the president's conservative base.

"No American president wants to go to war," said Mrs. Bush, neither Lincoln nor Roosevelt nor her own husband.

But in a description of a commander in chief that most Americans never see, she said, "I remember some very quiet nights at the dinner table" after the terrorist attacks of Sept. 11, 2001. "George was weighing grim scenarios and ominous intelligence and potentially even more devastating attacks."

"... And I remember sitting in the window of the White House, watching as my husband walked on the lawn below. I knew he was wrestling with these agonizing decisions that would have such profound consequences for so many lives and the future of the world," she said.

The world outside the convention delivered jarring news in the global war on terror.

A suicide bomber was blamed for an explosion near a busy subway station in Moscow. Hamas took responsibility for blowing up two buses in Israel. And a Web site offered a link to a video purporting to show the methodical, grisly killings of 12 Nepalese construction workers kidnapped in Iraq.

Schwarzenegger sketched his own background for the convention and prime-time audience, from a childhood in the shadow of communism to arrival in the United States as a self-described scrawny boy, to the man who moved from body builder to box-office star to governor of the nation's most populous state.

"America gave me opportunities and my immigrant dreams came true," he said. "I want other people to get the same chances I did, the same opportunities."

He flashed his trademark bravado as well. "To those critics who are so pessimistic about our economy, I say: Don't be economic girlie men." The hall erupted in cheers at that remark and Schwarzenegger smiled broadly. Earlier this year, he had encountered sharp criticism in his home state when he ridiculed Democratic legislators who opposed his budget as "girlie men."

In her remarks, Mrs. Bush said that Bush's leadership has helped 50 million men, women and children win freedom over the past four years, a reference to wars in Afghanistan and Iraq.

"I want to talk about the issue that I believe is most important for my own daughters, for all our families, and for our future: George's work to protect our country and defeat terror so that all children can grow up in a more peaceful world," she added.




Today's Top News
Top World News

Annan applauds China's role in United Nations




Talks ongoing to free kidnapped Chinese




WHO report highlights traffic safety in China




China issue rules on overseas investment




Assessing status of nation's health




Bus crash kills 21 in Southwest China