Two bus blasts in southern Israel kill 16
(Agencies)
Updated: 2004-09-01 08:37
Palestinian suicide bombers blew up two buses in this Israeli desert city Tuesday, killing 16 passengers and wounding more than 80 in an attack that ended a six-month lull in violence.
The buses exploded into flames just seconds apart and about 100 yards away from each other in the center of Beersheba — the deadliest suicide strike in nearly a year.
Israel had attributed the lull to its separation barrier, arrest sweeps and widespread network of informers.
The Hamas militant group claimed responsibility, issuing a leaflet in Hebron — the closest Palestinian city to Beersheba — saying it was avenging Israel's assassinations of two of its leaders earlier this year.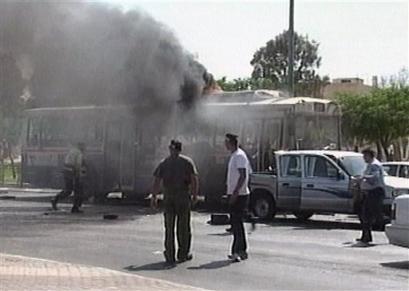 Smoke rises from the wreckage of a bus in Beersheba southern Israel in this image taken from television Tuesday Aug 31, 2004. Two buses exploded almost simultaneously in southern Israel on Tuesday, killing at least 11 people and wounding more than 20 rescue officials said. [AP]

Israeli Prime Minister Ariel Sharon met with his security advisers to plan a response, expected to include a military operation in Hebron. Just hours before the attack, Sharon presented his hardline Likud Party with the most detailed timetable yet for Israel's withdrawal from the Gaza Strip.

Despite the bombings, Sharon promised to push forward with the Gaza pullout, while insisting Israel would keep fighting terrorism "with all its might."

"This (the attack) has no connection to disengagement," he said, referring to his program to separate Israel from the Palestinians.

In Washington, U.S. Secretary of State Colin Powell condemned the bombings and offered condolences to Israeli Foreign Minister Silvan Shalom, and State Department Spokesman Richard Boucher said Hamas must be put out of business.

White House spokesman Scott McClellan said President Bush had been briefed. "There's simply no justification for the killing of innocent civilians," McClellan said.

Israeli officials said the bombings proved the need for the barrier now under construction between Israel and the West Bank. The section between Hebron and Beersheba has not been built.

"We should go ahead speedily now and finish construction of this fence," government spokesman Avi Pazner told The Associated Press.

The barrier, which Israel says is necessary to keep out suicide bombers, has been widely condemned internationally becau