Two bus blasts in southern Israel kill 16
(Agencies)
Updated: 2004-09-01 08:37
Palestinian suicide bombers blew up two buses in this Israeli desert city Tuesday, killing 16 passengers and wounding more than 80 in an attack that ended a six-month lull in violence.
The buses exploded into flames just seconds apart and about 100 yards away from each other in the center of Beersheba ! the deadliest suicide strike in nearly a year.
Israel had attributed the lull to its separation barrier, arrest sweeps and widespread network of informers.
The Hamas militant group claimed responsibility, issuing a leaflet in Hebron ! the closest Palestinian city to Beersheba ! saying it was avenging Israel's assassinations of two of its leaders earlier this year.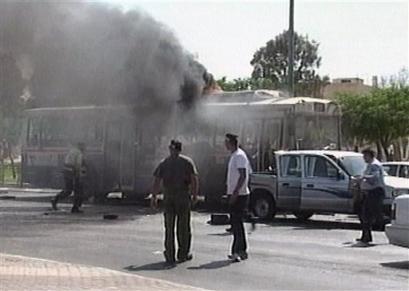 Smoke rises from the wreckage of a bus in Beersheba southern Israel in this image taken from television Tuesday Aug 31, 2004. Two buses exploded almost simultaneously in southern Israel on Tuesday, killing at least 11 people and wounding more than 20 rescue officials said. [AP]

Israeli Prime Minister Ariel Sharon met with his security advisers to plan a response, expected to include a military operation in Hebron. Just hours before the attack, Sharon presented his hardline Likud Party with the most detailed timetable yet for Israel's withdrawal from the Gaza Strip.

Despite the bombings, Sharon promised to push forward with the Gaza pullout, while insisting Israel would keep fighting terrorism "with all its might."

"This (the attack) has no connection to disengagement," he said, referring to his program to separate Israel from the Palestinians.

In Washington, U.S. Secretary of State Colin Powell condemned the bombings and offered condolences to Israeli Foreign Minister Silvan Shalom, and State Department Spokesman Richard Boucher said Hamas must be put out of business.

White House spokesman Scott McClellan said President Bush had been briefed. "There's simply no justification for the killing of innocent civilians," McClellan said.

Israeli officials said the bombings proved the need for the barrier now under construction between Israel and the West Bank. The section between Hebron and Beersheba has not been built.

"We should go ahead speedily now and finish construction of this fence," government spokesman Avi Pazner told The Associated Press.

The barrier, which Israel says is necessary to keep out suicide bombers, has been widely condemned internationally because of the hardships it imposes on Palestinians.

Palestinian analyst Hani al-Masri agreed with the Israeli assessment of the lull in suicide attacks. He told AP that it resulted from Israel's assassination of Hamas leaders and the difficulties of infiltrating posed by the barrier.

"But now, the military operations (attacks) are a way for Hamas to increase its popularity among Palestinians," he said, noting that until Tuesday, the Islamic group had not carried out its promise to avenge Israel's killing of its founder and his successor.

It had been nearly six months since Israelis last experienced the scene of charred buses, mangled bodies and screaming sirens that played out in Beersheba on Tuesday. The last suicide bombing in Israel took place on March 14, when 11 people were killed at the port of Ashdod.

Tuesday's attack was the deadliest since a female suicide bomber killed 21 people nearly a year ago in the northern city of Haifa ! an attack that prompted Israel to assassinate Sheik Ahmed Yassin, the spiritual leader of Hamas, and his successor, Abdel Aziz Rantisi.

Israel's rescue service said 30 of the wounded in Tuesday's attack were in serious condition. Police said the death toll of 16 did not include the bombers.

The two buses lay smoldering in the street, their windows blown out, roofs buckled outward, interiors gutted by flames. Forensic workers picked up body parts, including a woman's hand with a silver ring still attached.

One of the bus drivers, Yaakov Cohen, opened his doors and ordered passengers off after hearing the first blast, apparently saving a number of lives.

"I don't know why I thought to open the doors," Cohen told reporters, still dazed, "but at least some of the people were able to escape."

In Hebron, the Israeli army surrounded the homes of the two suspected bombers, Ahmed Qawasmeh and Nasim Jaabari, and questioned their relatives.

In Gaza, thousands of Hamas supports took to the streets to celebrate, with Rantisi's widow, Rasha, calling the attack an "heroic operation" and saying her husband's soul is "happy in heaven."

Palestinian officials condemned the attack, however, and called for an immediate cease-fire and resumption of peace talks.

"The Palestinian interest requires a stop to harming all civilians so as not give Israel pretext to continue its aggression against our people," Palestinian leader Yasser Arafat said in a statement.

In Washington, the State Department brushed aside Arafat's comments and said Hamas must be put out of business. Department spokesman Richard Boucher said action, not words, was needed.

Secretary of State Colin Powell condemned the bombings in a telephone call to Israeli Foreign Minister Silvan Shalom.

In a development clearly related to the bombings, Egyptian intelligence chief Omar Suleiman canceled a visit to the West Bank, set for Wednesday. Suleiman has been leading a yearlong Egyptian effort to negotiate an end to Palestinian attacks.

The past year has seen a sharp reduction in the number of bombings in Israel ! from 18 in 2003 that killed 167 civilians to four this year that killed 42, including Tuesday's toll.

Israel has attributed the slowdown to its success in fighting militants and the West Bank barrier, not to a lack of effort by armed Palestinian groups.

Israel has arrested or killed dozens of militants in recent months, maintains dozens of roadblocks in the West Bank and placed security guards near busy bus stops in Israeli cities. It also operates an efficient intelligence network in the Palestinian areas.

But Israeli officials Tuesday repeatedly cited the barrier, which the world court at The Hague, Netherlands, recently ruled to be illegal, as the No. 1 reason for the lull in violence.

"What we have learned in the past six months ... is that in the place where there is a fence there is no terror, and where there is no fence there is terror," said Public Security Minister Tzachi Hanegbi.

Several Israeli officials have privately complained that the barrier project has been unnecessarily politicized, saying Israel should have built it closer to the country's pre-1967 frontier. That, they say, would have saved lives by heading off legal challenges that have repeatedly delayed construction of the 425-mile structure.




Today's Top News
Top World News

Zhou: Opposing Taiwan independence key to US ties




Athletes greeted by applause back home




IPOs suspended for new pricing rule




Construction fees included in airfares




Bush recants terror war words; nominated




Re-building the ancient Silk Road