Changing tack, Bush says terror war winnable
(Agencies)
Updated: 2004-09-01 08:37
U.S. President Bush said on Tuesday the war on terror could be won by America and explained away an earlier comment that it could not be by blaming his lack of articulation.
As he prepared to address the Republican Party convention in New York on Thursday, Bush found himself forced to adjust his message in a central issue for his re-election campaign.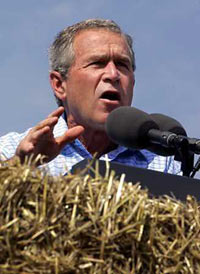 U.S. President George W. Bush speaks at the annual Farm Progress Show in Alleman, Iowa, August 31, 2004. One day after saying the war on terror could not be won, Bush on Tuesday sought to calm a political storm by asserting he had been less than articulate and that America would prevail. As he prepared to address the Republican Party convention in New York later this week, Bush found himself on the defensive over an issue that is central to the campaign for the Nov. 2 presidential election. [Reuters]

"We meet today in a time of war for our country, a war we did not start, but one that we will win," Bush told the American Legion, the nation's largest veterans group.

"It's a different type of war. We may never sit down at a peace table, but make no mistake about it, we are winning and we will win," he said in a speech which repeated this refrain four times.

Bush's response to the Sept. 11, 2001 attacks and his ability to win the war on terror are central to his appeal to Americans for their vote. The Republican president has consistently performed better than his Democratic rival John Kerry when voters are asked about who they most trust to keep America safe from another attack.

But Bush's drive to convince Americans that they should not change presidents in the middle of a war was not helped by his interview on Monday with NBC's "Today" show, when he was asked if the war on terrorism would ever be won.

"I don't think you can win it," he replied. "But I think you can create conditions so that those who use terror as a tool are less acceptable in parts of the world."

The Kerry campaign accused Bush of taking a defeatist stance and also derided his latest remarks.

"What today showed is that George Bush might be able to give a speech saying he can win the war on terror. But he's clearly got real doubts about his ability to do so and for good reason," said Phil Singer, spokesman for the Kerry campaign.

Bush told conservative talk radio host Rush Limbaugh he had meant the war on terror would not end with a conventional peace-signing.

MORE ARTICULATE

"I probably needed to be a little more articulate," Bush said in the interview with Limbaugh.

Republican Sen. John McCain of Arizona, the popular former Bush rival, came to the president's aid. "It didn't need clearing up, but winning is what we're going to do. Winning is what we're going to do in the war on terror," McCain said as he campaigned with Bush in Nashville.

Later campaigning in Alleman, Iowa, Bush again emphasized the goal of winning the war against terror: "The best way to defeat terror in the long run is to spread liberty around the world."

Bush was touring battleground states before he heads to the Republican convention in New York on Wednesday. The next day he will deliver his formal speech accepting the party's nomination for re-election.

Bush and Kerry, a decorated Vietnam War veteran, are aggressively courting veterans who vote in large numbers. Kerry will speak to the American Legion on Wednesday.

The senator was pulling even with Bush among veterans in surveys after the Democratic convention in July. But polls suggest that attacks on Kerry's Vietnam War record by the group Swift Boat Veterans for Truth have cut into the Democrat's support among ex-soldiers.

Kerry has accused the Bush campaign of collaborating with the Swift Boat group, a charge the White House denies.

Bush has refused to condemn the group's attack ads, although he has said that he believed Kerry served honorably and was "more heroic" than him during the war.

Bush spent the war in the United States serving in the Texas Air National Guard. Some Democrats accuse Bush of going absent without leave, citing gaps in his attendance record.




Today's Top News
Top World News

Annan applauds China's role in United Nations




Talks ongoing to free kidnapped Chinese




WHO report highlights traffic safety in China




China issue rules on overseas investment




Assessing status of nation's health




Bus crash kills 21 in Southwest China