Bush recants terror war words; nominated
(Agencies)
Updated: 2004-09-01 07:47
President Bush said repeatedly on Tuesday that the United States will win its war against terrorism, trying to contain political damage from the doubt he expressed a day earlier.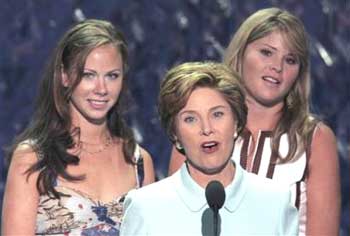 First lady Laura Bush stands at the podium during a sound check as daughters Barbara, left, and Jenna watch at Madison Square Garden before the day's session of the Republican National Convention on Tuesday, Aug. 31, 2004, in New York. [AP]

"We may never sit down at a peace table, but make no mistake about it, we are winning and we will win," Bush told 6,500 veterans at an American Legion convention.

"We will win by staying on the offensive, we will win by spreading liberty," Bush told the veterans.

The president was trying to douse the criticism he touched off Monday when NBC aired an interview in which he was asked if the United States could win the war on terror and he answered, "I don't think you can win it."

He added, in the interview, "I think you can create conditions so that those who use terror as a tool are less acceptable in parts of the world."

Democrats hit hard at Bush's comment for a second day.

"The president has gone from mission accomplished to mission miscalculated to mission impossible on the war on terror," said Phil Singer, a spokesman for Democratic presidential candidate John Kerry.

"George Bush might be able to read a speech saying we can win the war on terror, but as we saw (Monday), he's clearly got real doubts about his ability to do so, and with good reason."

Sen. John McCain, R-Ariz., campaigning through Tennessee at Bush's side, saw no problem.

"What he meant was, we're never going to have a peace signing on the Missouri, we're never going to have a signing at Panmunjom," McCain said.

McCain was referring to the battleship where the Japanese signed surrender papers that ended World War II, and the "truce village" where adversaries met to sign the armistice that halted the Korean War.

Bush himself said in a radio interview with talk show host Rush Limbaugh, "I probably needed to be more articulate."

The anti-terrorism campaign dominated Bush's travels through Tennessee, Iowa and Pennsylvania on Tuesday, just as they dominated the Republican National Convention where he will accept the party's nomination for a second term in New York City Thursday night.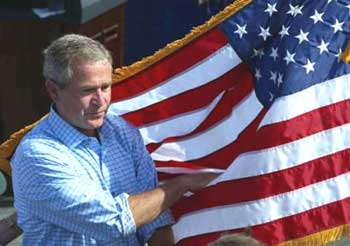 President Bush walks around an American flag after speaking at the 2004 Farm Progress Show during a campaign rally Tuesday, Aug. 31, 2004 in Alleman, Iowa. [AP]

Bush planned to visit firefighters and supporters in New York Wednesday night.

On the campaign trail, Bush defended his decision to make the Sept. 11, 2001, attacks the centerpiece of his re-election effort.

"Sept. 11 is a defining moment in our history, and it's certainly a defining moment in my presidency, and the question is whether or not we learned the lessons," Bush told Limbaugh.

The president added a new warning: "One of the most dangerous parts of this new war is that if the enemy were ever to acquire the capacity to use a weapon of mass destruction it would make Sept. 11 ¡ª it would pale in comparison."

Bush's speech to the American Legion came in his 10th trip to Tennessee and marked his latest attempt to court the millions of U.S. veterans.

Democrat Kerry, a senator from Massachusetts, has emphasized his military service in the Vietnam War, and he was to speak to the Legionnaires on Wednesday.

Several veterans said in interviews here that they favored Bush, who served in the Texas Air National Guard during the Vietnam years.

"Right now I believe the captain of the ship is guiding us and I don't feel we should change captains in the middle of a war," said Delfo Barabani, an American Legion member from Chicopee, Mass. Barabani said he believed Kerry had gone to Vietnam to lay the groundwork for his future political career.

The president told the veterans what many of them most wanted to hear: that he supports a constitutional amendment "to protect the flag from desecration." The group listed the issue at the top of its legislative priorities.

"Our fighting men and women are serving America under a proud flag, and that flag should be cherished and protected," Bush said, drawing his longest, loudest ovation.

From Tennessee, Bush flew to Alleman, Iowa ¡ª his 15th trip to the state he lost in 2000 ¡ª where his re-election campaign staged a rally near the annual Farm Progress Show.

Then he was off to Pennsylvania, another state he lost four years ago, for the 33rd time of his presidency ¡ª for a late-night "family-style picnic." While there, Bush was making his first "appearance" at the New York convention. Using a videoconference device, he was introducing wife Laura for her speech to the delegates.


Republicans Nominate Bush for Second Term

The Republican Party nominated President Bush for a second four-year term in the White House on Tuesday with a ringing call for his re-election and a torrent of praise for his strength and "compassionate" leadership.

The nomination of Bush to face Democratic challenger John Kerry sets up a two-month dash to the Nov. 2 election that polls show is essentially a dead heat, although Bush has gained ground on Kerry in recent weeks and taken a slight lead in several surveys.

Bush was formally nominated when the delegation from Pennsylvania, a key battleground in November, put him over the 1,255 needed to lead the fight against Democrats.

The nomination preceded the night's two featured speakers, first lady Laura Bush and California Gov. Arnold Schwarzenegger as Republicans hoped to show a softer, more compassionate side on the second night of their convention.

The first lady said in prepared remarks she was proud of the way her husband "led our country with strength and conviction." She said Bush's re-election was crucial to provide the country leadership in turbulent times.

"We are living in the midst of the most historic struggle my generation has ever known. The stakes are so high," she said.

The first lady will be introduced by satellite by her husband, and their twin daughters also will speak on a night when Republicans pay tribute to America's "People of Compassion," part of the party's push to appeal to swing voters by featuring their most moderate voices.

Schwarzenegger, the Austrian immigrant and movie star who was elected California governor last year, planned to tell the convention that America remained "the great idea" that inspired the world.

"America is back," he said in excerpts of his speech. "We're back because of the perseverance, character and leadership of the 43rd president of the United States -- George W. Bush."

Democrats ridiculed the night's theme and said Bush had abandoned the "compassionate conservative" principles he voiced during the 2000 campaign by pushing for huge tax cuts and watching as 1.8 million jobs disappeared.

"I don't know who has seen any compassion from this administration," said Terry McAuliffe, chairman of the Democratic National Committee.

The president, campaigning in Tennessee, said the United States would prevail in the war on terror, reversing his comments in an NBC interview aired on Monday in which he said "I don't think you can win it" but that he could create conditions that made terrorism less acceptable.
"We meet today in a time of war for our country, a war we did not start, but one that we will win," Bush told the convention of the American Legion, the nation's largest veterans' group.

"It's a different type of war. We may never sit down at a peace table, but make no mistake about it, we are winning and we will win," Bush said.

PROTESTS CONTINUE

On the streets of New York, about 125 people were arrested during all-day acts of civil disobedience and demonstrations to protest the Bush administration. About 100 people were arrested during a march from the former World Trade Center site for a "die-in" near the Madison Square Garden convention hall.

Bush will accept the nomination in a prime-time televised speech on Thursday. Some recent polls show Bush moving ahead of Kerry nationally and in key states before the Nov. 2 election.

Amid grumbling from some Democrats about his slow response to attacks on his Vietnam War record from pro-Bush Vietnam veterans, Kerry announced new staff additions on Tuesday. Joe Lockhart, press secretary to President Bill Clinton, will join the campaign as a senior adviser.

Joel Johnson, another Clinton administration veteran, will head the campaign's rapid response operation, and Susan Rice, a State Department official under Clinton, will be a policy adviser on Israel and the Middle East. But campaign officials denied a broader shake-up might be in the works.

On Monday's opening night at the convention, former New York Mayor Rudolph Giuliani and Arizona Sen. John McCain, who both have strong appeal for moderates and swing voters, led an impassioned salute to Bush's leadership after the Sept. 11 attacks and his tough response in Afghanistan and Iraq.

The Republicans also attacked Kerry, with Giuliani saying the Massachusetts senator did not have Bush's vision in tackling world terrorism.

Kerry's vice presidential running mate, North Carolina Sen. John Edwards, said Republicans were trying to hide their record and "distract us from the real issues."







Today's Top News
Top World News

Zhou: Taiwan issue key to US ties




Athletes greeted by applause back home




IPOs suspended for new pricing rule




Construction fees included in airfares




Bush recants terror war words; nominated




Re-building the ancient Silk Road