Re-building the ancient Silk Road
By Fu Jing (China Daily)
Updated: 2004-09-01 01:23
The ancient Silk Road was once unsurpassed in the trade it took across continents and with it, the cultures that were linked by the camel caravans and donkey trucks who wended their way through its dust.
Nowadays, as the old thoroughfare falls into disrepair and oblivion, regions along it are also suffering.
They are falling victim to poverty, isolation and even terrorism.
Luckily there are strategies afoot to rebuild this ancient artery.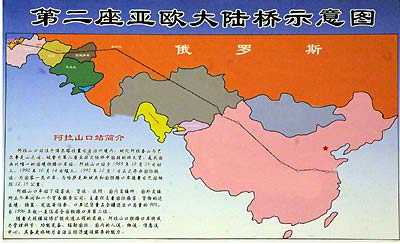 A map of the new Eurasian Continental Bridge. [newsphoto/file]

Instead of roads linking the states and regions, China is promoting the use of a "bridge" that has been in use since 1992.

The "Eurasian Continental Bridge" links continents by rail. It is dubbed the New Silk Road.

China has already confirmed it is keen and willing to participate in developing the use of the route. It needs to develop its own western regions by co-operating with Central Asian and European countries.

"As well as building international transport throughways, we hope all the countries can share and unite in developing tourist facilities along the New Silk Road, and be actively engaged in the construction of the New Eurasian Continental Bridge," said Wei Jianguo, vice-minister of commerce.

It will take time.

Liu Fang, director with the General Administration of the Civil Aviation of China, said Central Asian countries were showing less willingness to allow Chinese airlines to fly in their countries' air space, and they still insisted on barriers in customers and taxation.

"China is more proactive. We allow them to export goods to China by cargo flights tax free," said Liu.

Role in China's strategy

The new Eurasian Continental Bridge starts in the coastal city of Lianyungang and ends at the Port of Rotterdam in the Netherlands. It passes through 4,131 kilometres in China, past 400 million people.

The areas along the China section of the route are the country's most important bases of energy and raw materials.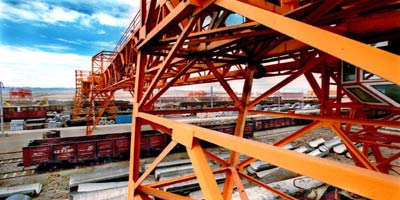 The Alataw Pass in Xinjiang Uygur Autonomous Region is an important station along the new Eurasian Continental Bridge. [newsphoto]


Compared with the Siberian route, which runs across Russia, the new 10,900-kilometre Silk Road has not really been used to its full potential despite being launched as early as 1992.

At the moment, nearly 100 per cent of China's exported goods to Europe are transported by sea. Even goods from the hinterlands of Xinjiang, Gansu and Inner Mongolia have to be first transported to seaports by rail and then shipped to Europe.

So why are exporters not choosing this, the fastest land rail route?

Xing Guangcheng, an expert on Russia and Central Asian Countries research, says the inefficiency is down to barriers along the road.

"There are many technical, taxation and customs barriers along the route," said Xing. Indeed, the countries along the Siberian route are mostly traditional European countries and as such have fewer trade barriers.

"But there are more than 40 Asian and European countries along the New Silk Road, and agreements are hard to reach," said Xing.

With high-level government dialogue mechanisms such as the Asia-Europe Conference and the Shanghai Co-operation Organization playing increasing roles, the development of the rail link -- which is in place but not fully developed -- is expected to make fast progress, said Xing.

The Chinese authorities are already attaching a lot of importance to what could be one of the most important transport arteries between Asia and Europe.

Trading turnover between China and Central Asian countries increased to US$4 billion in 2003, eight times higher than the 1992 figure. China's investment in the region has now exceeded US$1 billion.

These are not China's final goals. Wei Jianguo said the development of the China section along the new Eurasian Continental Bridge has already been listed as a priority in the country's western development strategy at the beginning of the year.

Major cities along the China section have already come up with ambitious plans.

The eastern bridge head of the New Silk Road, Lianyungang, a port city of East China's Jiangsu Province, now handles more than 90 per cent of international rail cargo from China's coastal ports, and aims to build itself up into an international trade centre. Zhengzhou, the provincial capital of Central China's Henan Province, plans to upgrade its role as transport centre. And the ancient capital of Xi'an will be built into an economic hub along the route. Urumqi, in the Xinjiang Uygur Autonomous Region, is aiming to become a trade and commercial centre linking middle and eastern China and Central Asian countries.

Economist Li Jingwen said China should seize these opportunities of economic globalization and use the route to speed up western China's merger into economic globalization.

The formation of the new Eurasian bridge could also prompt another important trade thoroughfare linking Japan, the Republic of Korea and Southeast Asia with Eastern and Western Europe, and Western, Middle and South Asia, said Li.

Air bridge

New approaches have been made to meet the targets.

Yang Guoqing, vice-minister of the General Administration of the Civil Aviation of China, suggested forming a "bridge" in the air among countries in Eastern and Central Asia and those in Europe.

Yang based the proposal on the fact that along the Chinese section of the overland linkage between Asia and Europe, there are 44 airports, nine of which allow international flights.

"The strategy will not only benefit all these countries but also the people in western China," said Yang.

He said air travel will be driven by the country's continuing robust GDP growth and personal incomes.

It will also be driven by deregulation of ticket prices, privatization of airlines, less restrictive bilateral air service agreements and an increasing number of visas being issued to outbound tourists.

Echoing Yang's calling, Hainan Airlines Co, China's fourth largest carrier, set up a branch airline company last week in Urumqi.

Zhao Zhongying, executive president of Hainan Airlines, said the new branch aimed to start regional routes in the spacious autonomous region and also international flights to Central Asian countries.

Zhao said his company will invest more capital in tapping the massive potential of regional aviation in China.

"At the same time, we are already prepared for flights to Central Asian countries," said Zhao.

Other choices

"Free port zones" and "border trade zones" have been suggested to be set up at both ends of the China section of the new Eurasian continental bridge, and some areas along the section will be turned into a land economic belt along free-trade-zone lines.

Several experts and officials raised the proposals at an international forum on the New Silk Road held last weekend in Urumqi.

Their suggestion is based on a down-to-earth study of almost a year, and serious investigations mainly in the cities of Lianyungang, Zhengzhou, Luoyang, Xi'an, Baoji, Lanzhou and Urumqi along the continental corridor.

One of the proposals calls for a free port zone to be set up around the city of Lianyungang, while some other motions call for opening a border trade zone around the Alataw Pass, the westernmost point of the Xinjiang Uygur Autonomous Region.

They have also put forward proposals to set up international funds which could speed up the formation of a regional banking centre.




Today's Top News
Top China News

Zhou: Taiwan issue key to US ties




Athletes greeted by applause back home




Construction fees included in airfares




IPOs suspended for new pricing rule




Money can't buy happiness, as saying goes




Twin bus blasts in southern Israel kill 12