Iraq militants kill 12 Nepali hostages
(Agencies)
Updated: 2004-09-01 00:57
A militant Iraqi group said it had killed 12 Nepali hostages and showed pictures of one being beheaded and others being gunned down in the worst violence against captives since a wave of kidnappings erupted in April.
The announcement of the killings, made in a statement posted on an Islamist Web site Tuesday, came as France intensified its efforts to save two French reporters held hostage in Iraq by a separate militant Islamic group.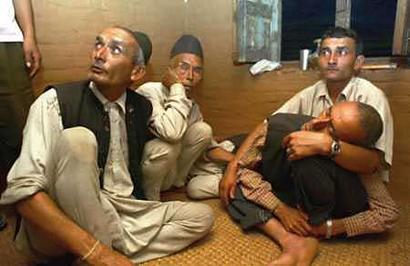 Relatives comfort Jit Bahadur Khadka, father of Ramesh Kahdka, one of the 12 Nepalese hostages killed in Iraq, as he grieves his son's death at his home in Kathmandu August 31, 2004. [Reuters]

The Nepalis were kidnapped earlier this month when they entered Iraq to work as cooks and cleaners for a Jordanian firm. The killing of men from a tiny country that had nothing to do with the invasion or occupation of Iraq will send shockwaves through foreign companies doing business here.

"We have carried out the sentence of God against 12 Nepalis who came from their country to fight the Muslims and to serve the Jews and the Christians ... believing in Buddha as their God," said the statement by the military committee of the Army of Ansar al-Sunna.

The group posted a series of photographs showing the killing as well as a video.

The recording showed two masked men, one in camouflage, holding down a hostage. One of the men then used a knife to behead the hostage and then hold his head aloft.

The video then showed a group of hostages lying face down and being shot by a man using an automatic rifle. It then showed bodies splattered with blood and bullet wounds.

NEW SCARE TACTICS

Ansar al-Sunna, one of several militant groups to emerge following the ouster of Saddam Hussein, said it had kidnapped the Nepalis because they were cooperating with U.S. troops.

Scores of nationals from more than two dozen countries have been kidnapped since April, when guerrillas embarked on new tactics to force foreign troops and firms to leave Iraq.

The tactic has scared away some foreign companies, disrupted supplies to U.S. troops and discouraged investment in a cash-starved economy.

Besides the Nepalis, a dozen foreign hostages have been killed, some by beheading. Around 20 hostages are still being held, many of them truck drivers from poor countries seeking good money by plying Iraq's dangerous highways.

France mounted a major diplomatic effort to save two French reporters as a Tuesday night deadline neared for Paris to scrap a ban on Muslim headscarves in schools.

President Jacques Chirac led the effort and envoys explored other ways to appeal to militants holding Georges Malbrunot and Christian Chesnot, shown on Arab television Monday fearing for their lives.

"I am renewing my solemn call for their release," said Chirac, in Sochi, Russia, to meet with anti-Iraq war allies Russian President Vladimir Putin and German Chancellor Gerhard Schroeder. "Everything will be done to secure their release."

Foreign Minister Michel Barnier was in Jordan after visiting Egypt Monday.

24 HOURS MORE FOR FRANCE

Islamic militants Hamas joined a chorus of groups including Palestinian President Yasser Arafat and aides to anti-U.S. Iraqi cleric Moqtada al-Sadr urging freedom for the journalists.

France opposed the U.S.-led invasion of Iraq.

The kidnappers Monday night gave France a further 24 hours to repeal its ban on headscarves in schools, which is part of a broader law aimed at anti-Semitism that bars Jewish skullcaps and large Christian crosses.

The Islamic Army in Iraq, a little known group that kidnapped the two journalists, did not specify the fate of the two men if there was no repeal, but the group claimed responsibility for the death of an Italian journalist last week.

In a television tape, Chesnot and Malbrunot, appearing calm, pleaded for a repeal of the headscarf ban.

Chesnot, 37, works for Radio France Internationale. Malbrunot, 41, writes for Le Figaro and Ouest France.




Today's Top News
Top World News

Zhou: Taiwan issue key to US ties




Athletes greeted by applause back home




IPOs suspended for new pricing rule




Construction fees included in airfares




Asian politicians to meet in Beijing




Re-building the ancient Silk Road