Taiwan 'most important' to US relations
By Hu Xiao (China Daily)
Updated: 2004-09-01 00:00
China and the United States share important common interests in opposing Taiwan independence and safeguarding peace in the Taiwan Straits, said Chinese Vice-Foreign Minister Zhou Wenzhong.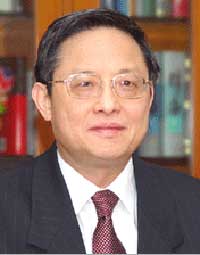 Vice Foreign Minister Zhou Wenzhong. [fmprc.gov.cn]

"Currently, what is most important for the United States is to translate into reality its commitment to the one-China policy and opposition to Taiwan independence, in particular to stop upgrading relations with Taiwan and selling it advanced weapons," Zhou said Tuesday in a luncheon speech at a seminar held by the China Reform Forum, a think-tank of China's Central Party School and the US Rand Corporation, a non-profit research organization.

Speaking to 70-plus experts and scholars from China and the United States, Zhou said Sino-US ties have consistently developed positive momentum although the US presidential election and the Taiwan island election this year have complicated Sino-US relations.

"The two countries have continued to make progress in exchanges and co-operation in economics, trade, anti-terrorism, law-enforcement, non-proliferation and other fields," Zhou said, noting that the two sides have continued to engage in close consultations and co-ordination in promoting the reconstruction of Iraq and the six-party talks on the nuclear issue on the Korean Peninsula.

Just two days before Zhou's speech, Chinese Foreign Minister Li Zhaoxing and US Secretary of State Colin Powell exchanged views on the Korean Peninsula nuclear issue during a telephone conversation. This is their 13th such conversation this year.

Zhou said that while he is pleased with the significant progress in bilateral relations, the sides must also face up to some problematic areas.

On Zhou's list of obstacles are the Taiwan question, the politicization of the human rights question and interference with the internal affairs of Hong Kong, a Chinese special administrative region.

Zhou said these issues have created impediments to the growth of Sino-US relations.

Describing the Taiwan quandary as the most serious issue impacting the steady development of relations, Zhou quoted the late Chinese leader Deng Xiaoping's remarks on the Taiwan question. If mishandled, it could become an explosive issue, and the Chinese people cannot and will not swallow such a bitter pill.

"His remarks are still of great relevance today," Zhou said.

The vice-foreign minister, who is in charge of affairs regarding American, Oceanianic, Latin American, Hong Kong, Macao and Taiwan regions, said that at present, cross-Straits relations remain highly sensitive and complex and separatist activities carried out by pro-independence forces remain the "biggest threat" to peace and stability in the Straits.

He was referring to Taiwan authorities' acquiring advanced weapons and potential armed resistance to peaceful reunification.

"We're especially concerned about the sales of large quantities of advanced weapons to Taiwan and enhancement of military ties between the United States and Taiwan. In so doing, Taiwan independence forces will be emboldened to go down the road to Taiwan independence as far as possible," Zhou said, warning that it could not only seriously undermine Sino-US ties but would harm the interests of the United States itself.

On economic and trade co-operation between China and the United States, Zhou said the Chinese side has taken a series of active steps as part of its continuous efforts to improve its trade imbalance with the United States.

He said it is not surprising that certain frictions would pop up from time to time since bilateral economic and trade booms naturally occur, while adding the two sides should manage these issues through diplomatic consultations.

Statistics show that US exports to China in the first six months amounted to US$22.8 billion, outgrowing the overall bilateral trade with a year-on-year increase of 38.4 per cent.

"If the US side takes more active steps in recognizing China's market economy status and lifting its restrictions on exports to China, bilateral economic co-operation and trade will have better prospects."




Today's Top News
Top China News

IPOs suspended for new pricing rule




Taiwan 'most important' to US relations




12 Nepalese hostages said slain in Iraq




Athletes greeted by applause back home




Construction fees included in airfares




Bush recants terror war words; nominated