Twin bus blasts in southern Israel kill 12
(Agencies)
Updated: 2004-08-31 21:46
Two buses exploded almost simultaneously in southern Israel on Tuesday, killing at least 12 people and wounding 44, rescue officials said, in the first major Palestinian attack inside Israel in nearly six months.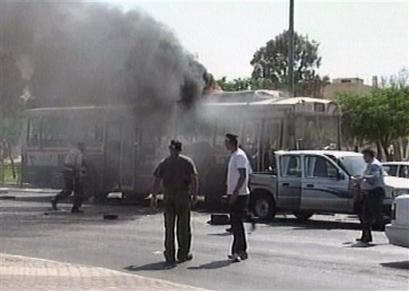 Smoke rises from the wreckage of a bus in Beersheba southern Israel in this image taken from television Tuesday Aug 31, 2004. Two buses exploded almost simultaneously in southern Israel on Tuesday, killing at least 11 people and wounding more than 20 rescue officials said. [AP]


Israel's Channel Two television said the blasts were carried out by Palestinian suicide bombers, but the report could not immediately be confirmed. TV reports said two mangled bodies were found — presumably those of the bombers.

The twin bus blasts came hours after Prime Minister Ariel Sharon presented to his Likud party the most detailed timetable yet for Israel's withdrawal from the Gaza Strip, and warned party rebels the plan "will be implemented, period."

The buses burst into flames in the center of Beersheba, the largest city in southern Israel, 25 miles west of Gaza City. Israel TV showed the two burned-out buses, flames shooting through the roof of one of them. At least two bodies, covered in white sheets, lay on the ground.

Israel's Magen David Adom rescue service gave the casualty toll and said 20 of the wounded were in serious condition. It was not clear whether the 12 dead included suicide bombers. The rescue service initially said 11 people were killed.

Hezbollah's al-Manar television station in Lebanon quoted Palestinian sources as saying they had carried out "martyrdom operations," a phrase used to describe suicide bombings. Israeli officials accuse the Lebanese guerrilla group of aiding Palestinian militants.

In the Palestinian refugee camp of Ein el-Hilweh in southern Lebanon, gunmen fired shots into the air to celebrate the attacks, a Palestinian official said.

Palestinian militants haven't carried out a major attack inside Israel since March 14, when 11 people were killed in the port of Ashdod. That attack prompted Israel to assassinate the spiritual leader of the Hamas militant group in the Gaza.

Israel has said the lull was due to its success in fighting militants, not a lack of effort by the armed groups. Israel has arrested or killed dozens of militants in recent months. Israel also says its contentious West Bank barrier has prevented numerous attacks. The barrier, about one-quarter complete, has not reached the area near Hebron, the closest Palestinian city to Beersheba.

Palestinian Cabinet Minister Saeb Erekat said "the Palestinian Authority condemns any attacks that target civilians, whether Israelis or Palestinian."

Earlier Tuesday, the Israeli army caught a Palestinian man with an explosives belt strapped under his clothing as he tried to cross into Israel from the Gaza Strip. He had waited in line with thousands of Palestinian workers making their way into Israel every morning.

Erez has been a repeated target of Palestinian militants, though most suicide bombers in the past four years have come from the West Bank. Gaza is closed off, and militants have had trouble reaching Israel from there.

In Jerusalem, a Sharon ally in the Cabinet said the evacuation of Jewish settlements in Gaza could begin by the end of the year, or several months ahead of schedule.

The initial plan called for a withdrawal from Gaza and four small West Bank settlements in four stages, to be completed by September 2005. Each phase was to be presented to the Cabinet for approval.

With opposition mounting in Likud and in the Cabinet, Sharon is pushing for a swifter withdrawal. He also hopes to weaken settler resistance by making early advance payments on compensation that would encourage many of the 8,000 Gaza settlers to leave voluntarily, according to Sharon officials, who spoke on condition of anonymity.

The prime minister opened Tuesday's meeting with Likud legislators with a warning not to sabotage the withdrawal. "You know my views on the subject. The disengagement plan will be implemented, period," he said.

The first key date in Sharon's timetable is Sept. 14, when the Cabinet is to approve the principles of compensating and evacuating settlers. Officials said advance payments would be authorized at that session.

On Sept. 26, Cabinet ministers will be given draft legislation for carrying out the withdrawal, and the bill will be approved by the Cabinet on Oct. 24, Sharon said. By Nov. 3, the legislation will be presented to parliament for a first of three votes.

Meir Shetreet, a Cabinet minister and Sharon ally, said the evacuation of settlements would begin "between November and March," or several months ahead of schedule.

On Monday, a heated argument erupted during a session of the Security Cabinet, when Defense Minister Shaul Mofaz sought approval for evacuating the 21 settlements in Gaza and four in the West Bank in one go, rather than in four stages. The change in tactics angered opponents of the withdrawal.

On Tuesday, Sharon was vague about whether he would stick to his initial promise to withdraw in stages.

Sharon has already lost two Likud battles over his pullout plan — a nonbinding referendum by party members and a convention vote. At least half of the 40 Likud members of parliament oppose the pullout.

Erekat, the Palestinian cabinet minister, said Tuesday that the Palestinian Authority is ready to take responsibility in all of Gaza; it currently controls two-thirds, with Israeli troops deployed in the remaining territory.

"The withdrawal from Gaza must be part of the road map and not an alternative to it," Erekat said, referring to the U.S.-backed peace plan that envisions a Palestinian state in areas of the West Bank and Gaza.

Palestinian Prime Minister Ahmed Qureia is to meet Egyptian President Hosni Mubarak on Tuesday to discuss the Gaza situation. Egypt is leading an effort for a smooth handover of Gaza, where about 8,000 settlers live along with some 1.2 million Palestinians.




Today's Top News
Top World News

Money can't buy happiness, as saying goes




Wen calls for support of non-State business




Six overseas diplomas not recognized




Beijing to upgrade subway lines, systems




China trying to diversify energy supply




Jiang urges improving military equipment