Michael Moore draws boos at convention
(Agencies)
Updated: 2004-08-31 15:10
Already a box office sensation, filmmaker Michael Moore got another loud reception Monday at the Republican convention. This time, it was boos.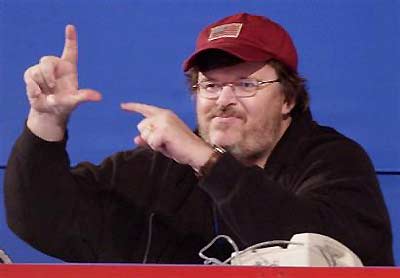 Filmmaker Michael Moore gestures as Senator John McCain of Arizona addresses delegates at Madison Square Garden during the Republican National Convention in New York, Monday, Aug. 30, 2004. [AP Photo]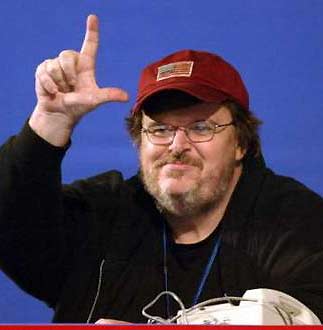 Filmmaker Michael Moore reacts by flashing the loser sign after being called a disingenuous filmmaker by U.S. Senator John McCain during his speech at the 2004 Republican National Convention at Madison Square Garden in New York, August 30, 2004. Republicans opened their four-day national convention on Monday with salutes to President George W. Bush's wartime leadership and repeated reminders of his aggressive response to the September 11, 2001, attacks. [Reuters]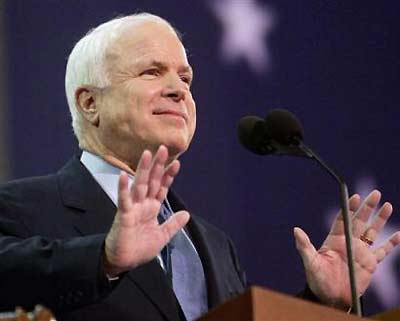 Sen. John McCain, R-Ariz., responds to the crowd's reaction after he mentioned movie director Michael Moore during the evening session of the first day of the Republican National Convention Monday, Aug. 30, 2004, in New York. [AP Photo]
When Sen. John McCain, R-Ariz., told the delegates about "a disingenuous film maker who would have us believe that Saddam's Iraq was an oasis of peace," they knew he was referring to the maker of "Fahrenheit 9-11." The film, which savages Bush's Iraq policy, has set a box office record for documentaries, grossing $115 million so far.
McCain's comments prompted prolonged booing and chants of "Four more years." Many of the delegates faced Moore, who was seated in the press seats at Madison Square Garden because he is writing a column this week for USA Today.
Moore seemed to relish the attention, thrusting his arms over his head, laughing and saying, "Two more months."
Asked about McCain's remarks, Moore said, "I can't believe they're dumb enough to bring up the film and help its box office."