Macao gives Ho new mandate
(China Daily)
Updated: 2004-08-30 06:45
MACAO: Edmund Ho Hau-wah Sunday was overwhelmingly re-elected to a second term as Macao's chief executive with 296 votes in favour and three abstentions of a total of 299 members of the 300-strong Election Committee.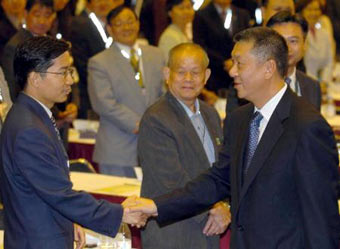 Edumund Ho Hau Wah is congratulated after being re-elected to a second term as Macao's chief executive Sunday, August 29, 2004. [Xinhua]
The result was announced by Jose Chu, chairman of the Electoral Affairs Committee, after supervising the counting of the anonymous ballot.
The election is the first of its kind under the newly enacted Macao Chief Executive Election Law since Macao's return to China in 1999.
Under the Election Law, the chief executive elected still needs official appointment by the Chinese central government.
Ho's first five-year term expires on December 19 this year. Ho's second term would begin on the following day.
In a brief victory speech, Ho said he would fulfill his election platform, sticking to the practice of "one country, two systems" and "Macao people governing Macao" in accordance with the Basic Law, and make efforts to comprehensively improve the living standards of Macao people.
The 49-year-old banker-turned-chief executive entered the election after obtaining endorsements from a total of 297 members of the Election Committee, or 99 per cent of the votes, for his candidacy early in July.
Ho won the election of the first chief executive at the third plenary meeting of the Selection Committee for the First Government of the Macao Special Administrative Region back in May 1999.
Today's Top News
Top China News

Miracles lift China up at Athens Games




China amends disease law, bans blood trade




Tens of thousands protest Bush in NYC




Price rise sparks inflation concerns




Triumphant Olympics end with pride, relief




Terrorists blamed for Russian plane crashes