Made-for-order beauty in dispute
(China Daily)
Updated: 2004-08-28 23:17
It seems paradoxical, but it has become a reality in China today: While fad-obsessed women want everything going into their stomachs to be natural, they are, on the other hand, increasingly seeking artificial means to recreate their outward appearances.
In an effort to repair the image of artificially enhanced beauty and to give it legitimacy and respect, a Chinese company will this autumn sponsor the world's first pageant for women who have gone through various types of cosmetic surgery from eyebrows to mouths, and breasts to hips.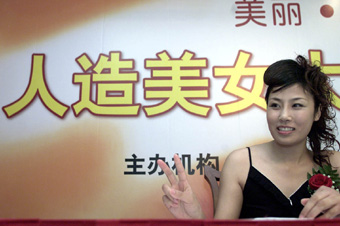 A young woman poses for photographs during a Miss Plastic Surgery pageant in Beijing. The Chinese characters behind her read "Competition For Artificial Beaties." [newsphoto]


The only entry requirement for Miss Plastic Surgery, scheduled for November 1 to 27, is proof of inauthenticity.

In other words, all would-be contestants will have to provide a doctor's formal certificate to prove their beauty was acquired by means of a scalpel.

Meanwhile, in a bid to prevent bungled, rushed jobs, the organizer, Beijing Weiye Culture and Media Co, also asks participating artificial beauties to have had their last surgery done no later than May 29 this year.

"We just want to give man-made beauties an equal opportunity to demonstrate their intelligence, artistic talents and aesthetic merits just like their natural counterparts," says Ms Han Wei, general manager of the company and vice-chairperson of the organizing committee.

The idea for this made-to-order pageant came after Yang Yuan, an 18-year-old artificially enhanced beauty, was barred from the Miss International Contest also set up by Ms Han's corporation in May.

In an effort to get on the stage to show her beauty in the conventional pageant, Yang Yuan spent 110,000 yuan (US$13,253) on cosmetic surgery and got a whole new look.

"We had to deny her. Or it would be unfair to the contestants who haven't undergone such surgery," explains Han.

She added that Yang, if she wants, is more than welcome to sign up for the upcoming special competition.

But the angry Yang Yuan sued the contest organizer for discrimination and asked for 50,000 yuan (US$6,046) in compensation for emotional damage.

Recently, her request was rejected by the court, which ruled that she was not entitled to compensation.

The issue and the upcoming artificial beauty contest have aroused some public interest.

Cai Boju, a social observer in Beijing, notes that beauty, it seems, is no longer something natural and honest.

"Nowadays it becomes something you have to work on by spending a huge amount of money," he says.

Nevertheless he accepts the pageant for artificial beauties.

"Following the rapid development of the social economy, people become much wealthier and have more money to chase after beauty. Thus, this artificial beauty craze is almost inevitable, as is this pageant for this group of women."

Plastic surgery surges in popularity

Not so long ago, beauty contests were strictly banned in China when the nation extolled the spartan style of living and rejected even simple makeup as vanity and bourgeois.

Today, corrective surgery is ubiquitous from modern Chinese cities to backwater rural towns.

Zhao Xiaozhong, director for the orthopaedic section at the Air Force General Hospital in Beijing, says many of his clients "look perfectly fine and pretty, but they still want to alter their faces, here or there."

A noted expert of cosmetic surgery, Dr Zhao personally doesn't see anything wrong with adult women wanting a double eyelid, liposuction, or breast enlargement.

"Isn't it nice that modern technology can make them look more beautiful?" he says rhetorically, adding that the Miss Plastic Surgery Pageant is a chance for Chinese surgeons to show their achievements in the field.

The upcoming event does include an exhibition of plastic surgery, on which both successful and unsuccessful cases will be displayed.

Dr Zhao suggest that women should use the services offered by larger hospitals or authorized beauty parlors instead of fly-by-night surgeons on back streets for their own safety.

Yang Yang (pseudonym), a college student in a southwestern city, spent 800 yuan (US$96) at a less scrupulous beauty parlor to have luscious big mouth.

But the operation failed her. She can hardly smile now for she says "my face hurts when I open my mouth."

During the last 10 years, unqualified surgeons across the country have disfigured more than 200,000 faces, with over 300,000 women falling victim, according to the China Consumers Association.

Tall and beautiful, the 19-year-old Yang Yang would have won a great deal of admiration before the botched surgery.

But she longed for "a more Western look." "All my friends, more or less, want to look like a Caucasian," says she, whose dream is to compete for a beauty crown someday soon.

Cai Bojun feels sorry for those who desire to look like a white beauty.

"That implies a sort of the white-superiority, which should be addressed prior to cosmetic surgery," said Cai.

Artificially enhanced beauty began to really catch on in China after the country's first man-made beauty Hao Lulu was created last year by Evercare, a private beauty centre in Beijing.

It footed the bill of 300,000 yuan (US$36,000) for Hao. In return, the 24-year-old freelancer agreed to serve as beauty spokeswoman for the centre for a year.

The deal seems to have paid off quickly. Feng Lizhe, deputy director of Evercare, admits that "about one-fifth of our customers now come out of admiration for Hao's new appearance: eyes widened, nose reshaped, breasts enlarged, hips and buttocks augmented and calves slimmed down."

Indeed, coupled with the craze for all kinds of beauty contests is the prosperity of the Western-taste-inspired beauty economy in China.

The cosmetic industry is probably the biggest beneficiary.

According to the Xinhua News Agency, Chinese women's annual expenditure for changing their looks amounts to 20 billion yuan (US$2.42 billion), thus making cosmetic surgery the third largest growth industry after real estate and tourism in the country.

What is the motivating force behind the surging taste for artificial beauty?

Some observers attribute it to the tendency that women with better appearances seem to find better jobs and rich husbands more easily.

Advantage for beauty

They argue that it is quite normal nowadays for good-looking and tallish people, whether men or women, to gain an advantage in employment and love.

That's why a growing number of Chinese men have begun to resort to artificial beauty as a key means to boost their own self-confidence and sharpen their competitive edge.

On February 19 this year, Xu Bing, a 32-year-old man in Wuhan, capital city of Central China's Hubei Province, underwent his first plastic surgery operation, hoping to improve his look.

He told local media that he believed that the operation will help him land a better job and marry a beautiful woman.

Because of his "ugly look," Xu said, he had suffered from low paid jobs and several love failures.

Upon the completion of the months-long operation, Xu will look like well-known Chinese film star Lu Yi, according to media reports.

Other pundits, however, disagree with the practical analysis, challenging that the growing popularity of artificial beauty only further boosts the concept of women as a commodity or as a sexual object displayed for visual delight and money.

Liu Bohong, director of the Women's Research Institute affiliated with the All-China Women's Federation, says, "Any beauty pageant, conventional or not, reflects a man-dominated society, in which women are watched, evaluated and, even worse, commercialized."

Once on the T-stage, she notes, a contestant is no longer an independent woman with independent thought.

She is dehumanized, and commodified with a man-made pretty face and slim figure, and she is expected to bring about huge profits for pageant organizers and sponsors.

The feminist idea seems to pale in the face of artificial-beauty seekers' resolution to make themselves more beautiful.

Hao Lulu, for one, frankly acknowledges that she is actually a special commodity produced by cosmetic means and consumed by the public.

"But I don't care," she says. "I like the way I'm now much better."

Such frantic pursuit of fantasy fulfillment, says sociologist Zhou Xiaozheng at Renmin University of China, would make society "superficial."

Although all beauty contests do have requirements for contestants' intelligence, the precondition for them to enter such contests is physical appearance, which, he says, could still be misleading.

For pretty women, "they might mistake a lovely face as a passport to a brighter future without working hard on their intellectual fulfillment," Zhou says.

"But for the less fortunate, they might feel inferior and self-abased, which compromises their competence and distracts them from attending to improving their physical condition."

All in all, he says, young women should not sacrifice part of their future to fulfill their fantasies. "They may someday find the future price is too high."

Nevertheless, the Miss Surgery Pageant has so far attracted more than 20 women, not only from China, but also ladies from South Korea, Japan and Malaysia.

Cai Boju believes the popularity of artificial beauty is just like the plastic flower craze years ago and will die out soon.

"No matter how real it looks, it's still inauthentic, still an imitation of a real flower. The genuine will eventually take the driver's seat again. Therefore, there is no need to worry."




Today's Top News
Top China News

Meng, Yang make history for China's canoeing




China ratifies UN safety convention




Brave Liu Xiang did it! Chinese fans jubilant




Expanded CEPA lends strength to Hong Kong




China passes law legalizing electronic deals




Attempt for closure stirs up more anger