Russia blames terrorism for downed plane
(Agencies)
Updated: 2004-08-28 17:02
The discovery of traces of explosives in the wreckage of one of two airliners that crashed almost simultaneously this week has confirmed a widely suspected terrorist connection and stoked speculation that the disasters were linked to bloodshed in Chechnya.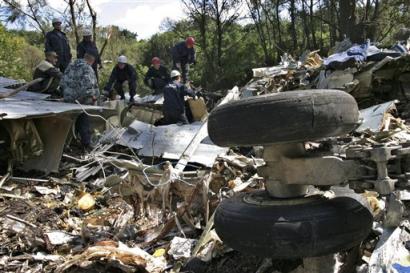 Emergency workers search the wreckage of Tu-154 plane at the crash site near Gluboky in the Rostov region some 1,000 kilometers (600 miles) south of Moscow, Thursday, Aug. 26, 2004. The recorders extracted from the wreckage of two planes that crashed nearly simultaneously have not revealed reliable information on the disasters' causes, a top Russian official was quoted as saying Thursday. [AP]

A Web site connected to Islamic militants claimed the crashes, which killed 90 people, were retaliation for Russia's protracted civil war in the troubled republic, which holds an election Sunday to replace its assassinated Kremlin-backed president.

Russian officials also said they were investigating the backgrounds of two female passengers with Chechen-sounding names ! one on each of the planes ! who booked tickets on the flights at the last minute and were the only victims whose relatives have not contacted authorities.

The Federal Security Service, or FSB, said Friday that investigators picking through the ruins of a Tu-154 jet that crashed in a southern coal mining region, some 600 miles south of Moscow, found traces of the high-explosive hexogen.

Russian authorities have said the powerful conventional explosive was used in deadly 1999 apartment-house bombings blamed on Chechen rebels.

While announcing the discovery of hexogen traces, officials kept silent about who they think might be behind the attack. The crashes Tuesday occurred amid official warnings that rebels might attempt to discredit Sunday's vote to replace Chechen President Akhmad Kadyrov, who was killed in a bomb attack at a sports stadium on May 9.

Investigators had "defined a circle of individuals possibly involved in conducting the terrorist act," FSB spokesman Nikolai Zakharov said, but he left it unclear how broad that circle might be. Zakharov announced no new leads in the crash of the other plane, a Tu-134 that fell into a field some 125 miles south of Moscow.

The first official confirmation that terrorists infiltrated Russia's civil aviation system ! a vital industry in this vast nation ! prompted only a muted official response, with Russian authorities avoiding drastic measures such as closing airspace or grounding flights.

President Vladimir Putin made no public comment on the discovery of traces of explosives, apparently not wanting to highlight an embarrassing security lapse, three days after what one major newspaper called Russia's Sept. 11.

The southbound planes took off from Moscow's bustling, recently renovated Domodedovo airport Tuesday and crashed within minutes of each other. Officials had repeatedly emphasized that possibilities like bad fuel or human error were being considered and that no evidence of terrorism had been found.

Partly due to the apartment-building bombings, which killed some 300 people in Moscow and other cities, Russian troops returned to Chechnya in 1999 after fighting an unsuccessful 1994-96 war against separatists that had left the republic de facto independent.

Despite his high popularity ratings, Putin's presidency has been marred by the persistent fighting and a string of deadly bombings.

A Web site statement that appeared Friday was signed the "Islambouli Brigades" and claimed responsibility for the crashes, warning that they marked just the first in a series of planned operations. The claim's veracity could not be confirmed.

"Russia's slaughtering of Muslims is continuing and will only stop when a bloody war is launched," the statement said. It said five "mujahedeen" ! holy fighters ! were aboard each plane.

Russian officials have contended that the Chechen rebels receive help from foreign terrorist organizations, including al-Qaida.

Friday's claim did not refer to al-Qaida, but a group called "the Islambouli Brigades of al-Qaida" claimed responsibility for last month's attempt to assassinate Pakistan's prime minister-designate.

Paul Duffy, a Moscow-based aviation expert, told Associated Press Television News he found it "hard to believe" that five attackers were aboard each plane, but said "there is no doubt that they had one at least on each aircraft."

In the Russian media, suspicion focused on two female passengers, identified as Amanta Nagayeva and S. Dzhebirkhanova. Nagayeva, a Chechen native, bought her ticket one hour before the Tu-134 departed, NTV television reported.

She was seated in the rear of the plane near the tail, which was found severed from the rest of the fuselage at the crash site. Search crews found fragments of her body on Friday, according to Russian news agencies.

The other passenger had originally been scheduled to fly to the Black Sea resort of Sochi, where Putin was vacationing, on a morning flight, but she changed her ticket at the last minute to the Tu-134 flight that crashed, according to Web site Gazeta.ru.

Women with alleged Chechen ties have been suspected in suicide attacks in Moscow and elsewhere in the past two years.

Representatives of Chechen rebel leader Aslan Maskhadov have denied connection to the crashes. But Maskhadov, who led Chechnya during its 1996-99 period of de-facto independence, is believed to control only a small portion of Chechnya's fighters.




Today's Top News
Top World News

Chinese duo win men's C2 Olympic Gold




Brave Liu Xiang did it! Chinese fans jubilant




Expanded CEPA lends strength to Hong Kong




China passes law legalizing electronic deals




China to launch campaign on IPR protection




Attempt for closure stirs up more anger