Terror suspected behind Russian jet crashes
(Agencies)
Updated: 2004-08-27 16:48
Russia's security services said on Friday they had found traces of explosives among the wreckage of one of two Russian planes which crashed within moments of each other, calling it a terrorist attack.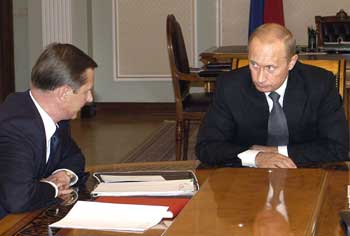 Russian President Vladimir Putin and Defence Minister Sergei Ivanov (R) meet in Moscow's Kremlin, August 27, 2004. Experts have found traces of explosives in the wreckage of the Tupolev Tu-154 passenger airplane which crashed in southern Russia on Tuesday with more than 40 people on board, Itar-Tass news agency reported. [Reuters]

The FSB declined to comment on a claim by an Islamist group on the Internet that its followers had hijacked both planes and brought them down, killing at least 89, to avenge the killing of Muslims in Russia's rebel Chechnya province.

"During the examination of the wreckage of the Tu-154 plane traces of explosives were found," an FSB spokeswoman said.

"The investigation process produced information which has allowed us to identify a number of people with possible links to the terrorist act that was committed on Tu-154."

She said the explosive was of a type used in some previous attacks blamed on Chechen separatists, including the 1999 apartment bombings which killed about 300 people.

It was a substance called hexogen, more widely known as RDX -- a powder which when mixed with TNT is used as an explosive element in artillery shells and torpedoes.

She said she there was no fresh information about the other plane, a Tu-134.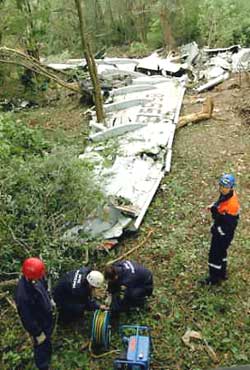 Russian Emergencies Ministry personnel inspect the crash site of a Tupolev Tu-154 passenger plane near Zelenovka village, about 85 miles from Russia's southern town of Rostov-on-Don, August 25, 2004. The plane, carrying 46 people including eight crew, crashed soon after it sent out a hijack alert message late Tuesday evening, according to authorities. Two Russian passenger planes crashed almost simultaneously late on Tuesday, killing all 89 people on board. [Reuters]

The Islamist group, calling itself the Islambouli Brigade, said five mujahideen had hijacked both planes, according to an Internet Web Site. The Arabic-language statement, whose authenticity could not be verified, threatened more attacks.

"Russia's slaughtering of Muslims is still continuing and will not stop except with a bloody war. Our mujahideen were able with God's help to deal a first strike which will be followed by other operations in a campaign aimed at helping our Muslim brothers in Chechnya and other Muslim countries enduring Russia's atheism," the statement said.

CHECHEN ELECTIONS

An FSB spokesman said: "We do not comment on these kind of statements without further details."

The Tu-154, bound for Sochi on the Black Sea crashed near the southern city of Rostov-on-Don, just moments after a Tu-134 flying to Volgograd crashed near the town of Tula, south of Moscow. Both had set off from Moscow's Domodedovo airport.

Investigators were reported to be pursuing new leads -- tracing the backgrounds of two passengers, whose surnames would indicate they were of Chechen descent. Neither had been enquired about and they could have been possible suicide bombers.

Each was on one of the planes.

"This could not fail to raise suspicion among the members of the (investigative) commission and workers in the Interior Ministry and FSB security services," a source at the investigative commission told Itar-Tass news agency.

Officials have so far refused to blame the double air crash on Chechens -- long accused by Moscow of waging a terror campaign in Russia. Some fear the double plane crash was part of a new wave of terrorist acts ahead of a presidential election in Chechnya, where Russians have been fighting rebels for a decade.

Rebels launched a major raid in the regional capital last weekend and threatened more ahead of Sunday's presidential poll. Moderate Chechen separatists deny any part in the crashes.





Today's Top News
Top World News

Bush admits post-war Iraq 'miscalculations'




China urges Japan to teach true history




China's Guo easily wins 3m springboard




Terror suspected behind Russian jet crashes




Authorities acting to prevent epidemics




Report: Agricultural situation improves