Last group of migrants move out of 3 Gorges area
(Xinhua)
Updated: 2004-08-27 15:34
The last group of 882 migrants to make way for the construction of the gigantic Three Gorges Project at the middle reaches of the Yangtze, China's longest river, in central Hubei province have left their homes in Fengjie county, and are due to arrive at their new homes in east China's Jiangxi province Saturday.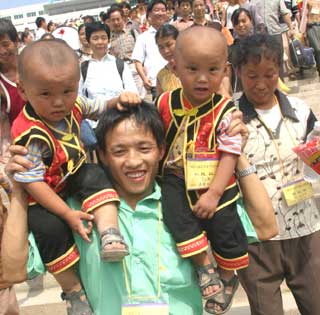 A father and his twin children are among the last group of 882 people to relocated for the construction of the Three Gorges Dam project on the Yangtze River. [newsphoto

The resettlement project, started in 2000, involved more than one million local people, 85 percent of whom lived in Chongqing municipality. The majority of the migrants living in the reservoir area have moved away from the dam area, but still live in their hometowns.

A total of 165,000 people have been moved from their native lands. Of the total number, 96,000 people have resettled in other Chinese provinces. The remainders have been arranged in other counties in Chongqing.

In the first phase, which ended in 2002, 72,000 people from Chongqing were displaced in 11 other provinces, including prosperous Shanghai municipality and Jiangsu province. An additional 25,300 were relocated later.

The resettlement of migrants to other parts of China has now come to an end, said Zhao Gengtian, the official in charge of the resettlement project under the Committee for Construction of Three Gorges Project of the State Council.

The Three Gorges project is the largest water control project in China and by some measures the largest in the world. With a generating capacity of 700,000 kw, the giant dam may allow the installation of 26 generating units producing 84.6 billion kwh of electricity annually, more than any other dam in the world.




Today's Top News
Top China News

Bush admits post-war Iraq 'miscalculations'




China urges Japan to teach true history




China's Guo easily wins 3m springboard




Iraqi government, Al-Sadr OK peace deal




Authorities acting to prevent epidemics




Report: Agricultural situation improves